At the Arkansas State Prison, the prisoners look up in surprise as it appears to start snowing. The guards sound the alert as lava starts to pour through the prison wall. Prisoners and guards all flee in terror.
Later, Myka, Pete, and Steve arrive to check out what appears to be an artifact use. Artie keeps in contact with them via Farnsworth and explains that volcanoes are sources of extreme emotion. As he collects artifacts from the shelves, he tells them to send him a sample of the lava. The shelves shake due to the recent instability and Artie explains that he's getting Jerry Garcia's black light for Claudia's birthday party. Myka tells him that 21 is a huge birthday and is worried that Artie will mess up the party. He tells her to focus on the case and signs off. As Artie goes back to work, a ball falls off the shelves, bounces off a clock, and hits Artie repeatedly in the head until he catches it. As Artie walks away, the face on the clock changes from a smile to a frown.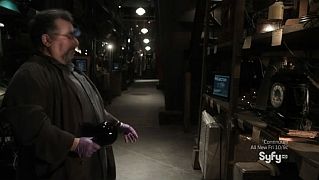 Pete tells Myka that there's a U.S. Marshal there. The Marshal, Liam Napier, comes over and introduces himself. He tells them that all of the prisoners in the yard are accounted for. When Liam sees Steven, he walks over and greets him, and Steven explains that the ATF is working with the FBI to track down an incendiary device. Pete suggests that they check the main building to see if any prisoners escaped while everyone was focused on the lava flow. As Liam walks off, Steven is clearly uncomfortable to see him.
At the B&B, Artie sets up the black light in the solarium, using it to enhance 60s posters and make it psychedelic. As he leaves the room, Claudia comes in and Artie tries to hide his surprise without success. He finally admits that he has a special surprise guest coming for her birthday party. Claudia tells him that she's just going out for beers with Steven now that she can legally drink, and doesn't want Artie to bring in a clown. Artie is disappointed that she won't be there and they start arguing, and he asks Claudia to turn down the classical music. She points out that there is no music and Artie realizes that the clock in the warehouse is Beethoven's Clock.
Pete and the others find a hole burned through the basement. Liam confirms that two prisoners, Joe Barton and Rick Davis, have escaped. Myka points out that the hole was made from the outside and there's volcanic ash in the area. They figure the prisoners have someone on the outside that helped them escaped.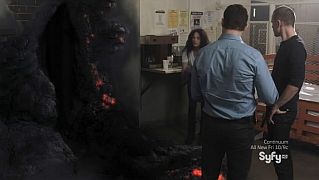 Down the road, a woman, Anna, pulls up to pick up Barton and Davis. She kisses Davis and realizes that he brought along Barton, not Griff like she was expecting. Davis checks the copper bottle that Anna brought and she warns him not to open it. The prisoner figures that they can use it to open a bank vault... or kill anyone who gets in their way.
Liam briefs his people on the two prisoners. Davis is a member of the Third Street Turks, who handle guns and narcotics. Adam Griff is his partner and is still in prison. Barton is a former Turk who parted ways, and they wonder why Barton escaped with Davis instead of Griff. As Liam goes to get Griff, Myka suggest that someone go with him. Steven refuses and the others realize that Liam is Steven's ex. He explains that Liam dumped him but refuses to talk about it. Myka agrees to follow Liam while Steven and Pete search the escaped prisoners' cells.
As Myka follows Liam, he digs for information about Steven. The Marshal admits that he's still concerned about steve and Myka accuses him of dumping Steven. She insists that Steven is dating but Liam calls her on it. He thanks Myka for standing up for Steven. They talk to Griff, who doesn't want to answer their questions. However, Griff lets slip that Barton had something the Turks wanted and is buying his way back in with his stolen loot. Liam figures that Barton is going to lead Davis to the money he stole and they dropped Griff at the last minute. The agents threaten to tell the other Turks that Griff helped them and Griff tells them where Barton was heading.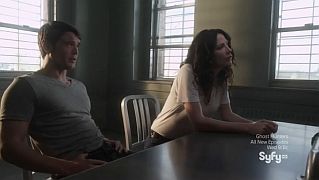 As they check the cells, Pete talks about how he's been dumped. He suggests that Steven might take the opportunity to make amends, and admits that he's been getting in touch with his sensitive side. Steven finally explains that he thought Liam was the one for him, but then Liam started lying to him. Steven finds a letter to Davis' girlfriend, Anna, and they figure she's the accomplice. Another letter has a poem that they realize is a code and Pete finds a cut-out template that highlights the words to indicate when and where Anna should use the artifact.
At the warehouse, Artie checks the file on Beethoven's Clock. There's a bust on the top that the one in the warehouse doesn't have, meaning they couldn't neutralize it. They set out to find the other half and Claudia does an Internet search. She finds it in an art gallery in Boston, and as they head out Artie is hit with another burst of music... and it's getting louder.
Myka and Liam follow Griff's directions into the woods and find an area covered with falling ash. They find the bag and discover that Barton and Davis left the cash. There's a cell phone nearby and they spot Anna in the truck. When they approach it, they find Davis' corpse, buried in a mound of hardening lava. Anna is trapped in the truck, which has been sealed with lava. Liam realizes that they're dealing with more than just an incendiary device. Pete calls Myka on the Farnsworth and Myka sends Liam to check on Anna while her partner tells her what they've found at the prison. Myka figures that Barton took off with the artifact but left the money, and warns the others that Barton is willing to kill.
Once they free Anna, Liam and Myka take her back to the prison. She explains that Davis was going to kill Barton, they fought, and Barton grabbed the bottle and used it to kill Davis. Anna says that her Italian aunt had the bottle, and Barton grabbed Anna's phone and locked her in the truck. Myka checks the cell phone they found on the ground and confirms the most recent call was to Paulie's Diner on the edge of town where the Turks hang out.
When the team gets there, they discovered that Barton has used the artifact to kill a Turk. Liam starts asking questions and Steven asks him to give them a moment alone. Once the Marshal leaves, Myka speculates that the bottle was at Pompeii during the eruption of Vesuvius. Meanwhile, Pete talks to a waitress who identifies Barton. She says that he was asking about someone called Chris but she's never heard of such a person there. As Barton left, he saw the Turk and they got into an argument, and Barton used the bottle on him. Liam calls Steven outside and demands to know what is going on. Steven tells him that things would be easier if Liam wasn't there, but Liam refuses to leave. He gets a call from his people and tells the agents that they've located the Turks' safehouse. Myka tells Steven to go after Liam in case he finds the artifact, while she and Pete track down Chris. Steven finally gives in and goes with Liam.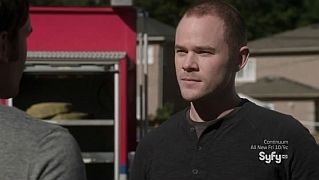 In Boston, Artie and Claudia break into the art gallery. She sets off the alarm and Artie manages to disarm it. However, he admits that the music is deafening him and he's a liability. Claudia writes out a message, telling him not make her stab him again, and he goes in with her. They discover that several items are missing, including the bust, and they figure that it's been sold. They check the manifest and discover that the statue was sold to Mrs. Viola Adams from the Beacon Park Music Academy. Another burst of music deafens Artie and he realizes that the song was Beethoven's last public appearance. After that, the composer went deaf, and Artie realizes the same thing will happen to him.
At the diner, Pete grabs a bite to eat while Myka works out that Christina Robertson was a waitress that worked there a year ago when Barton was arrested. They get her address from the employee records and head out.
Christina hears a knock at her door and finds Barton there.
As Steven and Liam drive to the safehouse, Steven refuses to discuss his feelings. He insists that he's trying to protect Liam, but Liam objects to Steven's claim that he dumped him. Liam points out that Steven walked out on him without an explanation, and admits that he lied occasionally. He complains that Steven loved him but didn't like him, and Steven made it hard for him to like him. Steven admits that he's worried that if he couldn't make it work with Liam then he couldn't make it work with anyone.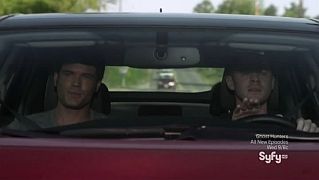 Myka and Pete arrive at Christina's house. She answers the door but says that she's on her way out. Christina reluctantly invites them in and explains that she wants nothing to do with the Turks. While she claims she doesn't know anyone named Barton, Myka notices a fingerprint of volcanic ash on the doorframe and ask Christina why she's lying to them.
Steven and Liam enter the safehouse and discover that someone has already searched the place. There's a delivery schedule for an armored car service covered in volcanic ash, and the next pickup is in thirty minutes at a mall parking garage.
Christina explains that Barton came there and they realize her son Kyle has been running with the Turks. She insists that Barton wouldn't hurt Kyle and the agents work out that Barton is Kyle's father and trying to save the boy.
At the Beacon Park Music Academy, they talk to Viola's nephew, Oscar, who takes them out to the garage to look through his aunt's collection. He finds the bust, figures it's valuable, and runs away. As Claudia and Artie chase him into the house, Artie goes deaf. Claudia chases Oscar upstairs and he claims that his aunt has a bad heart and he hoped to sell it for money. When he gets close enough, he tries to shove past Claudia but she trips him, but hurts her ankle in the process.
Steven and Liam go to the parking garage and watch as the Turks capture the armored car driver. The leader, Tony, tells Kyle that it's time to prove himself and kill the driver. Kyle prepares to shoot the man, but Barton steps out and tells them that Davis is dead. Barton tells them that he's taking his kid, but Kyle isn't impressed. He insists that the Turks are there for him, but Barton tells him that he's not going to let his son make the same mistakes.
When Tony draws on Kyle, Liam and Steven order them to surrender. The Turks open fire and the guard runs off, and Barton uses the bottle on the Turks. As Barton gets Kyle away, the leader shoots him the shoulder, forcing him to drop the bottle. It spews lava everywhere, and Barton and Kyle try to climb up an access ladder. The convict is able to climb up and he tells his son to get away while he can. Pete and Myka arrive just as the lava reaches Liam. He climbs up on top of a truck and tells Steven to get out while he can. However, the lava starts to melt the truck out from underneath him.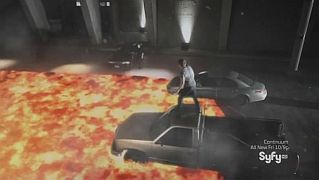 Artie confronts Oscar and punches him out, knocking him over the balcony. Claudia uses the Tesla on him and bags the bust, and Artie gets his hearing back. He helps her hobble away, suggesting that a clown would make her feel better.
At the parking garage, Steven drives his Prius into the lava near Liam and has him jump over. Liam figures that Steven works for a secret organization that collects supernatural objects and locks them away. As they jump away from car to car, Pete and Myka jump on top of a car that is being swept along by the lava flow. They jump across neighboring cars and get to the bottle, and Pete lowers Myka so she can grab it. She seals the lid and bags the artifact, and the lava hardens safely just in time as Barton loses his grip and falls to the floor below.
As the police clean up, Christina tells Kyle to talk to his father. He admits that he doesn't know what to say, but Christina assures him that Barton loves him. Pete points out that Barton took a bullet for Kyle and says that it warrants at least a goodbye. He tells the teenager to grab the chance while he still has it, and Kyle goes over to talk to his father. The agents figure that they've closed the case, and Pete hopes that Steven and Liam can work things out. Meanwhile, Liam promises Steven that he'll keep his secret, and Steven realizes that Liam lied about how he could escape the lava. He apologizes for not saying goodbye and Liam is glad they had a chance to finally do it right.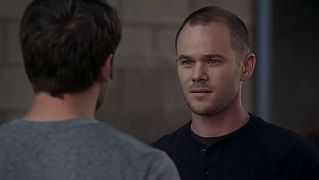 Later, Steven pulls up to Claudia's party at the coffee house in a replacement Prius. Claudia jokes about how Steven didn't text her about meeting up with his ex. He admits that it was a really good goodbye and they figure that he slept with Liam. Artie directs Claudia's attention to the stage where the owner introduces Cherie Currie of The Runaways. Cherie invites Claudia up on stage to perform with her, while Artie tells the others that he saved Cherie back in 1979 and called in a favor.