Miss Martian wakes up in the Bialyan desert with no memories of why she's on Earth instead of Mars, and wearing a costume. Superboy slams down into the desert nearby, berserk, and Miss Martian doesn't know who he is. She recognizes the S symbol on his chest and wonders if he's Superman, but he attacks her. Miss Martian manages to hold him off with a telekinetic shield and he goes leaping away.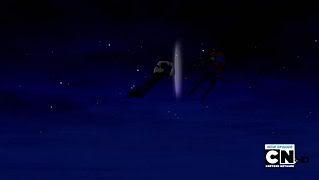 The next morning, an amnesiac Robin is walking across the desert when he spots Bialyan Republican soldiers driving across the landscape. He realize that it's September and his last memory is of March, and starts to call Batman. However, he has a brief memory flash of Batman saying to maintain radio silence and decides not to call his mentor.
Kid Flash and Artemis wake up in a cabin in the desert, with no memories of each other. She knows Kid Flash from the news, but points out that he doesn't usually wear a black camouflage suit. Artemis suspects that her father has set her up on one of his tests, and admits that he probably wants her to kill Kid Flash. Before they can figure things out, the Bialyan army launches a missile at the shack. Kid Flash gets Artemis out before the building is destroyed. As the soldiers close in, Artemis opens fire but Kid Flash superspeeds her away when the tanks return fire.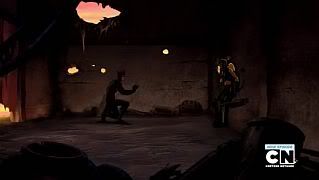 Miss Martian flies across the desert and tries to remember what happened to her. She recalls the team gathering at Mount Justice, and sets out to find her teammates.
Kid Flash and Artemis finally stop as Kid Flash runs out of energy. He checks his food supply and realizes they've been out for 24 hours. Superboy arrives and attacks them, and the soldiers open fire. Miss Martian hears the noise and goes to investigate, while Superboy takes on the tanks. Kid Flash escapes with Artemis, but trips as two fighters open fire on them. Miss Martian arrives and takes out the fighters, and explains what's happened to them. They spot the soldiers attacking their friends and go to help.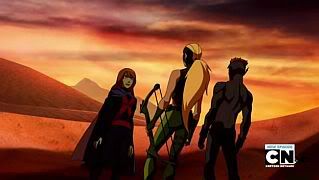 The Bialyan soldiers have subdued the feral Superman, and Psimon arrives to telepathically sedate him. They take him away, unaware that Aqualad is lying nearby, unconscious.
That night, Robin follows a GPS signal to a marker he placed earlier, and finds a bulky power unit. As he approaches it, soldiers emerge from the surrounding desert and attack him. Robin takes out the first wave, and his teammates arrive to subdue the rest. They compare notes and realize that they're a team with Superboy, and work for Batman. Miss Martian bring the others into her mind, and says that they have to open their minds to her so that she can reassemble their memories. Artemis is reluctant, but Kid Flash convinces her to agree to just the last six months. Miss Martian assembles their memories and realizes that they were sent on a mission by Batman to Bialya to investigate an alien power surge. They landed in Qurac and approached the site, under Bialyan control. They set up the power unit nearby and detect zeta radiation, and Miss Martian invisibly infiltrated the site on Aqualad's orders. They realize that Aqualad is missing, and is in danger in the desert. Robin detects him on his sensors.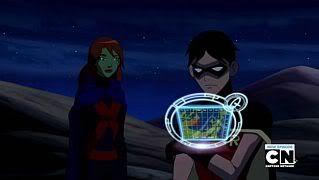 The scientists at the site torture Superboy, and the alien sphere that landed nearby, and is being held at the site, reacts to his pain.
The team finds Aqualad, who is dehydrated and delirious. Kid Flash is too low on "fuel" to take him to the ocean, and Miss Martian prefers to look for Superboy, who doesn't remember any of the six months since he was "born." She telepathically senses Superboy's pain and flies to the site, ignoring Robin's warning that they still don't know who erased their memories. Miss Martian invisibly enters the site and takes out the guards, and shuts off the torture device. However, Psimon telepathically senses her presence and launches a mental attack against her to make her forget. As they struggle, Miss Martian realizes that he attacked her the first time she entered the site, and used her telepathic link to the others to wipe their memories. She tries to fight off Psimon's attack, but he warns her that he's too powerful.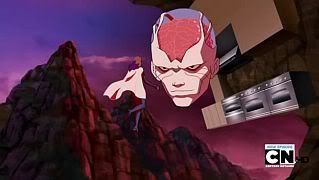 The others get Aqualad to temporary safety as the soldiers search for them. Robin slips off on his own, and Artemis hastily dismisses her earlier comment about her father, saying that she saw it as a scene in a movie. Robin plants smoke bombs with his recorded laughter to distract the soldiers, and he and the others slip off in the confusion.
While Psimon and Miss Martian mentally battle, the latter's telekinesis lifts all the small unsecured objects in the site off the ground. Superboy spots Miss Martian and gets increasingly angry, and the sphere tears free of its mounting and knocks him loose. He attacks Psimon but bounces off the villain's force shields. Superboy bumps into Miss Martian and becomes part of her mindscape. Relieved, she restores his memories, including those of the moments they've shared together. Restored to normal, Superboy tells Miss Martian to kick the villain's butt while he returns to the real world. The sphere knocks out the first wave of soldiers and Superboy takes on the rest.
Miss Martian battles Psimon mentally and manages to hurt him, but he rallies. A vortex of mental energy springs up around them, and Superboy leaps in. He takes Miss Martian's hand and they combine their mental force. Psimon is overwhelmed and the vortex smashes the site apart, blasting Psimon across the desert. The two heroes start to kiss, and the sphere rolls up and bleeps at them.
The rest of the team gets Aqualad back to the bioshop in Qurac. As Miss Martian arrives, she restores Aqualad's memories and tells the team that they have a new souvenir: the sphere.
Later, Psimon reports to the Council of Light and admits that he failed. The Council is still satisfied, noting that the whole operation was staged to test their new partner's ability to teleport high-tech equipment to them. They believe that they will soon receive new technology that will exceed the sphere and even Superboy.
Share this article with your friends