(l-r: Jim Castaneda, Blake Lewis, Danny Figgins, Andy Marshall and Dan Schumacher)
KickShaw is a A'cappella Rock group made up of four talented male singers - Jim Castaneda, Danny Figgins, Blake Lewis, Dan Schumacher, and Andy Marshall. Who are these guys, you make ask? Well, you may recognize one of these fella' as the runner-up on the sixth season of American Idol, or as the guy who beat boxes with DOUG E. FRESH.

I've heard of them since about a couple years ago, ironically, and have listened to them a few times, but eventually forgot about them like BBMac, LFO, and S Club Juniors.

Here is the link to their myspace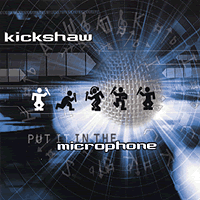 That album includes such greats hits like No, Me Gusta La Musica (I like the music in Spanish for all you Canadians), and Potatoes and Rive.

The group has since broke-up, most likely due to the fierce pressure of the beatboxing all white-male singing group industry.