Anthony arrives at the Fiddler's Inn in Nashville, TN. The owner, Johnny Walker, purchased it back in 1987 but the 202-room hotel has lost money in recent years despite the fact that it's right across the street from the Grand Ole Opry. He notices branded hotels nearby, meaning there's business in the area, but it's clear that the Fiddler's Inn isn't getting any of it.
When Anthony goes into the lobby, the first thing he finds is... a gift shop. There are dozens of hats alone. He eventually finds the outdated front desk and has the clerk ring up all of his purchases. The clerk explains that it's always been that way but Anthony points out that they're selling rooms, not hats, and gift shops only account for 1% of a hotel's revenue.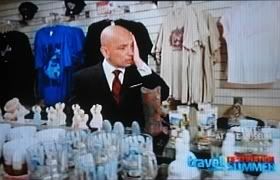 Next, Anthony inspects the outside of the hotel and finds chipped paint and rust stains. Parts of the roofing are falling off and he figures that there isn't enough money so they're giving up. However, Anthony points out that the repairs wouldn't take a lot of work. He inspects one of the rooms and finds it superficially clean. The air conditioning filter is filthy and broken and the bedspread is an old-fashioned kind. He flips it over and finds urine stains. The blanket has white stains, the sheets are not comfortable, there's bloodstains on the pillowcases, and human feces on the mattress. Anthony declares the bed a failure.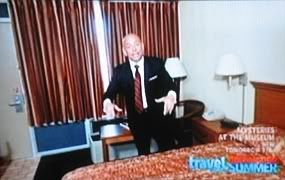 Anthony meets with Johnny, a good old-fashioned southern gentleman. Johnny explains that they've been in a funk for three years since the recession hit and he figures they need some help to refresh. Anthony asks him what the definition of the Fiddler's Inn is, and Johnny explains that many of the rooms were used by famous country singers. However, Anthony points out that there's no apparent history to the rooms. He tells Johnny that he has the best position of all of the hotels but needs to do more than separate himself from the brand hotels. Johnny claims that the gift shop is an old tradition but Anthony doesn't buy it and asks how long he has before he closes the doors. The owner isn't willing to consider the idea but Anthony tells him that it's time to reinvent himself.
After going back to the lobby, Anthony brings in Blanche Garcia to overhaul the lobby and set it up so that guests can find the front desk. He wants her to be ready before the weekend and Blanche warns him that it's one of the hardest jobs they've ever done.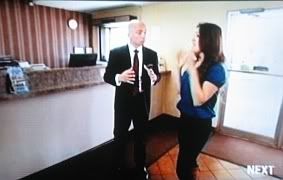 Next, Anthony sits down with the general manager, Angela Byrd. She has been at the Fiddler's Year for 20 years and used to be a horse jockey. Angela admits that Johnny keeps a tight budget and doesn't allow deep-cleaning of rooms. Anthony figures that Johnny needs to keep up the rooms if he wants to compete, and points out that he found everything that Angela is worried about. She admits that she can't go over-budget or Johnny will scream at her, much to Anthony's surprise. He wonders why she's still there and Angela admits that she's become attached to it and it bothers her when she sees the hotel in such bad shape. Anthony promises that he won't leave until she has what she needs and the hotel is going in the right direction.
Vowing to fix the relationship, Anthony goes to hear Johnny's side of things. He tells the owner about his discussion with Angela and how she just does her job is because Johnny screams at her. Johnny is surprised to hear that but admits that he has a quick fuse. When he says that he gets over it quickly, Anthony warns him that people don't forget and tells Johnny that he'll have to keep his cool and think about how they're going to move forward. He has them both sit down and tells them about the tension that he's seeing, and gives them an opportunity to talk about it. Angela hesitates to talk and Johnny finally asks her, and she says that when she gets screamed at, she can't operate. Johnny says that he gets angry when he sees her doing something she isn't, but Anthony warns him that it's not okay for him to yell. He warns that the GM/owner relationship is critical and tells them to resolve things. The owner admits that he didn't know Angela feels that way and apologizes, and she accepts his apology.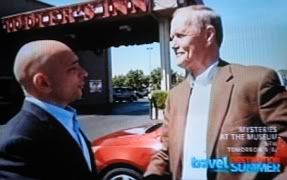 Back in the lobby, Blanche and her team show Anthony that there was loose wiring that could have caused a fire anytime. Anthony then speaks to Vanessa, the head of housecleaning. She admits that it's been a long time since she had the tools to deep-clean, and Anthony shows her how to deep-clean without a full staff. He points out the underside of the bedspread and Vanessa admits that she wouldn't sleep on it. Anthony tells her that's a problem and that everything has to be washed when a guest checks out, but Vanessa warns that things will go back to normal once Anthony leaves. Anthony assures her that she won't get in trouble and promises to get her the resources he needs.
Anthony checks in with maintenance but they consist of two part-timers with nobody in charge and only one person per shift. He tells them that they're not maintaining the value of the property and the maintenance shop isn't kept up. Anthony takes them on a tour of the property and they have plenty of excuses, but Anthony isn't buying it. One of them, Greg, agrees that there's a lot of things that need to be done, and Anthony tells him to come up with a preventative maintenance schedule and organize their shop.
Back with Johnny, Anthony asks where the owner thinks he should spend more money. He wants to renovate the elevator and repaint the surroundings, and Johnny has money set aside for it. Anthony tells him that he is misprioritizing the money, and tells him to spend it to buy a full-time maintenance man and give housekeeping the resources to deep-clean once a quarter. He tells Johnny to tell Angela to start deep-cleaning immediately, but the owner is reluctant to spend his capital. Anthony tells him that he can call him any day he wants for the rest of his life, but is clearly reluctant to spend money.
Next, Anthony checks the Internet and then spends $250 to advertise the Fiddler's Inn on a major booking site. The Fiddler's Inn is now on the top of the list and they've gotten 25,000 hits and 15 reservations.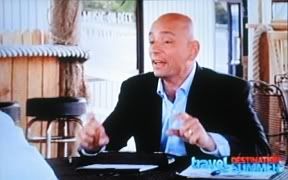 On the third day there, Anthony has Johnny come up with a sales pitch. Once the owner is done, Anthony goes over them. Johnny hasn't mentioned all the famous singers that have stayed there, and Anthony says that he has to be clear because they're going to meet with radio talk show host Bill Cody at WSM at the Grand Ole Opry. They're doing an on-air interview with Johnny, and Anthony tells the owner to let everyone in the country know about the Fiddler's Inn. In the interview, Bill goes over the history of the Fiddler's Inn back to the Opryland Park days, the "real" Nashville. Johnny mentions all of the singers who have stayed there and Anthony chips in, pointing out that the Fiddler's Inn is unique. He then reveals his surprise: they're going to hold a food truck competition at the Fiddler's Inn the upcoming weekend. The guest judge will be C&W singer Craig Morgan.
Meanwhile, Blanche is stripping out the gift shop items, peel back the wallpaper, and fixing the faulty wiring. There's mold and cockroaches underneath the wallpaper and the contractor from Chris Rogers Construction warns that it'll be a big struggle. Blanche warns Anthony that they're behind but they need to be ready by the next day when the competition begins and the weekend crowds arrive. Anthony starts ripping wallpaper off the wall and warns them that he's getting stressed.
Anthony then goes to check on Vanessa and her housecleaning crew. The maintenance crew is pulling the drapes and the deep-cleaning is going as planned. Greg comes in and Anthony makes sure that he's doing what he's supposed to with the resources he's gotten from Johnny. Anthony checks the shop and discovers that Greg has organized everything to make the work easier. He also has a room inspection checklist and plans to do a quarterly inspection, and Anthony thanks him for his hard work.
In the lobby, the construction crew is removing the damaged material and putting in new drywall. Blanche and her crew will work through the night, and Anthony checks on them at 2 a.m. He's surprised to find 40 people working and discovers that the crew has brought in their family and friends to help. Despite that, Anthony is still concerned.
The next morning, the trucks start arriving and Anthony checks on the lobby with an hour and fifteen minutes remaining. He's happy with how it's coming together but says that it looks like they're a day behind. Blanche tells him they'll be done in two hours and Anthony goes out to check the food truck competition. Craig Morgan is there and knows all about the history of the Fiddler's Inn, and admits that he would stay there if he was from Nashville. The community has turned out in force and Craig, Anthony, and Johnny try the food. They finally pick Riffs Fine Street Food and Craig entertains the crowd. Anthony shows Johnny the finished lobby, which features a wall dedicated to Nashville's history. Johnny thanks Blanche and Anthony for their work and they show him the new, smaller gift shop. Anthony praises the work crew that turned out to help a fellow local and wraps up by giving a 10% room discount to anyone who can play the fiddles mounted on the wall.