Anthony arrives in Billings, MT, a few miles away from Yellowstone National Park. The Dude Rancher Lodge is in the heart of Billings and is now owned by Virginia Karlsen, a former engineer who bought it on a whim in 1991. In the last several years, it's been unable to make a profit and has been losing money ever since.
When he pulls up, Anthony inspects the old brick and lanterns that contribute to the décor. There's some garbage but he's impressed that they're doing well with an older property. The hotel has been recognized as a historic place worthy of being preserved, and Anthony realizes that he'll have to be sensitive to the established setting. He enters the lobby, which feels like a turn-of-the-century ranch house. However, the front desk looks like it's from the 1970s. He talks to the front desk clerk, Nancy, who explains that the carpet is decorated with the brands of local ranchers. Nancy admits that the front desk doesn't feel very welcoming and shows him the mechanical keys, and Anthony points out that the rack is within easy reach of anyone in front of the desk. The cash drawer is also easily accessible to guests.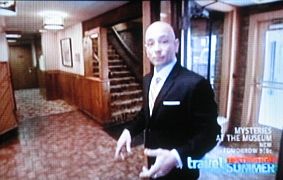 Anthony checks out a queen room selling for $50 and likes the vaulted ceiling. However, there's an old-fashioned TV and a horrible bedspread covered with leave imprints that look like stains. The bathroom flooring doesn't go with the hotel's history and Anthony figures that things have to change. He checks the amenities and discovers that they have free coffee but no iron and ironing board so he calls Nancy. There's no answer until after seven rings, and Anthony asks for an ironing board. Nancy soon brings it up in person because housekeeping is busy, and there's no one at the front desk. Anthony figures that she hasn't been trained personally. He asks about a coffee maker and she admits that there isn't one. However, Anthony points out that there is one in the room. Nancy admits that no one is answering the phone and Anthony sends her back to the front desk.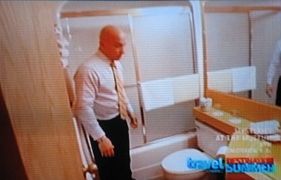 Next, Anthony goes to meet with Virginia and the general manager, Todd Graves. He asks them what they think the biggest problem is and Virginia says that they haven't kept up with the big hotels. Todd says that it's his job and Virginia says that he's tried but has been mired in day-to-day operations and untrained staff. Anthony figures that Todd can't do his job because he's busy handholding the staff, and asks him if he knows the financial pressure that Virginia is under. He says that he does and admits that he hasn't been paid, and Virginia explains that Todd hasn't been cashing his paychecks. Anthony finds that odd and tells Virginia that Todd isn't doing her any favors and she should know better as the owner. He tells Virginia to either turn Todd around or find a new GM.
The next morning, Anthony meets with the staff and asks why they like it there. They think that Virginia is good to them but Anthony figures that they don't know what bad shape the hotel is in. They don't know and Anthony asks them what the problem is. The housekeepers say that it's at the bottom of the list and has lost sight of the unique appeal, and Anthony agrees, assuring them he'll give them the tools they need.
Anthony tracks down the GM and finds him tidying up the air conditioner and the TV cables. He tells Todd that he doesn't want him doing maintenance work and he needs to focus on being a GM and managing the future. Todd seemingly understands but Anthony wants to see some real results before he leaves. He tells Todd to make sure everyone is trained.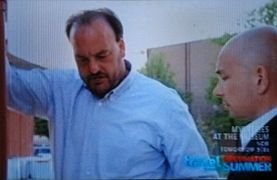 Blanche Garcia arrives and agrees that the front desk doesn't match with the rest of the hotel. Anthony wants to her to provide a nod to the past but be functional on the inside. He then shows her the bathroom he checked earlier and she promises to clean it up and do some research so she can balance past and future.
Anthony and Todd go to see MJ, the director of sales and marketing. She and Todd both admit that they should be bringing in sales, and MJ says that she hasn't been a good director of sales recently because she lacks confidence in the room. Anthony tells her that the rooms are chaotic but he could sell them, and tells MJ not to give him excuses. She defends herself, saying that she's uncomfortable with the rooms, and Anthony tells her that she's not doing her job and wouldn't have a job if he owned the place. When Todd comes to MJ's defense, Anthony tells MJ earn her paycheck and she gets up and leaves, saying she doesn't need that shit.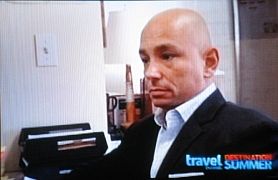 As MJ starts to go, Anthony turns the cameras off and calms her down. He apologizes but says that they need massive action so they can meet their payroll. The hotel has to change because the business has changed, and he's there to kick asses. Anthony reminds them of how it was a busy place back in 1949 and that he wants to make people feel inspired again. Todd and MJ agree and Anthony says that they have to punch the customer in the face with the hotel. MJ vows to have a new 100% dedication to the hotel and let nothing distract her.
Blanche begins work on the bathroom and the front desk and attempt to keep the historic flavor. Meanwhile, Anthony sits down with Virginia about her Internet reviews. The top travel site rates the Dude Rancher Lodge at one and a half stars, and he explains that a one-star hotel is a hostel or dormitory. Anthony suggests that it might be a mistake and Virginia says that she knew about it. He asks what she's done about it and Virginia admits that she didn't know she could do anything. Anthony takes the owner outside and they approach some people on the street to ask them about what they think a one-star hotel is. They associate one-star hotels with cockroaches and dirt, and none of them would stay at a one-star hotel. When Anthony points out that the Dude Rancher Lodge is rated as a one-star hotel, they all disagree. Virginia admits that she feels awful about the job they've done marketing themselves and Anthony challenges her to get the rating changed because it's a mistake.
On the third day, Virginia calls the travel site while Anthony reaches out to several local businesses. One of them is a microbrewery, Angry Hanks, and the three managers meet with the brewmaster, John. He offers to customize a brew to the hotel and MJ offers to hold a reception in the lobby. They go over the beers and find one that feels like it goes with the Dude Rancher, and they share a toast to their new partnership.
Next, Anthony and the managers head out to Bitter Creek Trail Rides, a few minutes from the hotel. They meet with Theresa and learn what she offers customers. Anthony saddles up for a ride and takes the others out to take in the view. He explains that people will remember the view, not the business meeting they're in town for. Theresa has them dismount and take in another view, and Anthony assures the hotel managers that it's their best asset.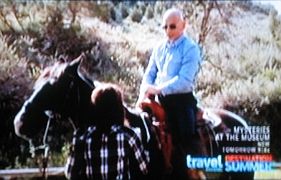 On Anthony's last day, he organizes a traditional Montana cookout in the parking lot. Todd shows Anthony how he's organized a training system and a deep-cleaning schedule. He is also going to sit down with the engineer and do a room assessment, and then set revenue goals. Anthony figures that Todd's on his way to being a better GM and checks in with Blanche, who is putting the front desk back together. She says that they've got three hours of work left to do and Anthony wants it done in time for the party.
Anthony meets with MJ and admits that she looks like a different person. The director admits that Anthony has inspired her and shows him a list of potential corporate clients, and thanks him for giving everyone a reality check.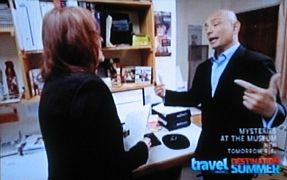 Virginia meets with Anthony and tells him that she got the rating on the website up to a three-star hotel. She explains that she kept phoning and when she did get hold of them, told them that they had to fix it immediately. Anthony then points out that they're charging less than two-star hotels and tells Virginia that she is going to raise her rates to match the three-star hotels in the area.
As the staff cleans up the hotel, Anthony goes to the room and Blanche shows him the vintage buckles that she found on eBay. She's had them framed and shipped to the hotel and is putting them up. However, the cameraman knocks one case out of Blanche's hands. Everything is okay, and Anthony goes to meet the managers at the cookout out front. He wants them to invite people once a month to enjoy the hospitality and establish the hotel branding. John arrives with the beer and a new label based on one of the original rancher brands.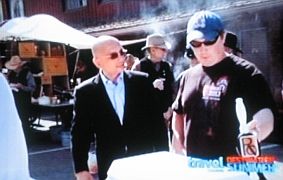 Anthony then takes the managers to the lobby to see the front desk. They're impressed with the beauty and the function, and Anthony introduces them to Blanche. She shows them how she put conchos on the desk to give it more flavor. Next they check out the newly renovated room and they assure Blanche that there's nothing they would change. Anthony assures them that it isn't expensive and they can have the rest of the rooms redecorated within six months. Finally, Anthony goes out and brands the hotel wall with the hotel initials.