Anthony travels to Maui in the Hawaiian Islands to the Maui Sunseeeker Resort in Kihei. It's the largest gay-owned and operated hotel in Hawaii. Owner Chuck Spence is running out of money since he bought the property in 2008. Anthony arrives but the parking lot refers to the Wailana Inn. He finds a small sign written on it in in magic marker identifying the Maui Sunseeker.
Looking around, Anthony finds rusted grills due to the nearby saltwater from the beach. After breaking apart a decorative turtle, Anthony tries to find the main office and locates the sign behind a bush. The office signs have no logo and there's no path. When Anthony does get to the front door, it's locked and the sign says to use the phone. He tries it and gets put on hold for a while. Joe finally answers and says that he's on his way. The clerk lets Anthony in and explains that he was vacuuming the pool. Joe claims it doesn't happen often but Anthony shows him the sign they have for the occasion that doesn't happen very often. He says that he would hire Joe because he's friendly but it was an unpleasant check-in experience.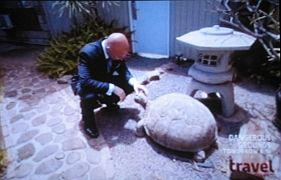 Anthony goes to Room 323 and discovers that the room numbers are Velcroed on. He goes in and discovers that the bed has white bedding and it looks clean. There's a humming noise through the wall and Anthony goes out to find the source. The sign leading up says that the roof top deck is clothing optional and Anthony decides to check it out. There are two older men naked in the hot tub and Anthony realizes that the hot tub is making the noise. One of the men has been coming there for ten years and Anthony asks if he would come back if they opened it up to the heterosexual community. The men say that they would.
Looking around the deck, Anthony enjoys the view but discovers that it's very old and worn. Panels are falling off of the hot tub and the table is dirty. When Anthony moves to see what's underneath the glass table, he drops it and it shatters. Anthony insists that the rooftop quality has to match the view.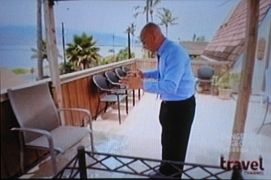 Anthony tracks down Chuck, who explains that he wanted to cater primarily to the LGBT community. There were two others on the island and they both went out of business, and Anthony says he's going to figure out how Chuck is positioning the hotel on the market. Chuck admits that he lives on property and if it fails then he's homeless. The hotel is losing six figures of money every year and Anthony says that the general manager is a major problem even though he hasn't met him yet. Chuck says that he hired back one of the previous owners, Michael Waddell. Michael is dedicated to the property and knows what the guests appreciate, but Anthony warns Chuck that he isn't going to play nice.
Blanche Garcia comes in and looks in horror at the shattered table. She figures that Anthony did it and accuses him of trashing the place. Anthony claims that the wind did it and Blanche doesn't buy it. He points out that the wind would have done it eventually. Anthony wants the hot tub gone and Blanche plans to turn it into a mini-Shangri La.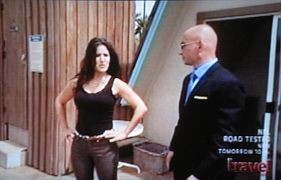 Anthony goes to find Michael and talk about the maintenance issues. Michael is taking down the gay pride flag and Anthony suggests that someone else might do it while he handles the bigger issues. They walk and Anthony shows him the parking sign, garbage pails, and the Velcro room numbers. Michael claims that he doesn't have the money to get new signs, but Anthony tells him to use crazy glue. Anthony figures that Michael avoids confrontation and plans to push him out of his comfort view.
The two men check out the view and Michael complains that Chuck constrains him. When Anthony says that he has to get his act in gear and he's the problem, Michael says that maybe he should quit and Anthony tells him to do it if that's what he wants. Anthony walks away and says that he has to get Michael to think about what he wants.
Later, Anthony takes Michael to the Kohala Zipline to get him outside of his comfort zone. He explains that GMs have to be fearless and they go up and ride the zipline down. Michael screams all the way down and Anthony is right behind him. They figure that if Michael can do that then he can handle Chuck.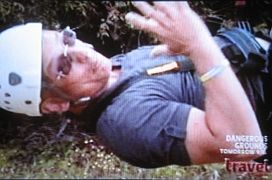 Back at the resort, Anthony has Blanche look at one of the rooms that George recently renovated. She wants to put something in to provide a sense of comfort. The bed is white in a white room and the kitchen unit needs creativity.
Michael meets with George and tells him what Anthony said that he's the problem. George reminds Michael that they have to get their priorities straight but Michael tells the owner that he needs the liberty to make the decisions and the money to carry them out. The owner insists that they have to ration the cash but Michael says they either have to step up or he's quitting. They call in Anthony and Michael tells him what he told George. He repeats his demands to George and the owner explains that he has to feel comfortable with how the money is spent. Michael shows him the list of maintenance issues that he put together and how George ignored them. Anthony explains that the GM runs the place and the owner supervises, and he has to trust Michael to do what he has to do best.
Blanche and her team are working on the roof deck and are in the middle of cutting the hot tub in half. When Anthony realizes they're using a small wood saw, Anthony grabs a chain saw and goes to work. Once it's demolished, they toss it over the balcony.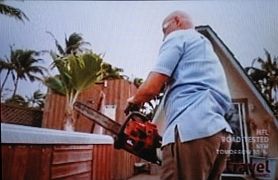 Next, Anthony meets with George and Michael to discuss their marketing strategy. They're behind other hotels when the market is generally moving upward. When they say they had a bad spring, it's because Anthony says they're doing things wrong. He runs reports that say that he has a survey from 6,500 gay and lesbian guests and more of them consider location more important than a hotel simply being gay and lesbian friendly. George explains that it's not easy being a gay man and he visualizes the resort as a place where gays can gather in numbers for safety. Anthony says that who is paying doesn't matter and shows them one of their signs. The sign heavily promotes them as a LGBT resort and Anthony says that it doesn't welcome heterosexuals. Instead he wants them to market to open-minded guests and they agree. Anthony then tells George and Michael that he wants to celebrate with a party on the new roof deck and wants guests of all persuasions there.
Anthony goes back to the office and checks with Joe, who admits that things are running smoothly. Michael assures Anthony that they've hired a full-time maintenance man so that Joe can spend his time at the front desk. Anthony meets with the maintenance guy, John, who is working on the sign at front. It's missing a K from "Sunseeker" and he's sticking it on. He then puts on room numbers, fixes the signs, and repairs the turtle.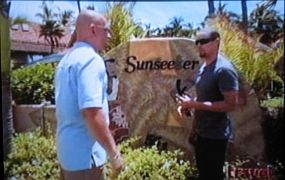 Back at the roof, Anthony inspects the renovated roof and finds Blanche all alone, sweeping. She tells him that the rest of the crew are working on the suite and show him the UV canopies. Anthony checks the new bamboo wall which gives them privacy as well as ventilation. There is furniture and plants coming in but Blanche is sure that it will provide privacy as well as a fun place to hang out. Anthony wants her done by the first thing in the morning but Blanche gives him noon.
Next, Anthony takes George and Michael to the renovated room. Blanche has added more color and energy, making it more comfortable, and she comes in to explain that she added tribal rainbow demographics on the walls. She's added granite topping to the kitchen counters and photos taken by Michael's husband. In the bedroom Blanche has added a few more touches as well and George and Michael are impressed.
Anthony and Blanche take George and Michael to the sundeck and they're happy that they have a communal living space complete with a bar. Blanche explains that the furniture is commercial grade and it should last for a long time. She introduces Mark and his team of workers, and George and Michael thank them in Hawaiian.
New guests arrive at the resort and are impressed. That night, they celebrate on the roof deck. Joe hands out leis and everyone mingles. After a few minutes, Anthony pulls George and Michael away and shows them his last surprise: an e-marketing postcard that welcomes people of all sexual persuasions. They go to the bar and share a toast to everyone coming together.