Anthony drives to Cape May in New Jersey to help the 50-room Periwinkle Inn. It's one of the last family-owned properties in town. Claudia Gaitka, who bought it in 1973, runs it with her two children, Jennifer and Gerry. The hotel has been in the red for five years and they need help.
When Anthony pulls up, he notices that there's only one car in the parking lot. There's a "Yes, we're open" store in the window of the pink building, but Anthony admits that pink works when they're close to the beach. The Periwinkle is surrounded by several other hotels and Anthony admits that it has good landscaping. He wonders why he's there and goes in to talk to the front desk clerk, Rochelle. She's behind a glass divider window and admits that no one has told her why they have a divider up. The rest of the lobby is equally uncomfortable and Anthony figures that it looks low-rent. Rochelle explains that they don't accept credit cards and admits that it turns people off.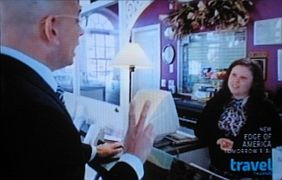 The housekeeper, Karen, comes in, collects her keys, and punches in. The time clock is in the lobby and Anthony says that it's unacceptable and sends Karen on her way. Rochelle explains that the only bathroom in the lobby is private, and admits that she's had to tell guests that they can't go to the bathroom.
Anthony collects a key to check out a room which rents for up to $297 in peak season. The room looks like a jail cell and the bed has a flowery pattern. It's old and ratty but clean, and the mattress is so thin Anthony can fold it into quarters. The lampshade is broken and doesn't match the room. There are signs on the wall with lettering in bold "yelling" at its guests. Anthony checks the next room and finds a flat-screen TV, old drapes, and a cheap couch. It's clean but uninviting.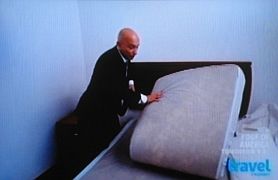 Claudia comes in to meet with Anthony and explains that she's been in the motel business for 50 years. Her father bought the Periwinkle for her and her children, and Anthony asks what is hurting her. Claudia says that the rooms haven't been renovated and wants a low price that provides quality. Anthony says that the rooms aren't inviting and that the surrounding town has been doing better since 2009. Claudia explains that her occupancy has been lower since 2009 and she wants Anthony to show her how to bring the place up. He mentions the cash-only policy and explains that people aren't coming back because of that. The Periwinkle is 17 out of 40 on TripAdvisor but Claudia isn't aware of it. Anthony brings out guest comments about how the rooms weren't ready and the staff is rude. When Claudia says that she'll make it up with other guetss, Anthony tells her that's garbage.
Anthony brings in designer Casey Noble and shows he the mismatch between the inside and the outside. They go to the dividing window and Casey agrees with Anthony about how uninviting it is. A guest comes in and they ask his opinion. He agrees with them and says that he probably won't stay at the Periwinkle again. Casey sets out to make the interior look like the exterior. Anthony shows her the employee bathroom, which is filled with cleaning supplies, and sends Casey out to go to work. Before she leaves, he peels off the divider window, which easily comes apart, and assures Casey that he's doing her work for her.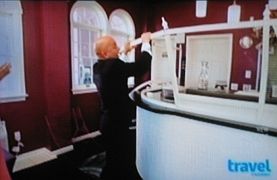 While Casey gets started, Anthony does a perimeter check and talks to Sam the poolboy. He explains that the guests use the towels in the rooms because the hotel doesn't have pool toys. Sam shows Anthony where they hang their room towels up across the parking lot on a clothesline. Since all the towels are the same color, nobody knows if they're getting their own towels back.
Anthony talks to Claudia again, and finds her and Gerry looking at the demolished ticket window. She tells Anthony that the window is there for security and he promises to incorporate it into the design. However, Anthony explains that the guests didn't like it. Claudia wants him to check with her first and give her respect, and Anthony apologizes. Despite that, Claudia is still angry.
Since he's not having much luck with Claudia, Anthony talks to Claudia's daughter Jennifer, who is the one who called him in. He asks what's going on and then notices that she's written a jingle in his honor. Jennifer plays it and then they go outside. She explains that she focuses on marketing and Anthony points out that guests complain that the staff are nasty. Jennifer says that it's the guests' fault and then admits that she doesn't know the occupancy rate. When Anthony tells her that she has to focus, Jennifer says that she's marketing but isn't able to answer Anthony's questions about what she's doing. Anthony tells her that he's there to reposition the hotel and needs her to focus.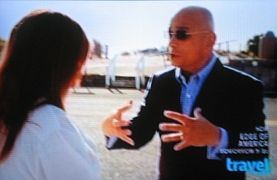 Casey brings in a team from Wilde Builders and they pull up the carpet. Underneath is a huge crack in the concrete slab. They don't have time for concrete or tile so all they can do is put down carpet, but Casey wants another alternative.
Anthony checks the hotel and finds more rules signs. There is a red "no children without an adult" sign in the elevator and Anthony yanks it off the wall. As he comes out, he runs into Claudia, Gerry, and Jennifer. Anthony shows them the sign and explains that only fire signs should be in red. Jennifer says that the insurance company requires it but he doesn't believe it. Anthony says that there's a better way to do it, and then shows her their web site, which has more "bold" yelling. Jennifer makes more excuses and Anthony calls it on her, saying she should be "Miss Excuse," and she takes offense. He suggests that they calibrate how they think and move forward.
Jennifer complains to the producer about how Anthony is making her stupid, and Anthony tries to talk to her. She walks away and refuses to discuss it. Gerry comes over and asks what the matter is, but Jennifer starts to drive away. Anthony catches up to her and explains that he's there to help, and Jennifer agrees to talk with him. He asks what he can do to help her do her job, and she says that she needs marketing. Anthony says that he'll do what he can for their Internet marketing, but Gerry tells him that they don't use computers because of their mother's policy. The hotelier warns them that hotels have to be on the Internet to survive. Gerry says that he's really to move forward and Anthony asks if he could take over if Claudia quit. When Gerry doesn't believe it, Anthony suggests that they sit down and tell Claudia that they're going to take over. They agree and Anthony tells them not to walk away from him because he'll just go after them.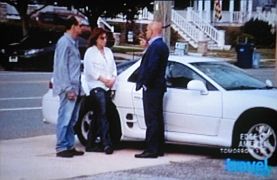 Anthony checks with Casey and she tells him about the floor. She can't do tile or an equivalent because of the crack. It's too uneven to make it work so she's going to put lay-down stick-down tile. Anthony doesn't want her to do something that won't match and Casey says that she'll come up with something else.
The next day, Anthony calls the family together for a meeting and they say that they are feeling better. Jennifer promises that she's 110% back and Anthony says that he can see the love they bring to the Periwinkle. He suggests that Claudia might retire and let the children take over, but she isn't happy with the idea and doesn't want to take it easy. Claudia finally agrees that there should be a transition, but Jennifer objects to her mother's lack of faith in her and her brother. Anthony asks her to be open-minded and Claudia is open to the idea that her children develop their own way. They all agree to begin the transition that day.
Next, Anthony calls in an online ticket sales company, MAC, to get some tours coming to the Periwinkle. The woman offers them a platinum-level membership to get them started. They'll get their names on email blasts with links to their websites, and MAC will put out booklets to travel shows with the Periwinkle in it. Anthony then gets them a new green ice machine so the guests have a second machine. He then shows them the donated pool towels that he's obtained along with a storage bin.
Once Casey is done, Anthony takes the family to see the newly redesigned room. It has bright colors, a duvet, a new bed, and a comfortable feeling. Anthony takes them into the next room which has updated furniture in a Cape May style. Casey comes in and the family thanks her, and Anthony assures them that they can use the same design template at a low price for the other 49 rooms.
Casey and Anthony take the family to the new lobby. They've given the desk a coat of metallic paint to bring out the pattern, making it the focal point of the lobby. Anthony goes to the bathroom and shows them the new guest-accessible redecorated room. He then shows them the new computer and their new website. It can send out e-cards and function as a property management system. The Gaitkas say that Anthony is part of the family now and Anthony goes off to jump in the pool. Claudia joins him and the two of them hug.