As storms bring flooding in Colorado, Bret, Bart, and Dandy Jim Buckley hole up in a leaky cabin. Dandy Jim complains that they should have gone to Texas and realizes that the Maverick brothers are hiding something about Texas, their home state. He suggests that they tell him the whole story and Bart convinces Bret to help him tell the story. They tell him that they can't go back to Texas because they're wanted for murdering two men.
[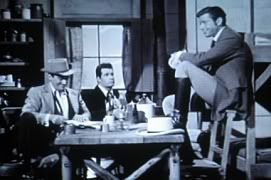 Just before the Civil War ended, Bart and Bret join the Union War for two years as Indian fighters to avoid rotting in a Yankee prison. They return to their hometown of Little Ben and discover that the Union soldiers are running the place instead of the Confederate soldiers who came home to nothing. The Mavericks go to the grocery store and chat with Jessie Hayden, an old friend and the owner. Bart explains that they're there to collect some money on deposit that they left with Jessie's father, but Jessie informs them that his father died. Jessie gets them their money, $1,650, but Bart points out that it's Confederate money. When Jessie says that they paid in Confederate money and that's what he's giving them, they explain that they paid in gold and the ledgers should prove it. Jessie says that the books just show his land holdings and refuses to turn them over. Jessie's men in the store attack the brothers while Jessie ducks out the back to summon the Union lieutenant in charge.
Once Bret and Bart finish off the thugs, Jessie comes back and tells them that he's destroyed the receipt and it's their word against his. However, a woman named Laura Miller steps forward and says she saw the entire thing from the back room. Jessie pays up and then offers them $3,300 for their spread. The brothers refuse and discover that Laura has slipped away. All the lieutenant knows is that Laura moved there four years ago with her father. The brothers spot a note that she left inviting them to visit her at their place. They draw to see who goes out with her and Bret wins. After a shave, Bret goes to see Laura bearing flowers. He discovers that Bart is already there. Once they're alone, Bart reveals that he knows that Bret cheated.
[
When Laura returns, she offers them a job as trail bosses. They immediately refuse, but Laura explains that Jessie plans to buy out the territory. She saw a map of three counties with his plans at his home, because she went there to kill Jessie after he had her father killed. Jessie plans to take the Maverick land as well as her own. When the brothers wonder why they need to go on the cattle drive, Laura explains that she can get $40 a head for 2,000 cows. The Army at Fort Adobe, Arizona Territory, is starved for meat and will pay top prices. When the Mavericks note that the land between Little Ben and Fort Adobe is filled with Indians and short of water, Laura says that's why she wants them because they know the territory. She offers them $8,000 to act as trail bosses but admits that everyone else says that it can't be done. Bret says that they want to fight for themselves for once and say that they'll consider her offer. Laura warns that the Army wants exactly 2,000 head and they have to get there first, but the brothers refuse to accept the offer.
[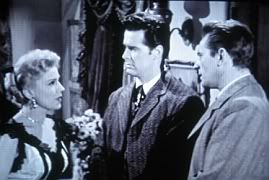 The Mavericks ride out to the family ranch and find a man lying in the road. It's a trap and the man and his confederate knock them out and take their money. The man in charge, Jim Hazlit, is Laura's foreman. He and his confederate, Miguel, turn the money over to her but complains that she's manipulating the Mavericks to fight against their will. When he tries to kiss her, Laura backs away and says that right now all she wants is revenge. As Jim goes, Laura asks if he's walking out on her and he says that he wishes he had the guts to do it.
When they wake up, the brothers figure that Jessie is responsible for the attack but have no proof. They try to recruit the returning Johnny Rebs in town as cowboys. However, one of Jessie's men, Jett, tries to turn the Confederates against the Mavericks by pointing out that the brothers served with the Union Army as turncoats. Bart calls Jett on it, challenging him to prove that he served. When he can't, the Mavericks admit that they served as Indian fighters to avoid a prison sentence, but never fought Confederate soldiers. The Johnny Rebs stand by the Mavericks, and Bret yanks Jett off his horse. When Jett accuses him of relying on the crowd, Bret tells Bart to shoot anyone who interferes on either side. Jett slinks off but warns them that they'll meet again. The brothers tell their new recruits that they'll move out the next morning.
[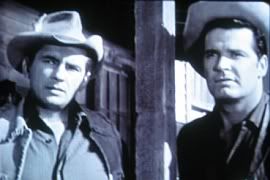 That night, two of Jessie's men try to ambush Bart and Bret as they leave their hotel. A tall man in his 20s is passing by and spots the bushwhackers. He warns the brothers, who shoot down the two attackers. When the sheriff arrives, Bart and Bret explain what happened but discover that their rescuer has disappeared.
The next morning, Bart and Bret meet their recruits at the Miller ranch. Laura warns them that the Army lieutenant is coming to arrest them. Jessie has sworn out a statement that the Mavericks shot first. Laura sends Bart and Bret to the border to meet the herd on the way to Fort Adobe. However, the brothers go back into town to find the witness, only to discover that he's joined a wagon train heading northeast. They argue about who will go with Laura and the cattle drive and who will go after the witness. Bret wins the toss and Bart wins him that the Union lieutenant could follow the cattle drive to keep an eye on Laura.
The cattle drive heads for Ford Adobe while the lieutenant and his platoon follow the herd for five days. Bret follows them from a distance, waiting for the soldiers to leave. Once they do, Bret joins the cattle drive and rides alongside Laura.
[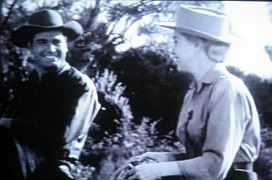 Bart rides after the witness and catches up to his wagon train eight days later. Indians have circled it and soon finish off most of the settlers. A few wagons get away and Bart figures that the tall man is with them.
As the cattle drive camps for the night, Bret spots Miguel's boots and recognizes them from when he and Bart were ambushed. When Bret demands his money back, Laura explains that she set the whole thing up. When Jim tries to interfere, Bret figures him for the second attacker and knocks him out. Laura insists that she wasn't going to keep the money and gives it back. Bret admits that her plan work but now he'll take 25%. Laura has no choice but to agree. She stops Jim from fighting Bret and tells him that they have work to do. Bart arrives and tells them that someone else is driving 2,000 head to Fort Adobe: Jessie. He's also learned that the tall man is heading for Fort Adobe and sets out to find him.
[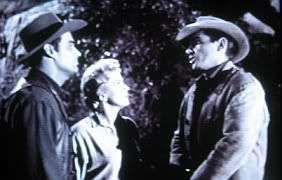 With time running out, Bret and Laura push the herd faster. Two days out, they take a break and Jessie visits their camp. He wants to talk privately to Bret about the two men and Bret agrees. Jessie offers to clear Bret and Bart of the murder charges if Bret will sabotage the drive, explaining that he has a deposition on file in case he dies. Bret refuses and Jessie explains that he's buying the land so he can keep Union carpetbaggers from moving in. He's the only one with the resources to do it and warns Bret that he's fighting on the wrong side. Jessie offers him $40,000 to ruin the drive but Bret repeats his refusal. When Bret returns, he discovers that Jim has watched the entire exchange. They figure that the only way Jessie has to stop the herd is to stampede it.
Bret and some of the men ride out to find Jessie and his men riding toward the herd. Bret's men lure Jessie away from the herd and into an ambush. Bret circles around and gets above them, and Jim manages to shoot Jessie. They call on Jett and the others to surrender because they can't sell the cattle with their boss dead. Jett and his men quickly leave while Jim confirms that Jessie is still alive. He offers to tell the truth about the murders in return for Bret getting him medical help.
[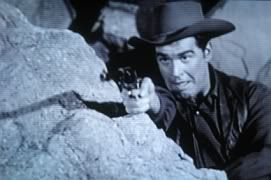 Two days later, the cattle drive arrives at Ford Adobe. The doctor is unable to do anything for Jessie and Bret asks him to listen as Jessie clears his name. However, Jessie smiles and tells Bret to hang with his dying breath.
[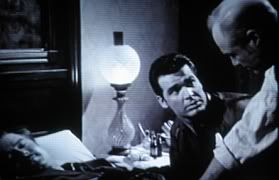 Later, Laura suggests that no one will pursue the murder charges knowing that Jessie hated the Mavericks, but Bret figures that for now he'd be better off searching for the tall man. Bret bows to Laura who kisses him before riding off with Jim.
In the present, Dandy Jim wonders if the brothers will go back to Texas and settle down if they ever find the tall man. The brothers admit that they're not in any hurry to find him and Dandy Jim promises not to notice if he ever sees the man.
[