A man with a cane gets out of a taxi outside the Gotham Book Store, where former spy and current author, Colonel Alec Nivin, is signing copies of his new book
Memoirs of a Spy
. His publicist, Jenny O'Brien, is supervising the signing, and Nivin tries to hit on her without success. Once she steps away, the man with the cane places a book before Nivin with a message inside saying that they have to talk. They step aside and Jenny notices them arguing. The man with the cane leaves and Ellery arrives and wonders why Jenny, his girlfriend, didn't show up for lunch. She reminds him that their lunch date was a day ago and says she has to go to a literary cocktail party in honor of her client. Jenny explains that it's her publicity that has made Nivin popular, and introduces Ellery to Nivin. Nivin signs his last book and suggests that he and Jenny go out to celebrate at the Safari Club at his private room. Thinking quickly, she gets Ellery to agree to a dinner date, but Nivin insists on business first. Switching gears, Jenny tells Nivin that she's invited Ellery to the cocktail party that night, and tells him to be on time for once.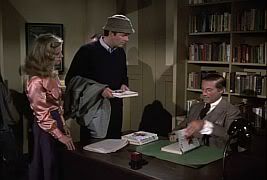 Later that day, Jenny arrives at the Safari Club. The concierge, Rosh Kaleel, tells her that the club is men only and Nivin isn't ready to see her. Once Rosh leaves the desk, Jenny goes in anyway and finds Nivin at his desk, his back to the door. She approaches him and turns the chair around, and realizes that he's dead. The door closes behind her and she runs to the door, and Rosh comes in and grabs her arm.
At home, Ellery is preparing for dinner and reading Nivin's book at the same time. It talks about the mistress of the Butcher of Prague, Froliker, who is now married to a highly-placed diplomat. Ellery explains to his father that Nivin was with British Intelligence during the war, and is now using information he gathered as an agent to launch character assassination attacks on New York citizens. One of the unnamed Nazis, a radio announcer, is allegedly living under an assumed name as a businessman. Another one is a French underground leader who betrayed his comrades and escaped to America. After Ellery leaves to make his date, Inspector Queen gets a call from Velie about Nivin's death and prepares to catch a cab, but spots Ellery's glasses and figures he'll be back. Ellery comes back and they go together.
At the club, Ellery confirms that Nivin was killed with a rare Kashmir dagger that was mounted on the wall. He figures the killer grabbed it and stabbed Nivin. Velie comes in and tells them that they've captured a suspect: Jenny. She insists that she didn't kill Nivin and explains that someone ran out as she came in once her back was turned. Ellery finds a glove in the sofa with the monogram SD on it, and asks Rosh if Nivin had a woman in the room. Rosh insists that it's against club rules to have a woman, but Ellery finds a long blonde hair. Ellery asks Rosh who cleans the room, and Rosh says that the room was thoroughly cleaned the previous day. They go to the cabinet containing Nivin's files and realize that it was tampered with, but confirm that the drawers are still locked.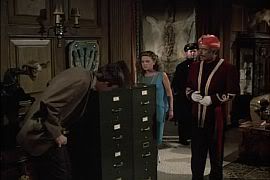 At the station, Ellery and his father go through Nivin's files and try to find someone with the initials SD. The inspector finds information on Russian diplomat Alexei Dubrenskov and his wife, Sonya. They go to see Sonya at her home, and she dismisses the butler, Mikhail. He's strangely hesitant to leave and Sonya orders him out. Ellery notices that she was reading a copy of
Memoirs
, but Sonya claims she just picked it up out of curiosity. Alexei arrives and immediately demands that the U.S. government return a defecting seaman. They explain that they are there about Nivin's death and show the couple the glove, and the matching monogram. Alexei tells them that Sonya's affair with the Butcher of Prague is in the past, and she reluctantly admits that she saw Nivin an hour before Jenny found him, and he was alive when she left. Sonya tells Alexei that she went there for his sake, to protect his career. Nivin agreed not to use her name in return for money. Afterward, Ellery and his father leave and two cars follow them.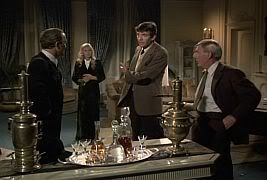 The next morning, Ellery goes over Nivin's files and burning breakfast when Jenny arrives. He explains that he's found a file on Colin Esterbrook, a British turncoat who broadcast propaganda for the Nazis and is now an antiques dealer on the East Coast. There's also a file on the French leader, Marcel Fourchet. Jenny recognizes the name and identifies him as a freelance photographer in New York City. Ellery wants to go talk to him alone, but Jenny insists on going along since she's the one suspected of murder. Velie calls to leave a message that the lab report showed that the only fingerprints on the dagger were Rosh's and Nivin's. Ellery wonders why Sonya's fingerprints aren't on it, since she wouldn't have taken off the glove to kill Nivin. The glove was the right-hand one, but Sonya lit her cigarette with her right hand at her apartment.
Jenny insists on going with Ellery despite his objections and they meet with Fourchet. Fourchet claims that he doesn't know Nivin, but Ellery finds a copy of
Memoirs
with a Gotham Book Store bookmark at the spot where Nivin threatened to expose him. The photographer admits that he gave in to the Gestapo under torture. When Ellery asks where he was at the time of the murder, Fourchet says that he was taking photos of a dock strike in Boston and returned by plane at midnight. A woman, Glenda Dunlap, emerges from the bedroom and says that she can confirm Fourchet's alibi. Fourchet introduces Glenda as his secretary and fiancée, and Glenda says that she picked him up at LaGuardia. As they go, Jenny claims that she learned her lesson and will leave the case up to Ellery. However, once they separate, Jenny hails a cab and goes to the Dubrenskov apartment.
When Sonya hails a cab and leaves, Jenny has her cab follow it. Meanwhile, the two cars from the previous night follow her. Sonya goes to a dressmaker store and Jenny follows her inside. Jenny sees her sign with her left hand and accuses her of lying. A man barges in and shoves Jenny back, and Sonya calls him Nikolai. The police are called in and Jenny is taken to the station. Inspector Queen is less than thrilled that Jenny has caused a public disturbance, but tells her that he doesn't believe she murdered Nivin. Velie arrives with information on Fourchet confirming his alibi. They've also checked Rosh's fingerprints. They go to the club and confront Kaleel with the fact that he's really Barney Groves, a bunco artist. Barney ushers them into Nivin's office and confirms that he was never in France during the war. He does tell them that Sonya arrived to see Nivin, but he made himself scarce. However, the night before Nivin got two telephone calls from a British antique dealer. Ellery questions Jenny, who remembers the man with the cane talking to Nivin at the bookstore.
Ellery, Jenny, and Inspector Queen go to Esterbrook's store and confront him with the fact that he met with Nivin. Esterbrook explains that he was a double-agent and actually transmitting coded information to Great Britain. Under their security system, only one man knew about the code, and he was killed in a rocket attack in the last days of the war. With no one to clear his name, he fled to American. Esterbrook has an alibi: a client who bought a vase at the time of the murder. However, she's in the Bahamas. Esterbrook starts to take a white pill and they suspect he's taking a cyanide pill to kill himself, but quickly confirm it's bicarbonate of soda.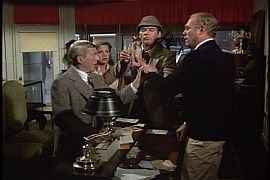 As they return home, Ellery suggests that they check the blonde hair that they found. Someone has torn apart their apartment searching for Nivin's files. Fortunately, Ellery has absent-mindedly left them in the refrigerator. As they check, Ellery concludes that Barney Groves isn't the killer since the files in the cabinet were for the letters DEFG. If Groves stole the files there, he'd have no reason to come to the Queens' apartment. Jenny spots Nikolai watching the apartment and Ellery goes to confront him. He casually asks for an explanation, but Nikolai starts to go for his gun. Velie arrives in response to the Inspector's summon and arrests Nikolai. As they leave, they're unaware that Barney and another man are watching them from a car.
The next morning, Inspector Queen calls in Alexei, who explains that Nikolai is with the NKVD, the Russian Secret Police, and was acting without his knowledge. Alexei is surprised to learn that the files were in the Queens' apartment and warns that the situation is extremely grave. He reluctantly explains that his superiors don't know that Sonya was involved with Froliker during the war. Ellery assures him that the files weren't found, and Alexei explains that someone is always following him and his wife. The diplomat says that provides an alibi since neither he nor Sonya could have killed Nivin without their minders realizing it. They ask for Alexei's alibi and he says that he was at his office at Lake Success in a top-secret meeting. He warns that his government would rather let him be convicted of murder than reveal the name of the person he met with.
Back at home, Inspector Queen wonders what they can do given Alexei has diplomatic immunity. Jenny calls and asks Ellery to meet him for lunch. As they wait in traffic, Ellery tries to work out what's going on. Jenny tells him to pull over so she can buy nylons on sale. A mounted officer comes over and writes Ellery a ticket for parking next to a fire hydrant, and Jenny storms out and complains that the nylons are sold out. When she mentions that there were 700 pairs, Ellery gets an idea and realizes who the murderer is.
Ellery arrives at the Safari Club at 5:00 and confirms that his father has gathered all of the suspects. He informs his father that he's confirmed that Barney Groves' files were removed from the prison records two years ago. They enter the lounge and everyone but Sonya complains that they're being held. Ellery assures them that he can clear everyone but the murderer, and then asks Barney to tell them who he really is. "Barney" asks to speak to the Queens privately and explains that he's Major George Pearson with the OSS. He was assigned to keep an eye on Nivin, and half-heartedly denies searching the Queens' apartment.
Ellery returns to the case and examines the suspects one by one. Nikolai, a trained agent, wouldn't have impetuously grabbed a weapon from the wall but rather bring one of his own. Fourchet is the only one with a perfect alibi, but Ellery shows them the magazine with the photos that Fourchet took of the longshoreman strike. One of the photos shows a Russian freighter but Ellery explains that it was in New York, and was the ship that Alexei's defector left. Fourchet claims that he made a mistake, but Ellery points out that Fourchet had a copy of Nivin's book. The bookmark was from the bookstore, and the bookstore sold out after one day. The evidence proves that Fourchet had to be in New York City on the day of the murder when he bought Nivin's book. When Fourchet points out that Glenda confirms his alibi, Ellery explains that Fourchet killed Nivin, caught the next flight to Boston, called Glenda collect, and then flew back. Fourchet explains that Nivin laughed at his explanation that he broke under Gestapo torture.
As Fourchet is taken away, the Dubrenskovs thank Ellery for believing in them despite the politics involved. Peterson asks them to return the files at their convenience. However, the Dubrenskovs return and say that the NKVD is outside ready to take them into custody, having discovered Sonya's involvement with Froliker. Peterson identifies himself and offers them political asylum and new identities, but wants to know about an agent named Colonel Abel. Jenny kisses Ellery and suggests they might start discussing homes, and Ellery asks his father to fix the traffic ticket since he got it working the case. Inspector Queen tells him to pay the $2.00.
Share this article with your friends