In Italy, Professor Owens and his daughter Suzy are preparing to leave on the cable car on the last day of the season when most of the guests have already left. Owens settles his bill with the clerk, Lucia, and turns to go. However, a gangster named Caletta has his man Bruno grab Owens and then tells the professor that everyone else has left and he'll be staying for a long time. When Suzy tells Lucia to call the police, Lucia slaps her.
Sometime later, Peter is at his lab working with his ministry contact and receives word that Owens isn't coming back from Italy. He needs Owens to help as he's one of the few men that understands the calculations. Owens was on the verge of a nervous breakdown when they forced him to take a vacation with his daughter. The ministry man notes that they've received word that Owens is gambling at a casino in Italy and using a complicated system. Peter calls Diane to go with him and resolves to talk some sense into Owens, who has been like a father to him. Diane is thrilled to be going on holiday and spending time in the casinos.
At the casino, Owens is running his calculations at the roulette table and winning regularly. The manager closes the table over Owens' objections that his calculations are for that specific wheel. The professor glances nervously Bruno, who is watching him, and then cashes out his chips. Caletta's man summons his boss, who arrives and reminds him that Suzy is alone at the hotel. They take the cable car from the village casino up to the hotel and Owens turns over the money. Caletta tells him to do better and Owens warns that his system is an intricate one and luck can throw it off. As long as Owens wins, Suzy stays alive.
Suzy puts on her boots and prepares to sneak out the window. However, Lucia arrives and tells her to stay where she is. The woman says that they aren't interested in her except to keep her father working for them, and Suzy reluctantly gives in.
When Owens enters the hotel lobby, he finds Peter waiting for him. Owens starts to tell him about his situation, but Lucia overhears them and comes over. She says that Suzy went out on her own and hints that nothing bad will happen to her. Owens gets the message and tells Peter that he doesn't want anyone interfering in his business. Peter reminds him that Owens is working for him and insists on taking him back with him rather than let him waste his intellect gambling. Owens resigns and tells Peter to leave, and Caletta comes in and suggests that Peter catch the cable car. Peter seemingly gives in and walks out.
Back in the village, Peter goes to his room and tells Diane that Owens has resigned. He figures that Owens has become a compulsive gambler, and Diane figures that once Owens loses his money, he'll give it up. Peter gets an idea and tells Diane that he's going to make sure that she wins and wins.
Diane goes to the casino with Peter invisibly at her side and sets next to Owens. She keeps the chair next to her empty where Peter can reach the wheel, and then makes small talk with Owens. She bets on different numbers than Owens and Peter moves the ball to make sure that she wins on the same number and an increasingly desperate Owens loses. He attributes it to luck and bets on her number, but she switches to a different number and Peter moves it obligingly. Owens finally goes out onto the patio and tears up his calculations, and finds Peter waiting for him. He tells Owens that he hopes he's learned his lesson and overcome his gambling fever.
Bruno has Lucia put him through to Caletta and tells his boss that Owens is double-crossing them. Meanwhile, Owens explains that Caletta is forcing him to make the gangster $25,000 by using his daughter hostage. Once he realizes that Owens has no choice, Peter agrees to help him win the money. Meanwhile, Caletta tells Bruno to give Owens more money and the henchman comes over and orders the professor back to work.
Owens is soon winning at the roulette table thanks to Peter's invisible help. He soon has the $25,000 and leaves the rest, and the manager pays him off. He tells Owens never to come back and the professor gladly leaves. Peter and Diane catch a cab to the cable car but the engine breaks down and they realize they've lost the chance to take the cable car up. As the cab driver looks on, Peter steals the car and drives to the airport to take a helicopter up.
Bruno brings Owens back to the hotel and the professor gives the money to Caletta. However, the gangster says that now that Owens has proven his system works, they'll move onto the big casinos. Caletta sends Owens to pack his things while Suzy packs under Lucia's watchful eye. The girl pretends she can't get her suitcase closed and when Lucia helps, Suzy and her father gag the woman, tie her up, and climb out the window.
Caletta comes to check on the Owens and Lucia tells him what happened. Meanwhile, the professor and his daughter get into the cable car just in time and take it down the mountain. However, Caletta finds an acetylene torch and sends Bruno up to cut the cable.
Peter arrives by helicopter and descends on a rope ladder. He finds Lucia and demands to know where the Owens have gone. She tells them that they went to the cable car and Peter leaves with the case holding the $25,000. When he gets to the station he knocks out Caletta and tells Bruno to drop the torch. He wrests it from the henchman's grasp and uses it to force the man down to the ground. Caletta draws his gun but Peter easily disarms him with a wrench and covers him until the police arrive.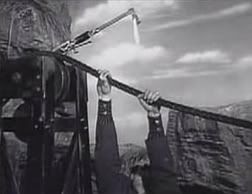 Later at the casino, the manager and the croupier are trying to figure out how Owens rigged the wheel, Owens and Diane return and the professor gives back all of his winnings. He gives the money to the manager, tells him to bet it on any number, and Peter makes sure that he wins. Owens and Diane then leave with Peter.
Share this article with your friends