Hassayama Edwards arrives in Laramie and hears people at the Birdcage. He storms in and immediately starts condemning everyone as drinkers and sinners. He smashes a bottle and condemns all of the men present, while Jake hastily hides the portrait of Lily. As Lily runs outside and calls for Dan, Hassayama leaps behind the bar and starts smashing more bottles. Jake tries to stop him without success, and Dan and Johnny arrive to haul Hassayama away to jail. As he goes, Hassayama insists that he has struck a blow for womanhood by saving their men.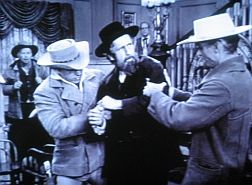 The next day, Judge Trager fines Hassayama $200 and court costs or three months in jail. Hassayama tells Thayer that he doesn't have the money and is glad to martyr himself by going to jail. He takes advantage of the court to make a speech on the wages of sin, and the Ladies Tuesday Club society comes forward and pays Hassayama's fine. Thayer has no choice but to accept and Hassayama assures everyone that his good works shall prevail.
Hassayama and the ladies go to the saloon and the preacher throws a brick through the window. As the ladies cheer, Jake runs off to get Dan and Johnny. They haul Hassayama back to jail and Lily comes by to complain that she's going to have to replace the window. A woman comes by the jail with food for Hassayama and Lily asks what she can do. All Dan can do is say that the law must take its course, but Lily figures that Hassayama will come by again and again until her saloon is in ruins.
When Lily comes in to talk to the preacher, she's surprised to discover that the ladies have provided him with expensive furniture in his cell. Johnny lets Lily talk to Hassayama, who is initially unaware of who she is. When she says she's from the Birdcage, Hassayama mistakes her for a saloon girl and promises her that the Saints of Temperance will protect her. He explains that the Saints pay him to stamp out all saloons west of the Mississippi. Hassayama has already closed four saloons and the ladies have been grateful. Lily finally explains that she owns the Birdcage and Hassayama condemns him as a Jezebel and has Johnny remove her. As she leaves, Lily admits to Dan that Hassayama is sincere. Dan tells her that he's checking on her background while Lily prepares for another attack.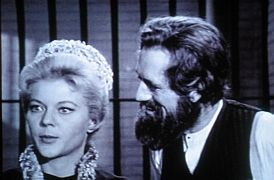 The saloon is soon back in business after Lily hires two bouncers, but none of the customers are showing up. Lily figures that all of the married men are locked up at home by their wives. Two well-dressed men arrive and Lily welcomes them in. They point out that every other saloon in town is doing well and Lily tries to put the best face on her. The two men, Dusty McCade and Clyde Morton, suggest that they might buy her saloon for $1,000, but Lily refuses to sell and orders them out. The bouncers order them out and the two businessmen start a fight, demolishing the place. Dan and Johnny finally show up and the bouncers run out the back. The businessmen claim that they were refused service and the bouncers jumped them. Jake explains that he hired the bouncers and the businessmen want to press charges. Dan tells them to come by his office in the morning and they leave, and Lily insists that the fight was faked. The marshal asks about the bouncer and Jake explains that they just drifted into town. Dan agrees with Lily but admits that he can't prove anything, and Johnny loses them in the night. As he goes, Dan tells Lily that he's checked and Hassayama did close four saloons. He suggests that she close up the Birdcage for the time being but she refuses. When she does, Dan tells her that she's closed.
When Lily arrives at her saloon the next morning, she discovers that it's been closed on Dan's orders. She tells the bartender, Jake, to tear down the sign, but he wisely refuses to cross Dan. Lily is willing to go to jail for a principal as much as Hassayama. Morton and McCade come by and offer to drop their charges if she sells. Lily refuses and they leave, and she figures that the whole thing is too convenient. She tells Jake to find out where the two men are staying while she sends some wires to Cheyenne.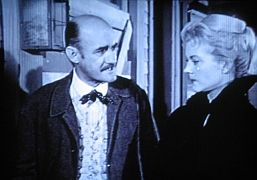 When Dan and Johnny come out later, they find Hassayama leading the League of Purity and Freedom and the Ladies Club down the street to the Birdcage. Hassayama declares that virtue has triumphed and Dan admits to Johnny that he closed the Birdcage because there was no way to stop the fanatic. The preacher tells the crowd that he's heading onto Billings to deal with another saloon. Hassayama thanks them for their support and asks them to write women in Billings to lend their support. Meanwhile, Lily makes her way through the crowd and asks Hassayama if he knows John Smith. Hassayama says that he's a fellow worker, but Lily tells everyone that Smith bought all of the saloons that Hassayama closed. The preacher admits that Smith may have purchased the properties, but plans to reopen them as Sunday Schools. However, Lily has the order forms for the "Sunday School" in Cheyenne, and they include whiskey and marked cards.
Hassayama dismisses it as another John Smith and the ladies believe it, and he leads Lily off claiming he plans to get to the truth of the matter. Once they're alone, Lily asks if he knows Morton and McCade and Hassayama denies it. Jake arrives and takes them to the hotel where the two men are hiding out. Dan and Johnny watch them talking and go over to check things out.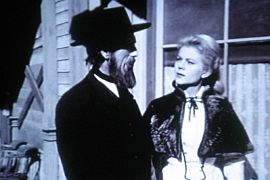 In the hotel lobby, Morton and McCade are considering whether they should have waited until Hassayama left town. Hassayama comes in and confirms that Morton is John Smith. When the men boast that they're putting one over on Hassayama, unaware of whom is behind them, the preacher attacks them. They run off as Dan and Johnny restrain Hassayama. After he tells them that he's been bilked, they give chase as Morton and McCade get to the stables and meet up with their two accomplices, the bouncers. Hassayama punches them the two thugs out and Dan and Johnny take them all into custody.
Later, Lily reopens the Birdcage and serenades the crowd. The ladies society and Hassayama are there for a tea party and Hassayama asks for a bit of whiskey to wash down his tea. Once Lily is done, she introduces Hassayama. He enjoys a cup of his "tea" and thanks them for their help in apprehending the criminals. Hassayama explains that his name is taken from the Hassayama River in Arizona and he was raised there, and denies knowing anything about the Saints of Temperance. He then leaves the saloon to a round of applause. Johnny and Dan figure that the real ringleader of the Saints made a clean getaway, while Lily admits that she liked Hassayama... and discovers his cup of spiked tea. Meanwhile, Hassayama runs out of town as fast as he can.
Share this article with your friends