At Los Alamos, McCauley checks in with Dr. William Thyssen and Dr. Dave Parsons. He's there to pick up Thyssen, who will be accompanying him to the launch of Project Dragonfly, a remote-controlled nuclear-powered missile. Thyssen and McCauley go the airport where Thyssen's wife Helen is waiting. She wonders what ill happen if the nuclear pile blows up, and McCauley assures her that it won't be activated until it is in space. Helen figures that her husband wants to be heading into space on the first manned nuclear rocket, and her husband regretfully admits that he's too old.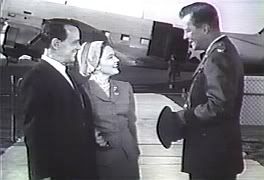 McCauley and Thyssen arrive at the Canaveral launchpad and view the missile as the crew prepares it for launch. The missile is soon launched with conventional multi-stage rockets and then the nuclear engine activates. However, a deviation occurs and they're unable to bring it back on course. They lose track of it, but Thyssen computes its destination from its last course and informs General Thomas that it will take up a low orbit around the moon. The deviation was caused by a malfunction in the remote control equipment. All eight cadmium control rods were removed and the nuclear drive is going critical.
McCauley coordinates tracking stations across the world and determines that it will crash into the Lunar Apennines in twenty-seven hours. Thyssen figures that the matter is settled, but McCauley and Thomas inform him that they have a lunar expedition of twelve men in the vicinity, and their ship will only carry six men. McCauley contacts Lt. Hargraves at the expedition moonbase and tells him that the ship will be there to pick them up in twenty hours. Hargraves informs them that all of the other members are out on two-man geographical surveys and it will take from 28 to 32 hours for them to go back if everything goes well. Thyssen confirms that the missile will hit the moon in 27 to 28 hours, and Thomas tells them to launch the rocket and evacuate who they can and abandon the rest.
Rather than lose the men, McCauley suggests that they send a second missile and Thyssen confirms that it will take two men to conduct the operation. The colonel wants to take Parsons, but Thyssen points out that he's in Canada on a fishing trip and can't bring him to Canaveral in time. The scientist explains that McCauley will need to monitor the readings while he goes into the missile and turns the drives. There's a 50/50 chance that Thyssen will turn them the wrong way and McCauley will have to notify him immediately so he can switch directions. Thomas is reluctant to let either one of them go, but McCauley persuades the general to let them go with Captain Parrish.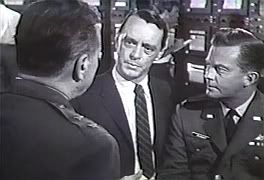 Later, McCauley finds Helen waiting for Thyssen at the medical building. She realizes that her husband is going up and asks McCauley to keep an eye on her husband because of his age. Thyssen comes out and McCauley leaves them to talk it out. The scientist continues to lie to his wife to avoid upsetting her and gives her an unexpected kiss. As he goes, Thyssen gives Helen a phone number for Thomas so he can reach Parsons.
The second missile lifts off and Parsons arrives a few hours later. They realize that Thyssen knew how to reach him all along, but Helen admits that her husband went because he feels responsible for the missile's malfunction. Meanwhile, the second missile takes up course parallel to the rogue missile and McCauley and Thyssen suit up and cross over using jetpacks. They enter the missile and Thyssen realizes that the pile is already going critical and will blow up in 33 minutes. Parrish calls McCauley to get a step-by-step report of the operation, and Thyssen gets the control panel open. He disengages the motor drive and prepares to move them by hand while McCauley monitors the readings to make sure that he's moving them in rather than out.
Thyssen begins turning the drives but the panel closes unexpectedly, injuring his left hand. He tells McCauley to stay where he is and turns the dial. It's the wrong direction, but Thyssen passes out from the pain before he can respond to McCauley's warning. McCauley checks on him and then informs Parrish that he's going to turn the wheels himself. Parsons calls to guide him but admits that he could be wrong. The scientist talks him through the procedure but admits that he doesn't know which way McCauley should turn the drives. With two minutes left, McCauley tells Parsons to flip a coin. It comes up tails and McCauley tries to turn the drives left... and discovers that the wheel is jammed. He finally frees it and turns the drives left, shutting down the pile. They now have plenty of time to pull out the pile before the decelerated missile eventually hits the moon. McCauley checks on Thyssen, who has recovered consciousness, and they take the drive back to their ship. As they head back to earth, Thyssen tells McCauley to have Ground Control to assure his wife that he'll meet her at the hotel, unaware that she's listening in on the entire conversation.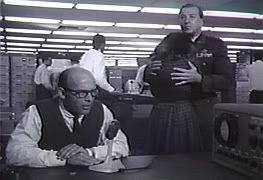 Share this article with your friends