Disc jockey J.J. Wilson drives though the desert to a small radio station, KAPH, which serves a small seemingly empty town nearby. He bursts in just before midnight, hoping to impress his new workers, but there's no one else inside. Looking around, J.J. finds antiquated broadcast equipment and a wall with photos of his predecessors. On the turntable is a note with strict instructions of what J.J. is supposed to play, in the proper order. J.J. puts on his disc jockey clothing and settles down to play. When the clock strikes midnight, he begins broadcasting. He puts on the first record, which only has the number 1 on it.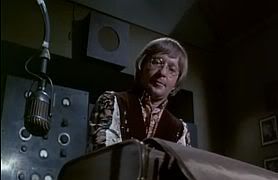 The first record begins playing, and J.J. is surprised to discover that it's a funeral dirge. The DJ calls his agent, Sid, to complain that he's stuck in an antiquated station with lousy music and an empty town for an audience. J.J. reminds Sid that he's the one who keeps the money rolling in for the agent and that, without it, Sid's wife Emily would have gone nuts a long time ago. Sid takes offense and says that he believed Emily and J.J. were having an affair. The disc jockey apologizes for his comment and insists that he was away on fishing trips during the weekends that Emily was gone. He notes that he knew that Emily had too much to live for to kill herself, and it must have been an accident. J.J. hangs up and puts on the record labeled 2, which has more modern music.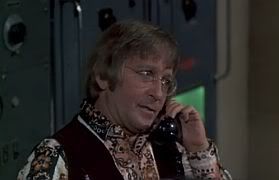 Next, J.J. calls his friend Burt. Burt accuses him of leaving town without warning to avoid his creditors, but J.J. insists he just wanted to avoid the tearful farewell party. He then reminds Burt not to say anything to Sid about the fact he lied about the fishing trips, and that it was his affair with Emily that kept her from killing herself that much sooner. J.J. hangs up and goes to get some coffee. A voice speaks over the music, summoning the powers of darkness. Disgusted and bored, J.J. puts on one of his own records and tells his audience that the other DJs are playing a prank on him, and that he left the Big Apple to be reborn in the sticks. He starts the record, only to listen in horror as the same man's voice invokes the powers of darkness.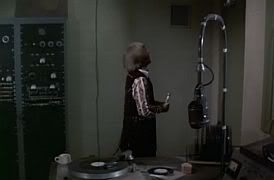 J.J. goes to the door of the broadcast booth and yells at the DJs that it's not funny and to come out. However, when he tries to open the door, the handle comes off in his hand. J.J. tries to call out on the phone, but all he gets is a recording. He backs up against the wall where the photos are posted, and realizes that each DJ only worked one day at the station. The incantation continues, saying that the condemned must humble himself and that there is no escape. J.J. yells that he'll never humble himself and tries to shut off the main panel, only to be electrocuted.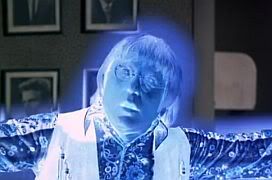 Later, the station is empty once more. On the commemorative wall is another photo... of J.J.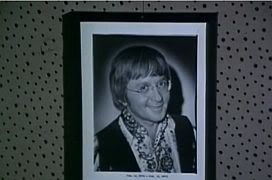 Share this article with your friends