Ruth Asquith is driving down the highway when she spots a Marine, Vincent Riley, hitching a ride to Camp Pendleton with a guitar slung over his back. She stops to pick him up and continues on. Vincent tries to make conversation, and Ruth finally says that she's heading to Los Angeles, but won't say why. The marine starts whistling and Ruth starts to whistle with him, and then asks what it is because it sounds familiar. Vincent explains that she couldn't have heard it because he just wrote it, and he plans to become a songwriter when he gets out. However, he doesn't know what he's trying to get out of.
Vincent then wonders if tomorrow is going to come, but says that he knew she was going to pick her up and addresses her by name, even though she hasn't introduced herself. Ruth admits that he knows his name, even though he hasn't introduced himself. She insists they must have met, but neither one of them can remember where. Ruth says she was in Hong Kong as a spy, and Vincent isn't sure if he's been in Hong Kong. Vincent asks if she's ever been in Dodge City, but isn't sure when he's been there. The marine then writes down what she's going to say before she says it, but Ruth dismisses it as a trick. Vincent suggests a place up the road to get coffee before she asks him, and says that they have to do it over and over until they get it right. They both know what the diner and its owner look like, that he's playing solitaire, and that it'll be closed but they'll convince the owner to open it. As they approach the Blue Danube Café, Ruth says that they shouldn't stop, but she does anyway. It's still open, and Vincent wonders if they've made a mistake and will have to start again, but the owner closes it as they watch. As Vincent gets out, he discovers that Ruth has a gun in her purse, and she says that something changes a little bit each time.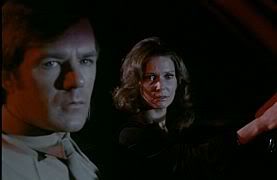 As they walk up to the diner, Vincent notices the wind beating a branch against the window and breaks it off. They knock on the door and ask the reluctant owner to let them in for coffee. He says he closes at midnight and it's past midnight, but Vincent points out that the clock on the wall has disappeared. Vincent asks what now, and the owner points back to the clock, which has reappeared. He lets them in and Ruth predicts that the owner is cheating at his game of solitaire. The owner starts railing about hippies wearing uniforms, and starts to say that he served in the army, but realizes he can't remember anything. Vincent knows the owner's name, Joe Bateman, without introduction, and Bateman warns that they only have a couple of minutes. Ruth remembers that someone else will join them, a sheriff who sees the diner's door open. The sheriff doesn't arrive and Vincent figures it's another mistake, but then they hear a strange knocking noise from the ceiling as the sheriff pulls up.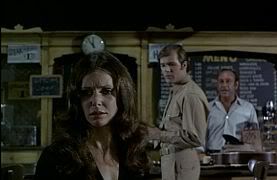 Sheriff Lewis comes in and hears the same noise, and Ruth says she knows what it is. Vincent says they're puppets, and Bateman denies having met them before. Lewis asks Vincent for his papers but he refuses, and then asks Ruth if it's her car outside. She says that before it was a station wagon, and Vincent remembers it as well. Lewis asks for her driver's license and car registration, and she admits that she doesn't have them. The sheriff talks about how he was in the Marines, but when Vincent asks him for more information, doesn't remember anything. Vincent explains that he doesn't remember because he didn't exist until he drove up to the diner, and Bateman didn't exist until they arrived. Lewis doesn't believe it, but can't remember anything when Vincent and Ruth prod him for details on his past. They ask Bateman the same questions and he doesn't remember anything as well. Vincent insists that none of them exist and someone created them. The only thing they have is the ability to choose their own destinies.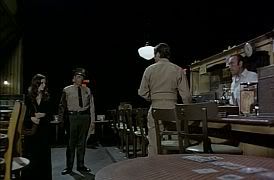 The knocking starts again and Ruth says that she's sure she knows what it is. Vincent says he's going to choose his own destiny and leave, and says that whoever created them doesn't know his job very well, which is why they have to keep doing it over and over. Lewis warns him to stop and draws his gun, but Vincent tells Ruth that he has to try and leave of his own choosing, The sheriff shoots Vincent down, and the others look up at the ceiling and the knocking noise.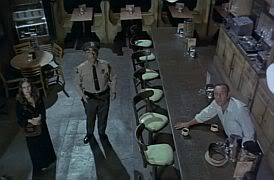 Everything goes white and a frustrated writer, Vincent, pulls the sheet of paper out of his typewriter and tosses it in the garbage. His wife, Ruth, takes it out and reads it, and asks why he gave the female lead a gun. She notes that most writers know where they're characters are going before they write, and Vincent says he's not a good writer. Ruth asks why the female lead seems familiar, and Vincent says she's from an old play that he wrote, about a spy from Hong Kong. The marine is from a TV western he saw, guitar and all. Vincent starts to go back to work, and Ruth suggests that the female lead killed her husband, because he left her alone too many nights. She tells him goodnight and leaves the study, and Vincent goes back to work.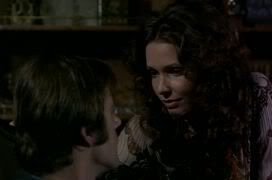 On a lonely stretch of highway, Ruth is driving a different car. She picks up a Marine who is hitchhiking, with a guitar on his back. As she drives along, they have the same conversation as before...
Share this article with your friends