Miss Moore has recently purchased a partnership in a thrift shop with Frank Standish. She has a new alarm installed and tries to work despite the noise from a nearby demolition site. Standish tries to work over the noise of the new alarm that is being installed, Miss Moore's dog Pookie, and the album that the new owner has put on. A neighborhood woman, Ellen Chase, brings in a large package of items to sell. Standish takes her to the back room to share some tea and talk about days gone past. He notices that one of the items that she brought to sell, a mirror, has been painted over. Miss Chase explains that it's been like that as long as she can remember, and leaves them both on consignment. Standish insists on giving her $10 and she accepts.
Miss Moore puts on loud music and greets a female customer, and Standish tries to protest. He bumps the record and she warns him never to do that again. When Standish asks for $10, Miss Moore insists on seeing what he's paying for. She refuses to pay $10, but offers Miss Chase $1.50 for the cart. The old woman gratefully takes what little she can and leaves.
That night, Miss Moore reminds Standish that he needs to find new quarters so they'll have space in the shop, and leaves for the night. Standish cleans off the paint on the mirror and sees a glimmer of light beneath. Peering through the small hole, he sees a primitive alien landscape beyond.
The next day, Miss Moore arrives for the day, waking Standish up. He scrapes more of the paint off as Miss Chase comes to visit and goes to the workshop. Fascinated, she watches as Standish removes more of the paint. Once it has been removed, they discover that the glass no longer exists, and the mirror serves as a portal to the world beyond. There's a path going out into the jungle past a cave in the side of a mountain.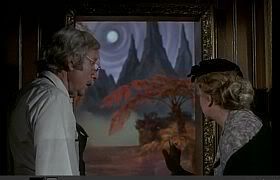 As the couple talks, Miss Moore comes into the workshop and informs Standish that she's exercising her option and buying him out. While she packs away his equipment. Standish wonders what a man of his age will do for a job, and Miss Chase wonders what he can do. As Standish talks to Miss Moore, Miss Chase notices Pookie sitting nearby. She takes the dog's ball and throws it through the mirror.
Miss Moore goes through the mirror to find her dog, and Miss Chase hands a can of paint to Standish. Miss Moore follows the dog to the cave, and finally realizes that the dinosaurs that inhabit the landscape are closing in on her. She runs back to the mirror, only to watch in horror as Standish applies the last few swipes, sealing the portal.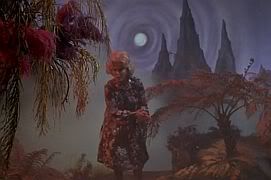 Share this article with your friends