Insurance investigator Charlie Rogan arrives in the small Mexican town of Camafeo. In the town is the shrine of
De Nuestra Senora de Camafeo
, where the crippled and ill gather to pray for a cure. Rogan goes to a bar and watches the people come, and the bartender explains that the visitors have faith and suffering in common. A woman, Gay Melcor, arrives at the bar and Rogan insists on sitting down next to her and buying her a drink.
Rogan explains that he fancies himself a writer, and offers to tell her a story whether she wants to hear it or not. In his story, a man named Joe Melcor faked a traffic accident in Chicago where he's hit by a bus. There's nothing wrong with him when the hospital staff check him, but Joe tells his doctors and the press that he can't move. He sues the transit company and wins $500,000. Gay insists that Joe deserved the money, but Rogan insists that her husband is a conman. He explains that he's a claim investigator and followed the Melcors to Camafeo to make sure that Joe is crippled as he claims. Gay tries to leave, but Rogan tells her the last part of the story. Joe now needs a way to find a "cure," so he has come to Camafeo to pray for a miracle. As Gay walks away, Rogan tells her to tell Joe that he's there and waiting for Joe to make a mistake.
The bartender comes over and asks if he enjoys treating a woman like that, and Rogan says that he was tough on her because there are honest people who seek a miracle, but Joe will go through the motions and walk away without believing, committing sacrilege.
Upstairs, Gay returns to her room and Joe is waiting for her. He's walking around, and knows that Rogan is on his trail. He lies down and fakes paralysis, and says that Rogan will find nothing. Gay wonders if what they're doing is right, and Joe insists that they'll go through with it so that he can live a normal life. He warns her that he'll beat her if she turns on him, and Gay agrees to maintain the charade.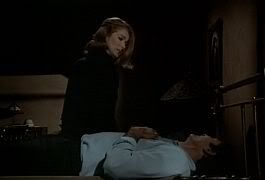 The next day, Rogan helps a mother bring her blind son to the shrine. As Rogan carries the boy up the hill, he tells the mother that he will pray for a miracle. Mother and son kneel before the shrine, and Rogan goes inside and examines the crutches left before the altar. The priest insists that it is God's work, and that miracles do occur there. Rogan asks what the priest tells those who aren't cured, and he says that their faith stays with them. When the investigator asks about the blind boy, the priest admits that God may not cure his blindness, but he will cure sicknesses of the soul. Rogan says that one visitor's soul won't be cured and goes back outside.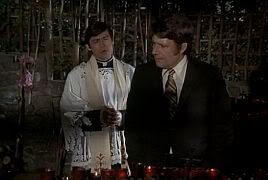 Joe is brought in on a stretcher and tells Rogan that he's there to pick up a little miracle. Rogan warns that he'll be looking for a two-bit bum and asks if he feels ashamed. Joe just smirks and tells his bearers to take him in. Rogan walks away in disgust, while the priest offers to help Joe pray. Joe assures him that God will hear his prayers and he doesn't need any help.
Gay goes to find Rogan and tells him that Joe will walk down on his own because she won't be there. However, she refuses to testify in court and hurt him, as she doesn't have that much courage.
The day passes and the blind boy's mother cries as he removes his glasses and reveals that he has been cured. Inside the shrine, Joe gets up and walks out, supposedly "cured" as well. He tips the priest and blinks in the bright sunlight. He puts on a pair of sunglasses and starts to walk down from the shrine. Joe and Rogan hear him scream and return, and discover that Joe has gone blind. The blind boy hands Joe his dark glasses and walks away.
Share this article with your friends