Mrs. Francis Turchen, a middle-aged woman, arrives at the police station and tells the homicide sergeant, Stanley Bevelow, that she wants to file a complaint. Her husband Bernard is trying to kill her. He asks her to explain, and Francis says that Bernard keeps telling her that he's going to kill him. He's done it in front of witnesses and doesn't care if anyone hears him. Francis tells Bevelow to call Bernard, because he'll be glad to admit it. She warns that she's becoming increasingly distracted by all the different ways that Bernard says he'll use to kill her, and a bus almost hit her until someone pulled her back at the last moment.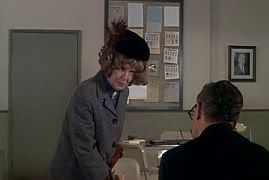 Bevelow asks if she wants to swear out a complaint, but Francis figures that by the time the police bring Bernard to trial, she'll be dead. The sergeant wonders why Bernard wants her dead, and Francis says that she won't give him a divorce. When Bevelow wonders why Bernard would want a divorce, Francis starts listing all the reasons why he does. She talks about how Bernard thinks she's a poor cook and not as beautiful as when they married, and then asks Bevelow if his wife is as beautiful as she once he was. He admits that she isn't. The sergeant finally cuts her off as she recites more of Bernard's reasons and says that he gets the idea. He says that he'll call Bernard and have him come to the station, and convince him to stop threatening to kill her. Francis, relieved, thanks him and starts to go. As she leaves, she ntoes that Bernard had found the foolproof way to kill her.
As Bevelow starts to dial the phone, he hears Francis scream and the sound of a car crash. The sergeant then dials Bernard and asks him to come to the station to discuss a personal manner... and looks at the picture of his own middle-aged wife.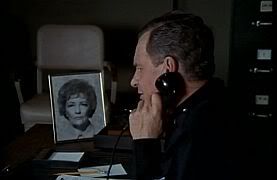 Share this article with your friends