Mobsters are running a protection racket on the streets and demanding a share of everything they can get their hands on. When ballet teacher Jill can't pay, Rocky and Leo beat her up to make an example.
Frank is out testing safety equipment in police cars when he gets the call about the protection racket. Ed briefs Frank and sends him over to talk to Jill and convince her to testify. She claims she didn't get a good look and refuses to testify. Frank has an officer put a tail on Jill as she leaves and then goes over the reports to see where they're concentrated. They're not sure, but the hundreds of reports in a single square block seem suggestive. Frank suggests they open up a new store and get a merchant who can attract the thugs. They have Al set it up and Ed suggests that Frank take Officer Nordberg with him.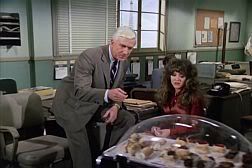 Frank and Nordberg move into an abandoned locksmith shop in the heart of the terrorized neighborhood. Frank eventually has to break in because he can't get the lock on the door open. They are soon running a booming business and Rocky and Leo come in. They offer him protection in return for payment and Frank refuses to pay. The thugs leave... for now. As Frank and Nordberg go back to work, the thugs open fire and then throw a rock through the window.
Frank takes the rock to the lab but Ted Olsen is forced to admit that it doesn't provide any useful clues. Frank returns to the locksmith shop and Nordberg leaves to make a delivery. Rocky and Leo return and Frank demands that they pay for the window. They refuse and start to beat Frank, but he easily tosses them out and the neighborhood cheers.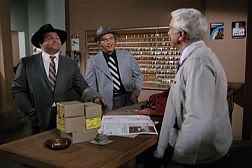 Rocky and Leo report back to their boss, mobster Dutch Gunderson. He's afraid the people will start getting ideas and he'll have to take care of Frank himself. Nordberg leaves to make a delivery and Stella, Dutch's moll, comes in. She has him duplicate her apartment keys and asks him to bring one around himself. Frank eventually finds Stella's apartment. When he lets himself in, Stella fires through the door. Frank figured out what she was up to and moved to the side. When the phone rings, he forces Stella to take the call. Dutch asks if she's taken care of the locksmith. Frank has her set up a meeting at 3 the next day and then takes her downtown and books her on an attempted murder charge.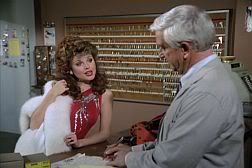 Frank meets with Johnny the Snitch and gets a rundown on Dutch's background. Johnny comes up with concrete evidence against Dutch and the shoeshine boy provides him with photostats of business dealings Dutch has that incriminate him. Frank goes to see Dutch, who draws a gun on him. He shows Dutch the photostats and asks to become a partner. Dutch agrees if Frank kills a tailor that's giving him problems.
Frank calls Nordberg and Ed and lets them know Dutch is hitting the tailor that night. They head out, taking their undercover man with them. Frank arrives there and finds Leo and Rocky waiting for him. They tell him that they're going after Jill instead. At the ballet school, Jill inadvertently identifies Frank and Rocky and Leo prepare to kill them both. Frank manages to disarm them both but Jill leaps into his arms. Leo and Rocky go for knifes, clubs, signed Picassos, and herpes, but Frank manages to subdue them.
Later, Frank informs Ed that they've picked up Dutch and he'll be going to Statesville Prison for a long time.
Share this article with your friends