On a quiet suburban street, masked men pull up to an estate, take out the guard, and break into the room of the mayor's daughter Francine to kidnap her. The next day, as word spread, Mayor Flambo receives a $1 million ransom demand from the kidnappers. Flambo sees a newscast interview of Inspector Sledge Hammer talking about how he killed two grocery store robbers and has been put on suspension. Flambo tells the commissioner, Reisner, to put Hammer on the case no matter what.
Sledge is at home target shooting over the objections of his neighbors when he receives the call that he's off suspension. While heading for headquarters, he sees a police standoff with a sniper on a roof. Sledge casually gets a rocket launcher out of his trunk and takes down the entire building. Arriving at the office, he's greeted by Captain Trunk, his boss. Trunk is less than thrilled with Hammer blowing up a building and gives him the news that the Mayor has assigned him to the case. Trunk and Hammer meet with Reisner and Flambo and Flambo is impressed with Hammer's attitude. However, terrorist expert Inspector Dori Doreau arrives to review the case and go over the records of the terrorists responsible. Hammer is ready to go but Reisner assigns Doreau as his partner and Hammer has no choice but to accept.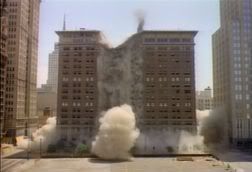 Outside, Hammer and Doreau prepare to leave and Hammer explains that he's calling the shots. A purse snatches tries to escape and Hammer brings him down, then forces him to beat himself unconscious. They then track one of the terrorists, Kurt Kruggle, to a no-tell motel. Sledge breaks in and finds Kruggle with three Swedish masseurs. Kruggle asks for the chance to put some clothes on alone, then draws a gun on Hammer. Hammer drops his gun... and sets it up to fire a shot, disarming Krugger. Doreau busts in and then knocks out an armed man coming behind her. Hammer congratulates her, and notices that the man with the gun is the owner.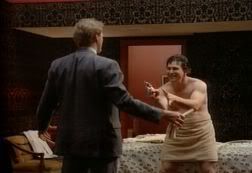 They head to the police station where Hammer proceeds to interrogate Kruggle with hot coffee. When that doesn't work, Hammer straps Kruggle to a man-sized target and starts busting the balloons around him with a rifle. Kruggle starts talking and reveals that the leader, Luxley, had someone working on the inside who received a heavy payment. Doreau uses her computer to check the salaries of everyone on the Mayor's prejudice. Hammer admits he doesn't like computers because he met his wife through a computer dating service, and she ran off with a Peace Corps member. Hammer actually shares a (relatively) tender moment with Doreau, then figures the inside man must be a member of Flambo's immediate family. Trunk is furious about their violation of Kruggle's rights, and snaps at Doreau when she tries to defend her partner. Hammer figures the Mayor's wife is the inside man, and Doreau disagrees but backs him up. Hammer admits to his gun that he likes her.
Hammer and Doreau haul Mrs. Flambo to her husband and an angry Mayor orders Hammer back on suspension. The terrorists have called with arrangements to deliver the money and they order Doreau to make the delivery. Doreau goes to the warehouse with the money and Luxley and the others prepare to take the money. Doreau demands to see Francine and the terrorists bring it out. Doreau then tells Francine to drop the act: she knows from the financial records that she went to college with Luxley. Francine draws a gun and reveals she plans to get out from under her mayor's thumb with the money and her terrorists. Doreau reveals that the case is filled with confetti and Hammer bursts in through the skylight. A shootout starts and Hammer takes a wound to the shoulder, ruining his best sports jacket. He shoots a fire extinguisher as a distraction and finally uses a hand grenade to bring down crates on the terrorists. He goes after Francine, who has taken Doreau hostage. Hammer refuses to give up his gun and a frightened Francine lets Doreau, figuring Hammer would never shoot a woman. He disarms her with a single well-placed shot.
Later, Hammer and Doreau break the news to Mayor Flambo, who congratulates Doreau. She insists that Hammer should receive thanks as well but is informed she'll receive a full promotion while Hammer stays on suspension. The Mayor has an acceptance speech ready but Doreau declines the promotion and stays with her new partner.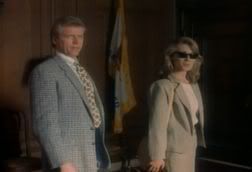 Share this article with your friends