Hammer and Doreau grab a drink after work when a drunk hits on a waitress. Doreau manages to restrain Hammer from shooting the man, so Sledge uses a water hose from the bar to wet the man down. Afterward, Doreau berates Hammer for his lack of sympathy but he's unimpressed. They spot thieves breaking into an art gallery but as they go in they notice that the thieves' car belongs to the FBI. Going into the gallery, they spot the two men searching the owner. Hammer and Doreau draw on the men and the owner, Jean Claude, thanks them and then slips away into a private room. He removes the plates from a counterfeit machine while the two men identify themselves as FBI agents after an international counterfeiter. Jean Claude drops one plate and leaves, Doreau comes to investigate. She pulls a counterfeit bill out of the machine and finds the plate, then heads back. The FBI agents demand to see Hammer's badge, which he forgot to pick up. Doreau finds Jean Claude and orders him to surrender. Jean Claude manages to drop a mobile on Doreau's head, knocking her out. Before he can grab the plate, the FBI agents arrive and he runs for it.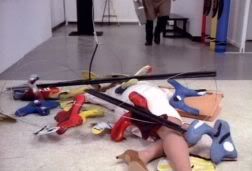 Hammer gets Doreau to the hospital where the doctor informs him and Trunk that Doreau is suffering from a concussion. They go to see her and Trunk tells her she doesn't have to work with Hammer. Doreau insists she does... so she can get those "scum-suckers." Later at the station, Hammer is dismayed to see that everyone is throwing a party for Doreau. Doreau arives... and she's dressed just like Hammer. When they yell, she fires off a spot, then demands to get done with the party and back to work. Hammer is impressed, but when Mayjoy mocks her, she slugs him unconscious. Trunk tells her to take a week off but Doreau refuses and insists on catching Jean Claude.
Back at the hospital, Trunk consults with the doctor, who informs them that Doreau has become irrational and violent due to the blow on her head and constant exposure to Hammer. Trunk asks Hammer to figure where Doreau might be if he were her. Hammer figures that she might be heading for a tattoo parlor. Doreau arrives there and one of the men draws a gun on her. Hammer arrives but she disarms the man and they confront the stoolie who runs the place. He directs them to a check-cashing office and draws them a tattoo map on his current customer. They take the customer with them and go to see the owner. Doreau shoves her way to the front of the line and even Hammer is shocked at her violence. The teller tells them that Jean Claude is going to call him at the nearby phone booth. Doreau shoves the woman out while Hammer reports to Trunk what's going on. Trunk orders them both in and tells Hammer to bring Doreau in.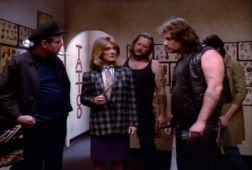 Back at the station, the FBI agents insist on talking to Hammer and Doreau. They've found the counterfeit bills but Jean Claude is only distributing them one-sided. They think Hammer is holding onto the plate but Doreau admits she has them. Trunk orders her to cooperate with the FBI and she resigns. They go to a bar where the same drunk is acting up. Doreau starts to threaten him and even Hammer is forced to admit she's going overboard. She goes out to feed the parking meter and Hammer realizes there aren't any parking meters: Doreau gave him the slip.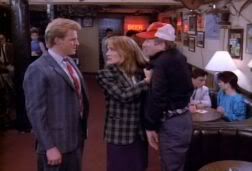 Doreau goes to the art gallery and confronts Jean Claude. He explains he's moving out and taking on another alias. She draws a gun on him but Jean Claude's men grab her and knock her out, slamming her head into a sculpture. Hammer barges in and opens fire, and discovers that Doreau is back to normal. The crooks shoot the guns out of their hands but the FBI agents come in. The crooks shoot the guns out of their hands, and Trunk and his officers arrive. The crooks shoot the guns out of their hands. Finally, someone shoots the guns out of the crooks' hands: Inspector McCall of Scotland Yard. He just stopped in to buy a painting but recognizes Jean Claude and arrests him. Doreau doesn't remember anything she's been doing.
Later at the office, Trunk welcomes Doreau back and notes one Hammer on the force is all they need. She gives him a present: all the things she bought while she was acting like ham: bad ties and a
Battle of the Green Berets
album. Then Trunk starts acting like Hammer...
Share this article with your friends