Trunk is elated at the fact that Hammer is going on trial for the murder of racketeer Hugo Victor. Doreau doesn't believe Hammer did it and storms out of the captain's office. Trunk has to admit that he doesn't believe it either. They go to the courthouse where even Hammer's attorney admits he thinks Hammer is guilty. Hammer arrives next and is angry that someone else had the fun of killing Hugo Victor and he's getting blamed. Inside the courtroom, Doreau warns that things are looking grim but he's confident he'll be cleared... until he sees he's meeting with Judge Grim. Hammer's attorney wants Hammer to plead guilty so he can sell the rights and Hammer chases him out of the courtroom. Hammer has no choice but to represent himself and plead innocent.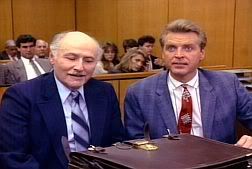 D.A. Burnem calls Hugo's son R.C., who testifies that he arrived to bail his father out after Hammer arrested him. Hugo insulted Hammer's gun and Hammer went berserk, demolishing the office. Trunk finally pulled him off and Hugo threatened to have him busted down. Hammer has no questions and Burnem calls Rebecca Manderlay, Hugo's maid. She testifies that Hammer came to see Hugo and heard gunshots inside. She ran to investigate and found Hugo dead and Hammer driving away. R.C. came in and made sure his father was dead. Hammer cross-exams her and claims that she fell in love with Hugo, but when the racketeer fell in love with a younger girl, Rebecca shot him. Rebecca testifies that Hugo was lousy in the sack and she dumped him.
Burnem calls Hammer to the stand and the inspector testifies that he visited Hugo and warned him he would be watching Hugo constantly. Hugo informed him that R.C. would take over the business if he was put away. Hammer testifies that he then left and Hugo was still alive. However, Burnem produces a videotape from one of Hugo's surveillance cameras. It shows Hammer leaving and then someone wearing Hammer's distinctive jacket and carrying his gun emerges with their back to the camera and shoots Hugo dead. Things look grim but Hammer calls himself as a witness and testifies that he had no intention of killing Hugo. The judge forces him to surrender his gun and Hammer calls Doreau to the stand. He wants her to tell the entire truth about what he said when he heard that Hugo was being released. She testifies that Hammer said he'd get Hugo if it was the last thing he did. She wondered if Hugo might be innocent of the racketeering charges, and that Hammer suggested faking evidence.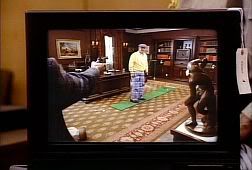 Hammer calls Trunk to testify of what happened when Hammer returned from visiting Hugo. The captain testifies that Hammer was remarkably upbeat and cheerful and said their problems with Hugo were done. When they got the call that Hugo was dead, Trunk tried to strangle Hammer... and does so in court as well. Next, Hammer calls the other officers who provided equally damaging testimony, and that his prints were at the crime scene. Hammer finally calls R.C. to the stand and points out he had a disagreement with his father about when he'd take over the family business. R.C. says he was outside pruning roses and invokes his father's grave. Hammer rests his case and Judge Grim sends the jury to deliberate. After thirty seconds they reach a decision and find him guilty. However, Hammer realizes that the tape is faked and that someone with his build could have impersonated him. Hammer points out that R.C. couldn't have gotten from the garden to the study in the time shown on the tape. Hammer freezes the tape and shows the wrist of the killer: the same scratch is there as on R.C.'s wrist. R.C. grabs the bailiff's gun and makes a break for it. Hammer knocks out the bailiff with the judge's gavel and then knocks R.C. out with a TV camera.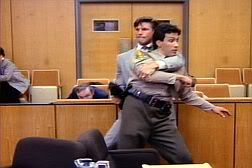 Later at the office, Hammer says he could have done prison time standing on his head... until he hears prisoners aren't allowed to keep their guns.
Share this article with your friends