A man, Acton, pulls up outside a house and watches as a couple goes inside.
Later, inside the house Acton backs away from a man's corpse in horror. He offers a toast to the dead man, Huxley, and then realizes he's left fingerprints on the glass. He wipes it off and picks up the gun that he used, and remembers buying the gun from a salesman. He told the man he just wants to scare off someone, and hastily adds that he only wants to scare off a thief.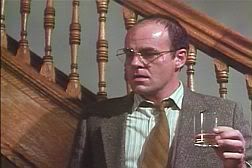 Acton continues to taunt Huxley's corpse and moves the man's face so it's no longer smiling. He notices a painting with eyes that seemingly watch him and moves away. He remembers how Huxley rejected his story after a year of work and told him it was a waste and Acton has no talent. Huxley explains he was doing Acton's wife Mary a favor but doesn't explain exactly what the favor was.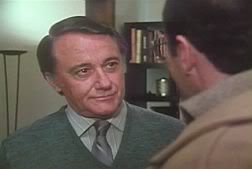 Acton realizes that he's leaning on the doorsill. He remembers coming to see Huxley alone at his house and touching objects and the floor and walls. He starts wiping everything down. As he does so, he remembers having a drink with Huxley and goes to wipe off the bottle and the glasses. He then remembers Huxley saying that he's done with Mary and showing off his art collection, and having Acton examine them. Acton says that he's there to kill him.
Acton begins to realize how many things in the house that he touched... and how many he's not sure of. He goes to a bowl of artificial fruit and begins cleaning off any potential fingerprints. The clock chimes 2 a.m. and Acton realizes he needs a pair of gloves so that he doesn't leave any more fingerprints. He goes upstairs... and touches the banister. He goes to Huxley's bedroom and imagines his wife Mary there with the publisher. Going through the drawers, Acton finally finds a pair of gloves and goes back downstairs, cleaning as he goes. He thinks he has everything cleaned up, but is shocked to hear Mary knock at the door. He hides beneath the stairs and hopes that she goes away.
Once she leaves, Acton notices the bowl of fruit and finds himself compelled to clean them again. One of them rolls off the table. As it falls, Acton remembers Huxley giving him a vase, and Acton throwing it to the ground in anger. Huxley then grabbed his gun and dared him to shoot. Acton finally pulled the trigger only to realize he forgot to load it. Huxley continued to torment him as a spineless coward until Acton strangled him.
Acton catches the piece of fake fruit and then wonders if he touched the bottom of the bowl. He then realizes that the vase he touched and broke has his prints on it and he has to find every piece and clean it. Mary knocks at the door again and Acton runs outside to discover he imagined her. He runs past a neighbor walking his dog, goes back inside, and realizes the banister is covered with prints.
Later, the neighbor calls the police. They arrive and find a crazed Acton cleaning everything in the attic. As they take Huxley's corpse and Acton away, The neighbor, a doctor, notes that Huxley had terminal cancer and Acton may have done him a favor. As they leave, they go past a doorknob marked with fingerprints.
Share this article with your friends