Professor Bert Harris, a hypochondriac, is at the library reading about bone ailments. He then goes to see Dr. Burleigh and stares at the other patients. Burleigh finally ushers him in so he won't upset the others. Burleigh notes that Bert has been in the office repeatedly to complain about various ailments. He explains that Bert is causing his illness by focusing on minor ills, currently bone problems, and tells him to get out.
Bert checks the phone book to find a bone specialist and finds a M. Munigant. He goes in and finds x-rays of bones on the walls. Munigant comes out and introduces himself, saying he's a master of extraordinary cures. He insists that the entire skeleton is one architecture, each bone interrelated. Munigant ushers Bert into his office, filled with more cases of bones. The doctor claims that some of his bones are from Caesar and Cleopatra, and boasts that he has the bodies.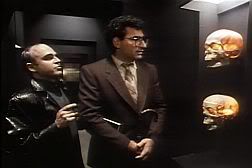 In his office, Munigant suggests that Bert's flesh fits poorly, and has him lay on a table. He then wheels over a special machine and says he will educate Bert about his own skeleton. Munigant runs the device over Bert and then has him look into a mirror above where he can see the image of his skeleton. The doctor then has Bert open his mouth as wide as he can and stares deeply. Bert snaps his mouth shut and Munigant says he can't do anything unless Bert cooperates. Bert says he will cooperate but Munigant says that much of his problem is psychological and he must learn to relax. He shows Bert x-rays of his body and says the professor must take them home and study, and then come back when he understands
Bert eats supper with his wife Clarisse, a nurse. He doesn't have much of an appetite and she notices the x-rays. He talks about how it is how other self and the inner representation of death. Clarisse tells him to get rid of it but Bert insists that he needs to understand and he's finally found a doctor that understands.
Bert examines his skeleton that night as he goes to bed. Clarisse tries to distract him but Bert obsesses about her nose structure and teeth and she finally gives up.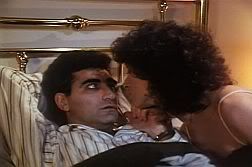 The next morning, Bert discovers that he's lost 16 pounds and begins to wonder if his skeleton is conspiring against him, trying to reveal himself. He has a sudden pain as he feels his skin trying to crush him. Clarisse comes in, distracting him, and tells him that she's fed up with all of his medications. She tells him either the medicine goes or she goes. Clarisse starts throwing away all of his pills and medicines, says she's going to fatten him up, and then throws the x-rays in the fireplace. Bert watches as his skeleton goes up in flame.
Bert wonders if Clarisse is right and goes to a bar to buy his skeleton a drink. A fat man comes in and Bert tries to discuss his weight with him, and asks how he can gain a few pounds. The man explains how he's spent years eating to develop his body, but warns that he'll encounter many vile people. However, he'll eventually build up a buffer of fat to protect himself from the outside world. Bert realizes that the whole thing is psychological and calls Munigant, while telling his skeleton he plans to keep it right where it is.
Munigant comes to Bert's home and immediately realizes that Bert has prepared himself. Bert admits it was psychological and Munigant has him lie down. He explains that his bones have rebelled and he can't eat, and Clarisse believes he's out of his mind. Munigant offers to cure him and Bert accepts. He tells Bert to open his mouth wide and stares deep into his throat, and then says a single word: "Out."
Bert opens his eyes and discovers that Munigant has disappeared. The professor hears a cracking noise and clutches at his chest in agony.
As Clarisse arrives home, Munigant steps out, chewing on a bone. He leaves and Clarisse goes inside. She finds Bert lying on the floor, his skeleton entirely gone, and screams in terror.
At his office, Munigant is examining his newest skeleton when a new patient comes in.
Share this article with your friends