A young boy, Martin, is trapped in bed with an illness and dreams of playing outside with his dog, Dog. He goes to the window and watches as Dog runs home and up to Martin's room. The boy combs through his dog's hair and removes all the leaves and branches caught in it, viewing each one as a relic of Dog's travels. Martin's mother comes in and warns that Dog is always digging, and dug a hole in their neighbor Mr. Tarkin's garden. She considers all the things that Dog has brought home are junk, but Martin insists that it's the only way he can experience anything of the outside world. He shows his mother a tag he's made that asks anyone finding it to follow Dog home and keep Martin company. He insists that Dog can do anything and sends it out to fetch.
Dog runs through town and barks at people, but no one pays any attention to him. A teacher, Miss Haight, finally notices Dog and his tag. She realizes that Dog belongs to her sixth-grade student, Martin, and follows the dog to Martin's. She apologizes for not visiting sooner and describes Dog as an emissary, Martin's scout to the outside world. Martin shows Miss Haight some of the items that dog has brought back, and she promises to visit.
Miss Haight continues to visit, reading books and expanding Martin's imaginary horizons. She insists that Dog and Martin are both very special.
One day, Miss Haight comes to the door and secretly watches Martin write in his journal. She asks him about it and tells him that he'll grow up to be the world's greatest writer. Martin tells her that he writes about autumn, and his two friends, Miss Haight and Dog. Miss Haight reads Martin's description of her from it and it's clear he has a crush on her. Before Miss Haight can say anything, Martin's mother comes in and Miss Haight says she has to go. As she leaves, Dog barks at her. They look down as she goes out the gate, and calls up to tell Martin that she'll be waiting.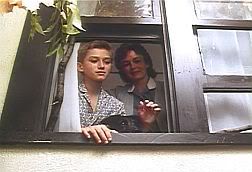 That night, Dog barks at the window while Martin's mother gets a call. She tells Martin that Miss Haight was going home and died in a car crash. Later, Martin watches from his window as the funeral procession drives by. Martin, upset, realizes he won't see Miss Haight again. Dog barks and then runs off down the road to the cemetery, and watches as the coffin is lowered into the ground.
Martin comes downstairs as Dog returns with a rose in his mouth. Martin sits down for dinner and wonders what the corpse do in the graveyard, and wonders why they're not allowed to get up and move occasionally from time to time. His parents tell him to stop talking like that.
That night, Dog goes out while Martin is asleep and howls at the sky. The next morning, Martin wakes up and wonders where Dog is. He goes to the window and calls but receives no answer. The next night is Halloween and Martin's father looks for Dog while the neighborhood children celebrate. He tells Martin that there's no sign of Dog, but it's only been a day and he'll call the pound in the morning. Martin's parents go to the neighbors to play bridge, leaving Martin alone.
That night, Martin props his bedroom window open and wishes as hard as he can for Dog to come home. He hears barking and looks down to see Dog coming into the yard. The dog is running ahead of someone. Dog runs in and Martin hears someone who he assumes is his father walking up the stairs behind his pet. He finds mud and worms in Dog's fur and looks up to see Miss Haight come in.
Share this article with your friends