In Paris, an American boy, Douglas, is playing on the banks of the Seine when his grandmother Marguerite calls him to dinner at the hotel where he lives with her for the summer. He runs past Mr. Dumas, an artist and one of their boarders, and into the hotel. He watches his grandmother use a large knife to cut open a chicken, and she wonders if his parents will let him stay longer. Outside, a man approaches the hotel using an umbrella despite the fact it's a sunny day. Douglas notices him approaching. He then returns his attention to Marguerite, who is pulling the guts out of the chicken, much to Douglas' interest.
The doorbell rings and the grandmother sends Douglas to answer it. The man, Mr. Koberman, asks to rent a room and Douglas tries to put him off. His grandmother comes out and offers Koberman a room. When he accepts, she has Douglas take Koberman to his room. He opens the drapes and Koberman winces in pain and quickly closes them.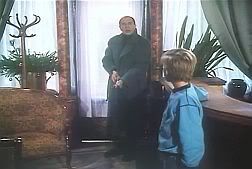 Later, Douglas sneaks out on the balcony and outside of Koberman's room. He watches as the man lies on the bed, deeply asleep. The grandmother calls everyone to supper and they settle down at the table, where Mr. Dumas notes that young women have recently disappeared. One of them was found without a drop of blood in her. Miss Emmy Treadmill, a student and another boarder, comes down and dismisses Dumas' concern. Koberman comes in and Marguerite offers introductions. Koberman says that he is a traveler and says he does it mostly for pleasure. As they start to eat, he brings out his own eating utensils, made out of wood. Everyone but Koberman eats. He apologizes, claiming the sound of silver upsets him, and tells Marguerite it's not necessary to provide him with food during the day since he keeps an irregular schedule. Douglas shows Emmy a trick involving stroking the tines of a silver fork and using crystals to amplify the name. Koberman grows increasingly upset. Dumas asks if he's Czech but the new boarder makes his apologies and leaves.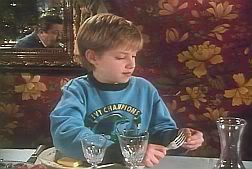 That night, Douglas shows off his coin collection to Dumas and Emmy leaves for the library. As she goes, Douglas assures her that he'll protect her if necessary. As she goes, Koberman heads out for the night and Douglas asks if he has any coins. Koberman says he doesn't and follows Emmy into the streets.
The next morning, Douglas is playing with a toy ray gun and a viewing scope with a filtered lens. He sees Koberman and looks at him through the scope, and sees a strange organ glowing organ in the man's chest. Koberman notices him watching and comes upstairs to ask what he was doing and what he saw. The man looks through the binoculars and then "accidentally" drops them out the window. He promises he will get the boy new ones and takes his hand with his own one… with long fingernails. Afterward, Douglas goes down the street and salvages the lenses.
Everyone gathers for breakfast… except for Emmy. Douglas checks on her room sand realizes she didn't come home the previous evening. He goes to Koberman's room and finds him in a coma-like sleep. He looks at him using the lenses and sees the same strange organ in his chest. Douglas also spots photos of numerous young photos on the man's dresser, as well as a picture of him present at the construction of the Eiffel Tower in 1869. There's also a photo of Emmy there.
Douglas begins reading books on anatomy and suggests to Dumas that maybe vampires exist but they can walk in the daylight and hide themselves by not acting like traditional vampires. He asks if Emmy will return and then wonders if vampires are afraid of silver.
That night, Douglas takes his jar of coins and a knife from the kitchen and goes up to Koberman's room. The man is once again in a coma on his bed. Douglas sets down the jar and then takes out the knife and drives it into Koberman's chest.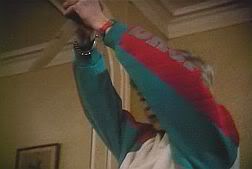 Later, Douglas shows his grandmother the strange organ from Koberman's chest, which is still beating. He tells her that he got it from Koberman. She calls the police and the coroner, and Douglas tells them that Koberman still lived even after he removed the organ. The coroner takes the knife and cuts open the stitches Douglas used to sew Koberman's chest back together. Inside is the boy's entire collection of silver coins.
Share this article with your friends