George Hill is in prison and insists that he can't be executed because his wife is still alive. The warden informs him that he is well aware of that fact and George calls him to the TV screen showing the outside courtyard and points out his wife Katherine in the courtyard below. The warden agrees that she is alive and says he understands, but it is still time for George to be executed for murder.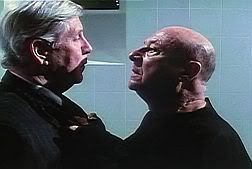 George is taken to the execution chair and wonders who is responsible. The warden says that George is, and asks if he remembers.
George remembers going to Facsimiles Limited and meeting with the Interviewer. He denies wanting to murder anyone but says that he has come to Facsimiles Limited because he wants to murder a machine in her image. As he scans George, the Interviewer notes that the machine thinks and lives, and there are those who argue that such machines should have human rights. George finally admits that he intends to murder, and the Interviewer insists that the client's realization of that fact is important. George signs the contract and the Interviewer assures him that he will be killing a machine. He then asks George for a sample of Katherine's DNA and George provides him with as much detail as he can provide.
As the Interviewer processes the data, he wonders what Katherine did to him. George remembers how he brought home his attractive and much younger wife. He soon discovered her with a lover, speaking of George behind his back. George was ultimately unable to do anything about it.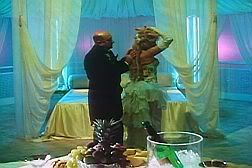 The Interviewer informs George that the facsimile Katherine will be ready in two weeks. When George admits he'll go mad, the Interviewer suggests that he be put asleep for the 14 days and then revived when the facsimile is ready. Two weeks later he wakes up and finds himself in his bedroom with the facsimile. George says that he's changed his mind and asks her to come with her. The facsimile warns him that she is his wife without the flaws, and no real woman could compete. It gets his coat and directs him to the gun in the pocket. George throws it away and again asks her to come with him, anywhere. The facsimile explains that it cannot leave until it is used, and its function is to die. It reminds George that he hates it, but George insists that it's not too late and it's Katherine he hates. The facsimile says it's too late and that it can only be rented, not sold. If George leaves without killing it, Facsimiles Limited will melt her down.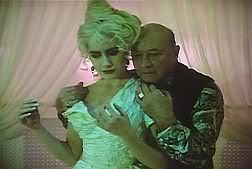 When George balks, it taunts him by reminding him that she had an affair on him, and knows everything that Katherine does. The facsimile describes its lover and places the gun in George's hand, but he insists that it's Katherine who had the affair. The facsimile continues to taunt him until George finally shoots it. As he collapses to the ground in shock, the police arrive to arrest him for murder.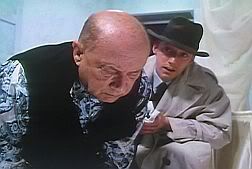 The trial is held and the case is presented against George. The Prosecutor makes the case that the death of the machine in the form of a man is murder, while the Defence insists that a machine can't be killed and George is a scapegoat. The jury vote unanimously to find George guilty.
As George awaits execution, Katherine comes to see him and apologizes for it ending this way. George points out he already killed her but finally realizes that she's still alive. She tells him that she told the authorities she's still alive but it's made no difference. George goes to the TV screen of the outside and watches her depart, and the warden arrives to take him to be executed.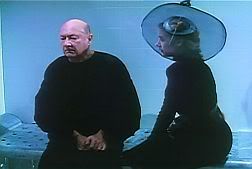 Share this article with your friends