At the manor of eccentric robot maker Charles Braling, delivery men bring in equipment as small mechanical robots patrol the grounds and bring in his supplies. His solicitor, St. John Court, arrives and reluctantly agrees to have all of Charles' money brought there. He warns it isn't safe but Charles insists there's no danger.
Charles' brother Richard arrives and Charles is unimpressed, knowing he wants to hit him for some money. He wonders why Court was there and what Charles is up to. Charles says that he's dying and explains that he's building his final invention: his own coffin. Richard notes that the gadgets don't seem to indicate a coffin, but Charles insists it's a very special coffin. As Richard pokes around the workshop, Charles snaps at him and Richard points out the coffin is too long and too thick. The coffin has a window and tape players built into it. Richard suggests that he stay for a while but Charles tells him to go. His brother notes that a woman Angela abandoned Charles for the younger man. An angry Charles order Richard out, reminding him he sold his share of the house to Charles to pay off his gambling debts. Richard refuses and says he'll stay for a while to see what his brother is up to.
As Charles records a message for his coffin, Richard walks around the manor and sees how the robots help with everything, including the garden and the bar. He complains to the robots about how he knows how to live. He notices Charles pacing out steps and assumes that he's insane. As Charles goes outside, Richard notices the silver. He's examining it when Charles invites him up to his lab and admits that his end is near. He says he plans to let bygones be bygones and asks Richard to help him put the lid on his coffin. Charles then demonstrates that it's voice-activated and plays music. Richard wonders what it's for and reminds him that his brother's only so-called friends wanted his money. Charles orders him out and then smiles as he contemplates the coffin. He collapses and Richard hears him from outside. He goes back into the workshop along with one of the robots, which twitches nervously.
Richard has his brother taken away by the undertaker and hides the coffin, figuring he can sell the parts for money later. The funeral director calls him and asks when he's going to pick out the coffin. Richard tells him to pick out a simple pine model and makes sure there are no services. Later, Court returns to read the will and informs Richard that the plans for the coffin have been left for him. Charles also leaves the house to his brother. However, Court warns that the death duties may absorb the total value of the property. However, all valuables within the house are also left to Richard, and he had Court place the entire balance of 750,000 pounds to Charles. there is also jewelry insured for 550,000 pounds. Court assumes the fortune is within the house and reads the last part of the will. Charles says in his will that there are no hard feelings and wishes him a long life and a "yo ho ho and a bottle of rum."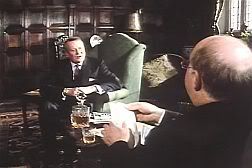 After Court leaves, Richard desperately searches the house but finds nothing. He considers Charles' last words and realize they refer to a "dead man's chest." He goes to the automated coffin and climbs in to search for a secret compartment. He finds the money and then notices a sign explaining that the the user should place the body in the coffin to begin the automated burial process. Richard decides to try out it out and the music begins. Charles' pre-recorded voice speaks, declaring a funeral sermon for Richard and describing him as a cad and a villain.
As Richard counts his money, the coffin lid suddenly closes and Richard sees his name on the lid. Charles' voice tells him that he knew Richard would be curious enough to get into the coffin and try it out. The automated coffin moves on its own, transporting Richard out the door, down the stairs, and into the yard. Mechanical candles light and a wreath is tossed down. When Richard tries to break the lid, bars emerge to hold down his hands and an automated syringe injects him with a sedative. As Richard passes out, the automated coffin digs itself into the ground and buries itself. A robot arrives to place flowers at the grave and say a final goodbye.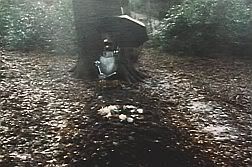 Share this article with your friends