The elderly Matilda Hanks owns a clock and picture shop. One day a black-suited man and his assistants arrive at her door and come in, bearing a wicker basket. They ignore her and proceed inward. Their leader opens the basket, smiles, and continues into her parlor. The man says nothing and Matilda pours herself a glass of tea. The man removes his hat and sits down, and Matilda asks about the wicker basket and why four men are needed to carry it. She remembers seeing similar men when her next-door neighbor passed away, and tells him that when her niece Emily comes home, she'll shoo the Listener out. Matilda describes Emily and how she came into her home when her mother died of food poisoning.
As Matilda talks, she talks of how she has always had a philosophy of laughter and dancing. Her father insisted she marry, but Matilda only found one man whom shared her philosophy, and he died. As a result, Matilda has refused to acknowledge death, or let any reminder of it into her store. She never married for fear of living with a man who might die on her and shake her convictions. Now she shuns the world and refuses to let the Listener get her into the wicker basket. The Listener simply settles in while Matilda rests. Finally she doses off and the Listener slips away.
Matilda wakes up later and discovers that the Listener is at the door. She insists that he hasn't convinced her but the Listener merely glances at his assistants and then follows them out as they carry the wicker basket out. She orders them out, refusing to look when the Listener offers to open the wicker basket. Once they're gone, she sits back down and dozes off. She wakes up again when she hears Emily coming up the walk. Matilda notes that the girl looks upset, and goes to make some tea. Emily comes in but doesn't notice Matilda at first. She then stares at her aunt in shock and screams. Matilda offers her tea but Emily thrusts her hand into Matilda's chest and the old woman realizes that she's a ghost, and the Listener stole her life when she wasn't watching.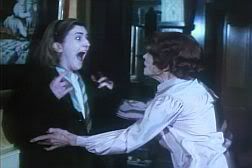 Matilda takes command and has Emily drive her to the mortician, insisting she's going to get her body back. She confronts the men as they bring in the wicker basket with her body, and then runs past into the mortuary and demands to know where her body is. She hears the mortician working on her body in the next room and demands to be let in. When the funeral director tries to have her moved, they realize that she can't be touched. Matilda gets in and finds her body, and the mortician assumes it's her sister. The old woman lies claim to her old body, and when the funeral director wonders what she'll do if they refuse, Matilda threatens to howl and scream and inform the world that they are bodysnatchers. The funeral director gives Matilda her body, and she insists they return it in one piece. The mortician completes his work and Matilda makes sure that everything is intact. They then place Matilda's spirit into the coffin and it merges with her body. With an effort of will, she takes hold of her body and comes back to life.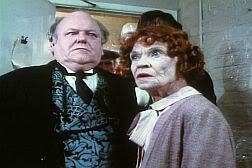 Later, Matilda is back in her shop and rests. Emily returns to college and people come to stare. If they ask politely, Matilda shows them the marks where she was sewn back up.
Share this article with your friends