In Paris, the police accompany an ambulance to the Champs Elysses to a theater where John Fabian performs his ventriloquism act. Lt. Krovitch examines the corpse and then turns to Fabian, but a woman's voice emerges from a nearby trunk. Fabian tells the dummy, Riabouchinska, to be quiet and takes offense when Krovitch calls it a dummy. Krovitch turns to Fabian's wife Alyce and his promoter, Howard Douglas, and asks if they knew the dead man, Robert Henry Ockham. They deny it but Krovitch notes that Ockham knew at least one of them and had come in through the stage door many times. When he points out that one of them is lying, Riabouchinska agrees with him and Krovitch tells John to stop the act. The dummy warns that she'll never work with John again.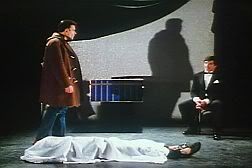 John hands over the key to the trunk and Krovitch examines the porcelain dummy. John boasts of his triumphant performance across the world and explains that Riabouchinska is loved by thousands. Riabouchinska tells him to stop, noting his praise makes others sad. John insists to Krovitch that Riabouchinska isn't in his throat, but may be in his heart, and she is his opposite number. Krovitch turns to Douglas and Alyce and notes that they are sitting together, and suggests they're having an affair. Alyce snaps at Riabouchinska and explains that she once loved John, but John doted on the dummy, which got the best part of him.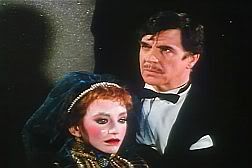 Riabouchinska suggests that Alyce tell Krovitch about the affair, and Alyce readily admits she turned to Douglas when she felt abandoned. The lieutenant suspects that Ockham tried to blackmail them, but Douglas points out that John knew about the affair. John confirms he knew about them. Krovitch gives up for the time being and has the corpse removed.
The next day, Krovitch returns to the theater and confronts John in his dressing room. He shows him a poster of his former dummy, Sweet William, and a poster of a ballerina, Ilyana Riamonova, who worked where John did. Krovitch demands answers and Riabouchinska encourages John to speak. He refuses and Krovitch presents his theory, that Ilyana disappeared in New York several years ago. John admits that he watched Ilyana and fell in love with her like so many others. He made a doll like her, but Riabouchinska insists that's not true. Krovitch agrees with her and accuses John of being romantically involved with Ilyana. John admits that they fell in love and traveled the world together. Eventually they fought over John's possessiveness and she left him, and John was unable to find her. He recreated her in porcelain and then gave voice to Ilyana as Riabouchinska.
When John insists that's all there was, Riabouchinska says there is more, and Krovitch points out that they still have the murder to resolve. The lieutenant is sure that Ockham knew something and believes he found the posters and planned to blackmail John. Riabouchinska explains that Ockham sent letters and worked at the theater when Ilyana disappeared. Finally he came to theater and John struggled with him. Ockham accidentally fell down the stairs and Riabouchinska was forced to listen as she heard him die.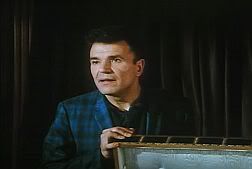 John listens in horror as Riabouchinska describes how John killed Ilyana in a jealous rage and Ockham saw him. The ventriloquist picks her up as Riabouchinska tells him that she's died twice and has tolerated enough of his weakness. The dummy closes its eyes and "dies" a second time. He asks Krovitch to make Riabouchinska come back, but the lieutenant says there's nothing either of them can do. Krovitch places him under arrest and takes him away. As they leave, the theater workers take down the poster of John and Riabouchinska.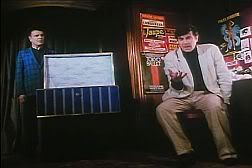 Share this article with your friends