At a carnival, showman Ralph Banghart is showing off his shooting skills for his assistant Aimee and tries flirting with her. Aimee isn't impressed, and he tells her to set up the next target. However, suddenly Ralph remembers that "Mr. Big" is coming and goes over to the Mirror Maze. He sends Aimee to the back and they watch as a dwarf walks down the midway. He pays his admission and goes into the Mirror Maze, and Ralph takes Aimee inside.
Inside the mirror maze, Ralph and Aimee watch as Mr. Big examines himself in a stretching mirror which makes him appear normal sized. Ralph says that he doe the same thing every night and Mr. Big hears him and runs away. Aimee wonders if he's been scared away for good.
The next night, Aimee watches as the man returns and buys another ticket into the Mirror Maze. She asks Ralph why he isn't watching the man, but Ralph says he's trying to think of something new to shake Mr. Big up. When Aimee gets angry, Ralph claims he's kidding. The dwarf emerges and walks off into the crowd and Aimee decides to follow him into the city. Mr. Big buys a magazine and leaves, and Aimee approaches the vendor as the dwarf goes into a diner. The vendor identifies him as Bigelow, a writer for mystery magazines. Aimee buys the magazine and reads it outside the diner. Bigelow leaves the diner, takes a few steps, and then asks her why she's following him. Aimee says she's a fan, but Bigelow insists that nobody reads his stories. He invites her over and asks her what stories of his that she's read, and Aimee describes all of his stories that he's written, but never realized until now that he wrote.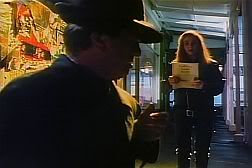 Bigelow takes Aimee to a warehouse that he keeps carefully locked. He lets them inside and shows her his prize item: a giant dollhouse that he says he built himself. She hears typing and looks through the window to see Bigelow writing a story about her coming to visit him.
Aimee goes back to the carnival and pays to enter the Mirror Maze. She goes to Bigelow's mirror and considers touching it, but then draws her hair up and pirouettes. She hears a noise and realizes that Ralph is watching her. Aimee wonders if he's always back there, simply watching, and he admits it's the only fun he has. She wonders where he bought the mirrors and considers buying one and taking it home so she wouldn't have to come back, knowing he's there. She leaves and Ralph comes out and goes to the mirror. He starts to shatter it but then figures he can do something better.
Later, Aimee is ordering the mirror when Ralph comes over to her booth and tells her that business is great. He knows she's buying the mirror and then has her draw a card from a deck filled with Aces of Spades. Ralph warns that she can't win because he fixed the deck, and he fixed the mirrors. He points toward the Mirror Maze, where Bigelow is going in right on time. Aimee runs after the writer but hears him scream in anguish. Inside, she discovers Ralph has replaced the stretching mirror with one that makes the reflected image shrink even further. Bigelow is crying as Ralph comes in and smiles in triumph. The dwarf runs out and Aimee slaps Ralph before running after Bigelow.
As she heads for the exit, Aimee sees Bigelow with a gun. He fires at Ralph's reflected image… and keeps firing until every mirror is broken. Aimee tells him to stop, because only Ralph is left and he's been dead for years. As Aimee leaves, Ralph screams in anguish. Outside, Bigelow walks off into the crowd.
Share this article with your friends