In the near future, Leonard Mead walks to the apartment of his friend Robert Stockwell and knocks on the door. Stockwell eventually hears him over the sound of his television and hesitantly comes to the door but only lets him in when Leonard pounds repeatedly. He condemns the television and then gives Stockwell black clothing to walk the night in near invisibility, in tennis shoes to remain near-silent. Stockwell is tempted but can't tear himself away from the television even though it's the same program retitled and slightly rewritten. Leonard leaves on his own and as he goes, Stockwell asks what it's like at night and Leonard describes the wonders. Impressed, Stockwell dons his dark clothing and goes out with his friend.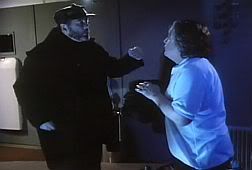 As they go out into the night, Stockwell trips on a tree root and then the two men walk along now overgrown sidewalks. Leonard suggests they chew grass and then hands his friend a dandelion and blows the thistles into the air. Suddenly a helicopter flies overhead but Leonard assures Stockwell there's only one patrol helicopter. They avoid it and Leonard talks of how life was once a slow progression, but now it's rushed with every day. Stockwell is soon equally overwhelmed by the experience.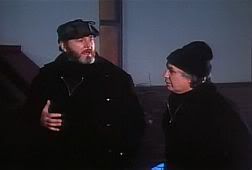 A helicopter passes and Stockwell hides, and then wonders if Leonard has ever been caught. He says that he hasn't, but a patrol car drives by, just missing them. Stockwell asks to be taken home and Leonard agrees. They go back to his apartment and Leonard talks of how he used his imagination to entertain himself. Stockwell wonders what good it is to go out, and Leonard says that he hopes for the day when people will realize that they're sick and will go out into the fields. The patrol helicopter passes over and they duck into the apartment block as a patrol car comes by. They are finally covered and a voice accuses them of being criminals and takes their photos. It has them identify themselves and their professions, and then demands to know why they are out. Leonard says they are simply walking and taking in the fresh air. It notes that they have air conditioners at home and demands that they clarify why they are out. They say they went out to see things, but it points out that they have television screens in their homes. Leonard tells it that his viewing screen is broken but it demands further explanation.
Leonard takes responsibility for Stockwell and says he's never been out before, and his friend is innocent. The voice orders Leonard to get in and Stockwell to go home. Leonard assures his friend that he will call and that he's being taken to the Psychiatric Center for Research on Regressive Tendencies. As he goes, he tells Stockwell to avoid any more night jaunts. Leonard realizes that the vehicle is simply a robot and wonders if there is even anyone alive at the other end. The patrol vehicle tells Stockwell to disperse and then flies away with Leonard. Stockwell vows to burn the black clothing and condemns Leonard as a fool. Once the patrol vehicle is gone, however, Stockwell walks out and picks a dandelion.
Share this article with your friends