At the Fortnum household, teenage son Tom is reading through a catalog with hundreds of things to buy. An ad about raising giant mushrooms in the cellar catches his attention and he asks his mom and dad if he can order seeds. He's soon mowing for the money and his dad Hugh comes out to tell him he has tickets to the ball game. Tom passes and it's clear he's waiting for something. Their neighbor Mrs. Goodbody interrupts her spraying for parasites and weeds to come over and complain about invaders from outer space. She insists she's the first line of defense. The mailman comes over and Tom runs to sign for a special delivery package. Hugh asks to see it and checks out the package, which announces it contains Abyssians Amazon Mushrooms, shipped from New Orleans. Tom takes the package and runs inside, while Mrs. Goodbody continues to spray.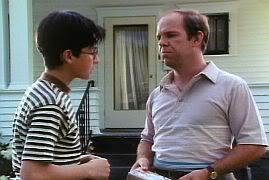 Tom is soon digging in the cellar and planting his mushrooms. Hugh and his wife Cynthia come down to check on him, and Hugh figures it's a passing fad. Cynthia isn't so sure they're harmless, and worries they might be toadstools.
Later, Hugh is off to work and carpools with his neighbor, Roger Willis. As they drive to the work, the radio broadcaster announces recent interference from microwaves due to a meteorite shower. Roger complains about having night panics and worries that he's afraid of everything and everyone. He insists that something awful is going to happen to all of them even though he has no proof. They arrive at work and Hugh wonders they can do about it. Roger suggests they watch everything but has nothing definite. He leaves as Hugh looks around nervously and notices the hair standing up on the backs of his hands.
At home, Tom continues to tend to his mushroom garden while Hugh admits to his wife that Roger is convinced that something is going on. Their son arrives with a load of mushrooms and takes offense when Cynthia thinks they're ugly. She insists she doesn't like them and Tom angrily runs off. Before Hugh can go after him, Roger's wife Dorothy comes over and asks if they've seen Roger. She tells them that Roger has disappeared and taken his clothes with him. She has a feeling that he won't be coming back.
Hugh goes to the Willis house and Roger's son Joe says that his father just left in the middle of a game of catch. Dorothy has checked the airport and train station but there's no sign of Roger. As Hugh goes downstairs with Dorothy, he notices that Joe is growing mushrooms in the Willis cellar. He walks home and remembers what Roger said, and goes past Mrs. Goodbody, who is spraying her garden.
The next morning, Cynthia wishes Tom happy farming as he goes down to the cellar. Roger calls Hugh and checks to see if he's alone. He tells Hugh that he's going to New Orleans and may not be able to call again before he loses control. He tells Hugh to tell everyone not to take any special delivery packages. As Dorothy comes in, Roger hangs up and she wonders what he said. Hugh runs to the garbage and finds the package that Tom received, with the New Orleans postmark. Dorothy explains they received a similar package, and that Roger ate mushrooms on his steaks. Hugh remembers everything he's seen and heard in the last few days and wonders.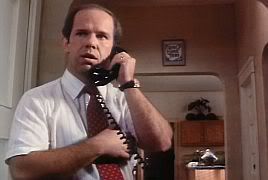 That night in bed, Hugh admits to Cynthia that he's worried that something is going on with him. He finally admits that he's worried that they may be the target of an invasion by spores. Hugh suggests that a meteorite may have landed in a swamp somewhere, a man ate the mushrooms, and the man started a mushroom company to distribute them around the world and take over without firing a shot. Cynthia thinks it's nonsense and goes to bed. Dorothy calls and tells Hugh that she forgot Roger is on a business trip and he's fine. She dismisses Roger's call as a practical joke. After she hangs up, Hugh figures everything is fine and goes downstairs to get something to eat.
Downstairs, Hugh discovers that Tom has made up sandwiches with mushrooms. The cellar door swings open and Tom asks his father to bring down the sandwiches for a snack. Hugh hesitates for a moment and then takes the plate downstairs. Tom offers him a bite and when Hugh hesitates, his son starts eating them and insists that Hugh will like them. He taunts him when he refuses, saying he needs to prove himself to his son. Hugh remembers what Roger said but finally picks up a sandwich and takes a bite while Tom looks on and smiles. He asks if Cynthia is hungry, and after a few seconds Hugh smiles as well.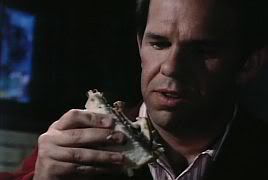 Share this article with your friends