An Earth exploration team explores an empty Martian city. The buildings are in pristine condition, but there are no inhabitants. They find black leaf-like particles on the ground and soon realize the particles are ash: the remains of the Martians. One of the explorers, archaeologist Spender, explains that one of the previous Earth missions made it to Mars and infected the Martians with chicken pox. The resulting fever burned them up. Spender takes offense, insisting that they should have been more careful. When Captain Wilder objects, Spender tells him to report back that they wiped out a civilization, and they can be proud of what they've accomplished.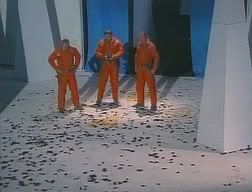 That night, the crew celebrates and wonders when they can go into the city. Spender avoids them. The next morning, one of the explorers, Biggs, wanders around drunkenly christening the landmarks with Earth names. Disgusted, Spender finally attacks him. Wilder and the others separate them and the captain talks to Spender alone. Spender admits that he was ashamed, and Wilder says he'll have to put him on report. Spender accepts it and says that he feels the Martians are still watching them and that the expedition will ruin the planet. Wilder insists they won't and tells him to find out the old names and make sure they're not lost.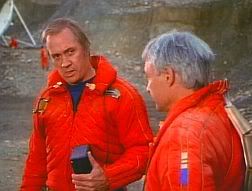 That night, Biggs and the others wander through the city. Biggs calls out to the Martians and jokes about the ashes. Meanwhile, Spender goes into one of the Martian buildings and lights come on to reveal artwork and sculptures. He finds a mask and quotes Byron, and Wilder comes in. He admires the civilization that could have created the mask, and insists that the Martians don't mind them being there. Spender isn't convinced and explores further. He finds a book-like object and picks it up, and explains to Wilder that the building is a library, and the one object contains the equivalent of a million books. Spender says that he feels he's come home and wants to stay. The others enter and Biggs picks it up and casually breaks it as Spender stares in shock.
Three days later, Cheroke and another man, Parkhill, report to Wilder that Spender has disappeared without a trace. Wilder tells them to continue searching. Biggs goes off on his own and shoots at some bottles. He turns to find Spender, wearing the Martian mask. Spender says that he's the last Martian and that he's going to kill him. Biggs thinks that he's joking but Spender orders him to stand up and then shoots him dead.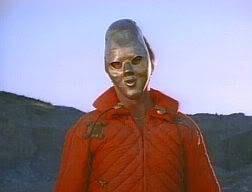 As the others make camp that night, Spender returns without the mask. He talks to Cheroke and the others, explaining that he's been living in the city and learning Martian culture. He tells them that he's found a Martian and asks what they would do if they were Martians and someone came to tear up their land. Cheroke sympathizes, noting that his people suffered the same way. The others are unimpressed, and Spender says the Martian asked for everything he had, including his gun, and that he's there now. When the others look around, Spender shoots them all dead except for Cheroke. Cheroke is repelled at the death, but Spender offers him the chance to accompany him. The Sioux officer refuses and goes for his gun, and Spender kills him.
The next day, Wilder and the remaining crew find the dead man and go into the hills to hunt down and kill Spender. Spender returns fire at them but Wilder tells them to hold their fire and take him alive. Spender flees into the Martian library and the other men go in and corner him. Parkhill insists they can kill Spender with grenades, but Wilder tells him to stand down and goes inside, unarmed. Spender admits that he got sick after killing Cheroke and he couldn't go on, and now it's too late. He became weak and returned to the library to build up his strength. Spender explains that he planned to kill the entire expedition, which would have delayed the authorities on Earth because they were unaware of what actually happened. He then would have greeted each expedition and killed them as they arrived.
Spender shows Wilder the library and explains that the Martians learned how to live with nature and not ask questions. He invites Wilder to join him but the captain refuses and warns that he's surrounded. Spender insists he has something to fight for and lets Wilder go back with his men to start the attack. The captain admits he's sorry and Spender admits he's sorry that he started killing people. He notes that Wilder is like him, and admits that he can handle it better. Spender assures Wilder that he won't kill him no matter what else happens, and suggests that the captain might change his mind once the others are dead. Wilder warns that he'll keep coming and offers Spender one last chance, but the archaeologist turns him down. As he goes, Spender asks him to try and restrict the tearing apart of the planet. Wilder says he'll do what he can and wishes him luck. Parkhill tries to shoot at Spender but Wilder stops him and orders him out.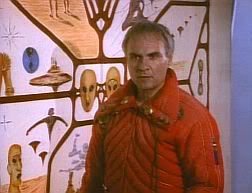 In the library, Spender picks up the Martian mask and admires the art one last time. Wilder finds him and gives him 30 seconds to run away, but Spender simply draws and aims his gun. When he refuses to stop, Wilder has no choice but to shoot him. He runs to Spender's side and the archaeologist tells him that he's Spender now, and hands him the mask as he says he has quite a job ahead of him. As he dies, Wilder considers the mask and then starts to put it on.
Share this article with your friends