In the year 2100, Craig Bennett Stiles looks out across the world from the terrace of his spacious manor as reporter Roger Shumway arrives by helicopter. Roger checks with the camera crew that has already gathered outside Stiles' home and then calls his network station. They are running footage of Roger's documentary talking of how 100 years ago, the world was overrun with war and overpopulation and doomed to extinction. Stiles used a time machine to travel 100 years into the future and then returned with information that saved the world.
Roger is preparing for his broadcast that will go out across the world. An assistant arrives with a note from Stiles asking Roger to meet him. Roger and his camera crew go to see Stiles, and notes that Stiles hasn't spoken with anyone since his return from the future. Stiles explains that it's a special day and he wants Roger to bear witness to his story. They set up and Roger asks how Stiles will feel when his younger self arrives from the past and he meets himself. Stiles tells him to wait for the full story and Roger goes on the air. He notes that Stiles went into retirement shortly after his trip to the future. Since then, he's been working as an architect to help build the future that he foresaw. Stiles takes Roger to see his time machine, and as they go, Roger wonders how Stiles will react to seeing himself arrive.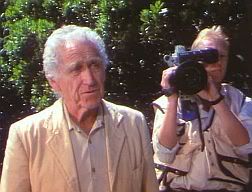 As they go inside, Roger shows footage of how Stiles returned from the year 2100 with photos of how the world had overcome its problems. When Roger asks, Stiles explains that no one looked up to see him because he wasn't expected, and no one would have known what they were looking at. He stayed there only long enough to take photos and then departed. Roger notes that now, everyone is waiting for him to arrive and Stiles says that he's well aware of that. They go to Stiles' laboratory and he says that only Roger can come inside. Roger notifies his director of what's going on and sets up a camera for the interview. Stiles shows them the time machine he used, which he has called the Toynbee Convector. He enters the machine and shows Roger all of the controls, and explains that he named it after Arnold Toynbee, a great historian who spoke of rushing to meet the future. Roger doesn't understand and Stiles assures him that he soon will.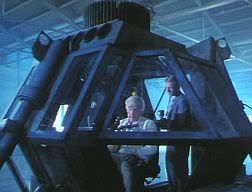 As Roger rolls tape without broadcasting, Stiles talks about how when he returned to his present, everyone responded to the message that he brought with celebration. They replanted the forests, cleaned the air, and reclaimed the oceans and rivers. With thirty seconds until his past self arrives, Stiles talks of how they have traveled to the stars and have acquired a bright future. Everyone across the world looks to the skies as the momentous time arrives... and nothing appears. Stiles doesn't appear surprised, and Roger realizes that he knew all along. The old man explains that he lied. They go back inside and Stiles explains that he made a fake time machine and now it's time for the truth. He was born in a time of despair and disillusionment, Realizing that the world was giving into depression, Stiles came up with the idea from reading H.G. Wells, and staged the entire thing. He built models, played with dolphins, talked with whales, and made fake tapes in preparation for his "trip," and then invited everyone to attend. Stiles then "departed" using a mechanical illusion. When he returned, the world believed him because they wanted to believe.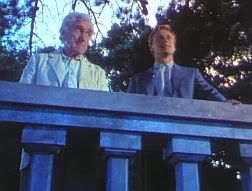 When Roger notes that their entire golden age is built on a lie, Stiles notes that everyone bases their lives on lies made real. He admits that he was going to use a fake projection to simulate his arrival from the past. However, Stiles realized that it wasn't necessary because the people have reclaimed their world. Now, anything is possible. and today is the first few steps of a march into a glorious future. Roger finishes the broadcast and Stiles tells him to take everything that he accumulated for the fraud and use it. He goes back into the Toynbee Convector while Roger calls his director and asks for 30 seconds off the air before he sends her the broadcast. Roger then turns to Stiles and discovers that he has died. Roger goes outside and tells everyone that Stiles has passed away. He broadcasts the inspirational part of Stiles' message, speaking of the beginning of a great journey, and then uses Stiles' holographic technology to finish the illusion and show Stiles supposedly passing overhead. Once he's alone, he tosses all of Stiles' faked evidence into the ocean and wishes Stiles well, wherever he may be.
Share this article with your friends