At a hotel in a nearly deserted town in the Arizona desert, Mr. Terle sits on the porch with Fremley and Smith. The three old men complain about the heat and lament the fact that nobody ever comes there. As the sun sets, they talk about the fact it's the one day of the year, August 29, that it rains during the year. Fremley pulls off the calendar page ten seconds early and then they count the seconds until midnight. They look up for rain... and nothing happens.
The next morning, they look to the sky for rain but there are no clouds. Mr. Smith announces that he's leaving for Ireland where it rains twenty days a month. Terle begs him to stay, and demands the $9,000 in rent he owes to keep him there. When Smith refuses, Terle asks him to at least wait until sundown. Smith says that nothing will change but Terle says that he has to have faith. Fremley goes to bed, but warns the others that he plans to die since there's no hope for any of them.
As Smith packs, Terle comes to watch him but says nothing. He then checks on Fremley, who is stretched out on his bed trying to die. Terle sprays water on his window with a hose but Fremley says that it's no good and that he shouldn't waste the water. Despondent, Terle walks away and Smith wonders how he can have faith. Terle insists he can feel it in his bones, but Smith admits he lacks that kind of blind faith. He throws the calendar out onto the street and tells Terle to take care of himself.
Before Smith can leave, Terle points to the horizon and they see a cloud in the distance. All three men look eagerly, but realize that it's the steam from a car with a busted radiance. It grinds to a halt in front of the hotel and a woman, Blanche Hillgood, gets out. She introduces herself as an unmarried music teacher and apologizes. The car is a lost cause, and Terle offers to drive her to the next town in the morning. She then asks them to bring her prized possession into the hotel: a harp. They take it to her room and ask her to join them for dinner. Blanche agrees and that night they all dress in their best clothing. Terle and Smith apologize for Fremley, saying he won't be there because he's feeling ill. Blanche tells them of how she grew tired of men loaded with burdens, and desired to fly on her own. She simply packed up and left one day, going where the winds led her. But first she wants to play for someone who will listen and hear.
Blanche brings Fremley some soup and asks when he'll come downstairs. Fremley insists that he can't, and asks if she'll stay. She doesn't answer, but says she'll be back later to get the tray. Downstairs, she offers to pay for her supper and removes the cover from her harp. Blanche sits down and begins to play. Outside, it begins to rain and Fremley goes to the window and looks out, and then comes down to applaud Blanche along with the other men.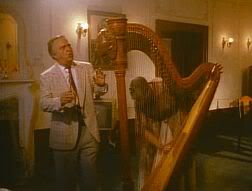 The three men go out on the porch and they realized that their 50 years of drought are over.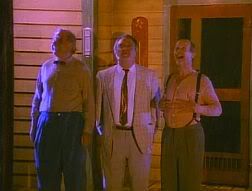 Share this article with your friends