A man, John Hathaway, walks the empty streets of a colony on Mars past a sign announcing an evacuation. He remembers telling his family that someone will come some day. He looks to the sky and watches for anything that might move. He then goes out into the nearby desert and checks a signal dish, and then goes to his home. Inside, his wife Cora and their two children Tom and Margurite quietly wait. Cora asks if everything is okay and he assures her it is. After sending the children to bed, Cora goes outside and asks John if he's thinking over the past again. He admits there's nothing else to think about, and tells her to go inside while he goes for his evening walk. He walks to a nearby cemetery where three gravestones rest, marked with the names of his family, and begs their forgiveness for doing what he did and admits he was lonely. John looks up again and hopes that a rocket will come after twenty years.
As John returns to his home, he sees a ship moving in the sky above. He runs to his telescope and confirms that the ship is approaching. He calls the family to look and tells them that they'll be going home. John uses a remote to turn on all of the colony's lights to attract their attention.
The next day, the Hathaways prepare a welcoming meal for the ship and John and Tom go to greet the captain. John recognizes the captain, Wilder, from when they served on the Fourth Expedition. Wilder introduces John to his two crewmen, Bill Williamson and Elaine Renfro, and Hathaway tells him they've prepared a celebration. Wilder remembers that Hathaway moved his family to the colony, and John invites them back for a meal. Wilder accompanies John back, and John explains that his family got back a week from an expedition and missed the evacuation. The captain has circled the rest of the planet and found no other signs of civilization. He explains the war that forced the evacuation has ended, and his ship is the first to check for survivors.
John brings the three crewmembers back to the house and John introduces them to Cora and Margurite. Wilder comments that Cora looks remarkably well-aged given that he hasn't seen her for 20 years. John explains that they stored as much food as possible once they realized that they were stranded. They eat and Cora serves them foot, and explains that they ate while they were preparing food and aren't hungry now. As John goes to get some food, Bill notes that he went to school with Tom 20 years ago, and he doesn't appear to have aged at all. He also knows a man who dated Margurite, and she hasn't aged either. Wilder asks how older the children are and they say they are only a year older than they were 20 years ago.
John takes Wilder and the others back into town and demonstrates how he rigged sound effects and machines to make it appear that it was still inhabited. John admits that he could do almost anything... except build a rocket to get back to Earth. They return to the house and John tells Wilder and his crew to go inside while he takes care of something. He walks back to the cemetery and Wilder follows him. He sees the gravestones and asks what happened. John explains that all three of his family members died of an unknown virus. John never got sick and found himself alone on Mars. When his family's faces didn't fade away, he created a new mechanical family and programmed them with all his memories of them, what they were and what they could be. Wilder tells him they have to leave within the hour and John warns that he has to prepare his family for the trip. As they go, Wilder tells him that they can only take John.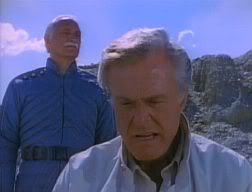 As they return to the house, John says he can't leave without them. Wilder admits they can leave him there if that's what he wants, and John asks for a few minutes alone with his family. He meets with them and admits they've never discussed the concept of goodbye. John tries to explain that Wilder has to leave soon and he can't take them. As he starts to tell them he's going away, John clutches at his side in pain and then collapses. Wilder confirms that he's dead and the family wonder if John will be leaving now. The captain tries to explain and asks how they feel. Cora and the others feel fine, and explain that John warned them that he might die, and he never taught them how to be sad or lonely. She tells Wilder that John eventually forgot they were androids, but he never programmed them to age. Cora realizes that John wanted them preserved. Wilder offers to bury him with the others and Cora says that she believes John would have liked that.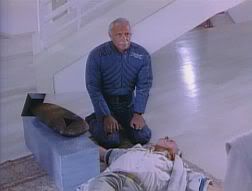 At the cemetery, Cora places flowers and Wilder says goodbye to her and her children. Once the ship has departed, Cora works with John's equipment and soon creates an android John to be with them.
Share this article with your friends