A four-man lander descends from a mothership to the surface of Mars to find any sign of the first two Earth expeditions. There are no signs of the previous expeditions. The men approach a nearby city and Captain Williams, their leader, tells them not to carry their guns in plain sight. He approaches a Martian home with the other three men, Wilson, Rollins, and Young, and knocks on the door. A Martian woman, Mrs. Ttt, emerges and irritably demands to know what they want. She speaks English and reveals that she is able to read his mind with telepathy. Mrs. Ttt is unimpressed with their achievement, but is surprised to see of them and talks about a delusion. She starts to go inside and Williams stops her, but Mrs. Ttt tells them to go away and speak with Mr. Ddd. The men wonder if she's insane and refuse to leave. Mrs. Ttt reemerges and tells them to talk to Mr. Aaa at the next farm over, and gives them a note.
At the next farm, the Earthmen try to get through to Aaa, who hates that Ttt sent them to him and insists that Ttt won't get away with it. Wilson tries to make a log of the events and Aaa comes out with a gun. They worry that he's going to shoot them, but he says that he's going to shoot Ttt, and tells them to talk to Mr. Iii. When he says that they're not in his line of work, Williams has no idea what he means and Aaa refuses to explain. Wilson suggests they go back to the ship, but Williams refuses to give up on their responsibilities.
At Mr. Iii's house, the Martian invites Williams in and closes the door behind him. Williams asks him to let the others in and Iii agrees although he doesn't see the point. He has them sit down and explain, and Williams tries to convey a mental image. Iii is impressed, gets out some forms, and asks them to sign. Williams doesn't understand but Iii says that it's just a formality and all Earthmen have to sign. Williams signs and asks if his crewmen should as well, and Iii finds his comment amusing. He then explains that Mr. Xxx will make arrangements for them to sleep after the interview. Iii gives them a key and sends them to a door in the house, and instructs them to close the door and wait there until Xxx arrives. When Williams hesitates, Iii shakes his hand and welcomes him.
The Earthmen go to the designated room and find a large chamber filled with Martians. Williams introduces himself and the others and the Martians lift them up and celebrate. Each crewman introduces himself, but are surprised when one of the patients, Mr. Uuu, says he's also from Earth. The other patients say they're also from Earth. Uuu says he came there via the spirits. Everyone dances around, screaming and saying they're all from Earth. Each patient describes their version of Earth, even though they contradict each other. Wilson takes the door key and tries to get out, only to discover that they're locked in. Williams realizes what is happening: they've been locked up in a lunatic asylum.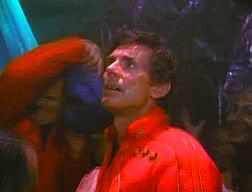 Williams explains to the other crew that the normal Martians tolerated them and sent them on to the asylum, and a belief in Earth is a common delusion. Martians can telepathically project their beliefs. Uuu explains that they can open the door with their minds, and tells them to concentrate. The door opens and Mr. Xxx introduces himself. Williams insists that they're not insane, but Xxx explains that only Williams is insane and the others are secondary hallucinations. He explains that if Williams were well, his "projections" would vanish. They tell Xxx to cure Williams and prove if they're hallucinations, and then ask Williams to talk in private. Xxx admits that Williams has an extreme case of delusion, and has created completely real-seeming secondary hallucinations to support his delusion of being an Earthman. Williams invites Xxx to touch Rollins, Xxx hesitantly does so and admits that it only proves how insane Williams is. Williams wonders how he can prove he's sane and Xxx admits that it's a paradox. The other crewmen draw guns but Williams stops them, insisting Xxx is their last chance. The captain relieves them of their weapons and Xxx congratulates him on his flair for the dramatic. Young suggests that they show Xxx the lander.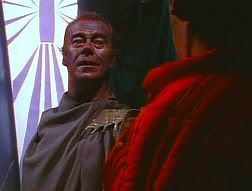 The expedition takes Xxx to the lander. He's impressed at the extent of Williams' abilities, right down to the shadows on the ground. Xxx notes that Williams signed the papers authorizing them to lock him away, free his spirit, and "cure" him once and for all as they watch his projections disappear. He takes out a gun and kills Williams. The others try to run and Xxx shoots them down. The ship and the other crew remain, and Xxx believes that he's insane as well, infected with Williams' madness. He takes the gun and shoots himself. On the lander's radio, the mothership tries to get through and find out what's going on.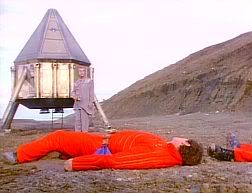 Share this article with your friends