In a typical suburban neighborhood in the near future, children are going through the bushes looking for something. One of the children, Mink, says that she's found it and the other ones come over. Nearby in Mink's house, her mother Mary is working when her husband Henry messages to let her know that he'll be working late at the office. As he leaves, he notices that Mink and her friends are gathered around something in the yard. Mink barely acknowledges him and he drives off.
The children run off to their homes and Mink goes inside and starts taking kitchen tools. Mary barely notices and Mink explains that they're playing a new game, Invasion. As she runs outside, a couple of older boys, Eddie and Joseph, notice but dismiss it as a dumb game. Meanwhile, Mink and her 8-year-old friends gather the items they've taken and start putting something together in the bushes. Joseph rides over and asks if he can help but Mink says he'd just make fun of him. The boy is disappointed but Eddie taunts him for playing with the babies until Joseph rides away with him.
That afternoon, Mary watches the news, which talks about the Earth Mutual Defense treaty that has disarmed all of the nations of Earth. Outside, Mink starts reciting scientific components as her friends take notes. Mary calls her in for lunch and Mink says she'll be there in a few minutes, then recites mathematical formula to the other children, as if someone is dictating it to her. She's told to get a hexagon and runs into the house to get a cheese grater shaped like a hexagon. She explains to Mary that her friend Drill, someone new in the neighborhood, wants it. Mink runs outside and Mary looks outside to see her daughter going back to the other children. As she goes back to work, Mink adds the cheese grater to the other parts and smiles in satisfaction.
At lunch, Mink plays with a top that spins on its own. When she tries to run off, Mary stops her and insists she finish her lunch. Mink insists it's the end of the world and says she needs to go play with Drill. When Mary demands more of an explanation, Mink reluctantly explains that Drill is from another planet and couldn't figure out a way to invade Earth. Drill told her that they needed a way to surprise Earth and form a fifth column from children. Mary doesn't take her daughter seriously as she talks about four dimensions and children's imagination, and how Drill said they wouldn't have to take baths or go to bed. Her mother threatens to call Drill's parents, and Mink says that Drill thinks that Mary and the other parents are dangerous. As Mink leaves her, she asks what "logic" and "impressionable" means, and promises that Mary won't be hurt much.
The children go back to work when Eddie and Joseph ride over. Mink tells Eddie that when zero hour comes, he'll be dead and the younger children will be in control. Eddie rides off, angry, and takes Joseph with him.
Mary is busy trying to meet a deadline when her sister calls on the videophone. She talks about what Mink is doing and notices that her nephew Jimmy is also looking for a hexagon-shaped object for his friend Drill. Mary begins to wonder what's going on, and then hears a scream outside. She runs outside and sees a girl go running away. Mary asks Mink what's going on, and Mink explains that her friend is scared and must have grown up all of a sudden. She insists that zero hour is 5 o'clock and they're almost ready. Mary comes over and demands answers, and Mink explains that Drill is stuck halfway through. If they can get him through, the others will come through with him. Mary takes out the toy, which spins on its own and then disappears in a flash of light. Mary panics and tells Mink to be in the house by the time Henry comes home. Once she's gone, the children's device flares with light.
Inside, Mary watches the clock nervously. At 4:55, Henry pulls into the driveway. He notices Mink, who tells him to go away. Henry goes inside and Mary wonders if children ever forgive them for forcing them to obey. She hears an electrical static noise from outside and the children start talking. Henry dismisses her concerns and offers her a drink, but Mary tells him to tell the children to put off the invasion and stop zero hour. There's an electrical noise and a man screams, and Mary runs up to the attic with Henry in pursuit.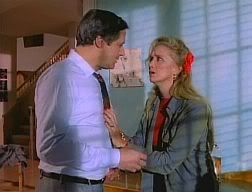 Mary manages to get into the attic and pulls Henry in with her. She has him lock the door, throws away the key, and then blames herself for sitting around and doing nothing. Mary breaks into tears and insists that they'll sneak out at midnight. She tells Henry to be quiet but he starts looking for the key. The phone rings and Mary figures that it's Helen, trying to warn them. Henry finds the key and starts to unlock the door, but they hear someone banging around downstairs. He calls out to them and Mink hears them. Henry realizes something is going on and throws away the key, but it's too late. A blue light glows under the door and Mink calls out to them. When they don't respond, the door dissolves and Mink peers in and says "peek a boo"... with shadowy blue figures standing behind her.
Share this article with your friends