On Mars, the Assignor meets with military commander Ettil Vyre, who assures him that he hasn't changed his mind. Ettil refuses to go with them on their invasion on Earth, insisting it's ill-conceived and fated for disaster. The Assignor takes him out for execution, but brings his wife Tylla and his son out to witness his execution. Ettil reluctantly agrees to lead the invasion and embraces his family.
Later, Ettil waits for dawn at his home. His son wonders why he was reluctant to participate in the invasion, and Ettil shows him a collection of comic books taken from Earth by his grandfather. Their possession on Mars is treasonous, and in each story the Martians fail because some young man named Rick stops the green-skinned invaders. Ettil believes that the Earthlings have absorbed the literature and are thus unbeatable. Tylla comes in and insists that they are just stories, but Ettil isn't convinced.
The Martian warfleet approaches Earth and the Assignor insists that the planet's inhabitants are doomed. They receive a transmission from William Summers, the President of the Association of United American Consumers. He invites them to land and welcomes them, informing them that they're surrendering. The Martians suspect a trip but land as planned. A marching band greets them and a small daughter presents flowers. The Assignor asks them to surrender but newsmen quickly surround them. The Assignor and his men approach Summers and the mayor, who present them with a key to Earth. The Earthmen invite the Assignor to make a speech and he accepts their welcome. The townsfolk hand out popcorn, hot dogs, and luaus, and Ettil warns that something is going to happen to them. The Assignor wants to kill them all, but Ettil says that they can't kill people who welcome them. The mayor offers them champagne and drinks some himself to demonstrate it's not poison. The Assignor orders his men to fall in to take the town, and the mayor admires their professionalism, ordering the parade to accompany them.
The Martians enter the town as the citizens greet them with cheers and admiring glances. Ettil notices a young handsome man and starts to panic, overwhelmed by the sound and noise. He runs off and the Assignor lets him go, accusing him of cowardice.
That night, the townspeople offer the invaders beer and pizza and congratulate them on their victory. The Assignor tries to get them back into formation and begins to realize something is wrong. Meanwhile, Ettil sends a telepathic message to Tylla, explaining that there is no young man to stop the invaders. Instead there are robots pretending to be people, overwhelming them with friendliness. He informs Tylla that they will be destroyed not by guns, but by the glad hand, and then sends his love to his wife before signing off. Ettil then goes to do what he can to save his fellow soldiers. An old woman approaches and asks if he's been saved, and offers him a Bible. Ettil seizes upon it, assured that he will go to a better place of milk and honey. She starts singing hymns to save him and Ettil runs off.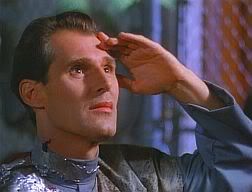 The Martian soldiers have totally given in to their hosts, eating junk food, riding motorcycles, playing cards, and dancing with the eager local women. The Assignor runs across the street, yelling that Ettil was right, but is hit and killed by a passing car. As the Assignor's body is taken away, the driver comes over and assures Ettil that his superior will be taken care of at the local mortuary. The man, Van Plank, invites Ettil into a bar and explains that he's a producer with Big Studios. He offers the Martian a contract and explains that he wants to hire Ettil as the leading man in his Martian invasion movie. As they drink, Ettil tries to override Van Plank's plot, which totally misrepresents the Martians, but the producer ignores him. Instead, Van Plank suggests that Ettil change his name to Joe and offers him $100,000 and an option on three epics. When Ettil realizes that Van Plank's first name is Richard, or Rick, he realizes that the producer is the one destined to defeat the Martians, just as the comic books show. Ettil backs away in horror and then runs off into the night.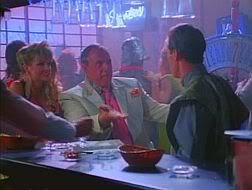 As Ettil walks through the streets, he sees the Martians reduced to mere humans in attitude. He walks into the street and is hit by a car.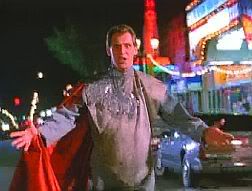 On Mars, Tylla plays one of Earth's victory marches and admits to her son that her husband and the soldiers never had a chance.
Share this article with your friends