At an elementary school, teacher Mr. Howard turns from the window to find a student working equations on the board. The student, Michael McDonald, explains that whoever worked the equations on the board got it wrong, and the principal told him to come to Howard's class. As some children run by, yelling, Howard snaps at them and tells them to stop behaving like animals. Michael compliments Mr. Howard on his cuff protectors and finishes the equations, and Mr. Howard says that they'll be fine together.
The next day, Michael is outside Mr. Howard's house as he leaves for school. He notices that Michael doesn't have any books, and the boy explains that he already finishes his homework. Mr. Howard warns him not to let the other students know how smart he is, but Michael admits they already do and shows Howard how they broke his pencils. Howard admits that he can't protect the boy and he has to learn to protect himself. He tells him not to be so perfect all the time and to act less formally. As they approach the school, Howard gives Michael a pencil as two boys watch from the playground.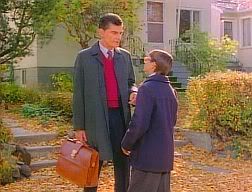 Later, Howard comes into his classroom and finds that the boys wanted Michael to do their homework for him, but he refused. As the boy walks home, the children torment him further. As the days go on, Michael tries to relax but the student continue to torment him and call him teacher's pet. Howard only watches so that Michael can fight his own battles. However, one day he hears the children chanting Michael's name outside. He goes to the window and sees them assaulting him. They take his pencil and run off, and Michael chase after them. Howard pounds on the window but they don't hear him. As the head bully runs across the street, Michael goes after him and is hit by a car. as Mr. Howard can only look on helplessly.
Seven years later, the principal at the local school, Frank Corliss, comes to see Mr. Howard, who has retired from teaching. They need a substitute teacher and the principal claims to have turned things around. He would like Howard to fill in as a substitute, and Howard agrees.
On the first day of class, Howard explains to his class that they are aliens, invaders from another dimension, and he is there to transform them into human beings via discipline. He informs them that they have no choice in the matter.
At home on a Sunday, Howard is working on a sketch of Michael when workers use a jackhammer on his sidewalk. They say they'll be done in a couple of days.
The next day in class, Howard confirms that he has frightened them, and assures them he isn't frightened of them. When he sees two boys talking, he demands to know what they're saying. One of them, Donald, admits that they don't like him. Howard thanks him for his honesty and gives him and his friend Charles an hour's detention. That night, Corliss approaches Howard, who assures him that everything is going fine. He asks the nearby students, including the two boys, and they claim that they like Mr. Howard just fine. Howard doesn't believe them.
As he's walking home several weeks later, Charles approaches him and tries to introduce himself. Howard isn't interested in remembering his name. Charles then tells him that he's dead, poison, and points out that there's a name in the cement. He says that it's a grave and that Howard has to get off of it. Howard, annoyed, walks off. Charles follows him to school and they find the other children there, waving and yelling. Howard walks past them into the school as they call him poison. In the classroom, he assures the students that he knows them all but they can't break his will.
That night, Howard is working on more sketches of Michael when there's a knock on his door. When he answers it, there's no one at the door. He goes back inside as someone moves in the shadows. Inside, Howard pours himself a drink and then the phone rings. When he answers it, a boy says that it's time to play Poison. Howard continues drinking and there's another knock on the door. He goes to the door but again there's no one there. Back inside, Howard pours himself more brandy and then sees a fake plastic skull at the window. He goes outside and yells that he'll call the police if they do anything else. Somewhat drunk, he goes inside and cleans up the glass.
The pranks continue as someone throws a rock through the window. Howard tries to dial the police but discovers that someone has cut the phone line. Going outside, Howard demands that his tormentors show themselves. The boys taunt him from the brush and Howard staggers after them. When they say they're behind him, he turns and falls into the pit the workers dug in the sidewalk, hitting his head on a rock. The children gather on the edge of the hole as the stunned Howard looks up. He passes out from his injury as the children dispassionately look on.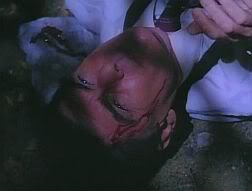 Later, Corliss comes to Howard's house but finds no sign of him. As he leaves, Charles comes by and warns him not to step on the wet cement where the sidewalk was replaced. He tells Corliss not to step on the grave, but the principal says it's just a cement layer's mark. Charles says he has no idea where Howard is. As Corliss walks away, Charles calls a girl over. Together they write "Mr. Howard, R.I.P." in the cement and place a few flowers nearby. In the days to come, children walk around the sidewalk to avoid being poisoned.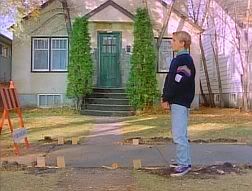 Share this article with your friends