On an Earth colony on Mars, La Farge and his wife Anna sleep. Anna has a nightmare and La Farge wakes her up. He admits that they were both having the same dream, and miss the rain on Earth. La Farge goes to the window and looks out the window at the Martian rain, and then asks her about their son Tom. Anna insists they should have brought him with them, but La Farge notes that Tom has been dead for five years, but is in their hearts. She admits that she misses driving to her son's grave and talking to him, but La Farge says that there's nothing they can do and nothing more to say.
Later, a glowing ball of energy moves through the night. It comes to the couple's window and La Farge wakes up. He sees the light and a voice tells La Farge to let him go, and asks him not to do it. When La Farge doesn't understand, the voice explains that the man has caught him and won't let him go. La Farge goes to the door and sees a familiar figure: his son, Tom. Tom comes in and says that he's here to be with him, and can't leave. Tom goes into the bedroom and wakes up Anna, greeting her.
The next morning, La Farge wakes up and finds Tom chatting casually with Anna and discussing his childhood. La Farge is suspicious of Tom but Anna doesn't seem to find anything wrong with Tom coming back to life. Tom explains privately to La Farge that he's now "set," and asks if his father wants him to be there. La Farge notes that Tom died and can't accept his presence. He realizes that "Tom" is one of the few remaining Martians, a race of telepaths and shapeshifters. Tom begs him not to doubt him, warning it will hurt Anna. The boy runs off and La Farge tries to get through to Anna, who no longer remembers their son's death. They go outside and watch as Tom runs away into the city.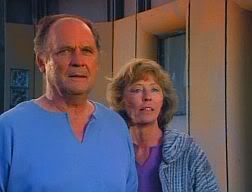 La Farge goes into the colony to look for the Martian without success. He returns home and Tom finally comes back. Tom explains that he was almost caught in the thoughts and dreams of other colonists, and asks if La Farge accepts him. La Farge admits that he does and Tom goes inside to hug Anna while La Farge looks on, smiling. Anna serves dinner and then suggests they go out with Tom to show him off. La Farge and Tom try to discourage her but she won't hear of it. Tom agrees once Anna promises to stay close to him.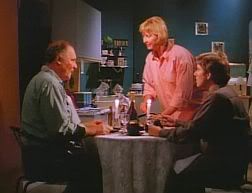 The family goes out into the colony and one of their friends, Saul, greets them. The parents introduce Tom and Saul tells them that one man, Connors, saw a man that he killed on Mars, ran home, and killed himself. They continue to the flea market and Tom grows increasingly nervous, but Anna refuses to leave. La Farge wonders if Tom was responsible for what Connors saw. Several man pull Tom away to celebrate in a bar and La Farge goes after him. He fails to find his son, but notices a young girl running into the arms of her parents, who are surprised to see her. The girl, Lavinia Spaulding, glares at La Farge and then asks her parents to take her home.
Tom follows Lavinia and her parents home, and sees another friend, Charlie. He tells Tom that Lavinia was presumed dead but has returned home. Once Charlie moves on, Lavinia comes out and tells La Farge to go away. He begs her to come home with him and calls her Tom. Lavinia insists that she isn't Tom and blames La Farge for bringing him to town. He promises to protect her, saying they live away from town. La Farge begs her to remember how happy that Anna was when Tom returned. Lavinia begs him to stop and then distorts and transforms into an agonized Tom. The boy starts to go with La Farge but the Spauldings come out, looking for their daughter.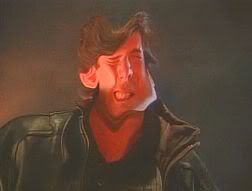 La Farge takes Tom into the crowds to escape, but they become separated. Tom transforms into shape after shape as the people approach him, begging him to come with them. The Martian continues to transform, trying to get to Anna as the crowds overwhelm him. The transformations escalate until finally the Martian dissipates as Anna and the others look on in horror. La Farge takes Anna away as she admits that she was glad the Martian came and was their son... for a little while.
Share this article with your friends