In the near future, Peter is taking his pregnant wife Polly to the hospital so she can give birth. Dr. Wolcott greets them and explains that they can still choose not to have the OB3 machine help give birth to their child. They insist on doing right by the child and insist he use the machine. Peter kisses his wife as she's taken into the operating room. They sedate her, bring the machine out, and begin the procedure.
Later, Dr. Wolcott comes out and tells Peter that Polly is fine. However, something has gone wrong. He takes Peter into the operating theater and explains that Polly is in the recovery room. The staff is gathered around the new child, but step back to reveal that Peter's new son is... a pulsing blue pyramid. Dr. Wolcott explains that the birthing machine teleports the child out of the womb, but in this case there was a dimensional malfunction. As they talk, Polly comes in and wonders what is wrong. She steps forward and sees the child. Dr. Wolcott explains that their child was born in another dimension, and they can only see him as normal if they were in his dimension. Polly says that she'll wait for their child to truly be born, and insists that it is still alive. When she asks if they can pull him back, Dr. Wolcott promises to do what he can.
The couple takes their new child back to their island home and Peter notes that she hasn't cried. Polly insists there's nothing to cry about and is aware that they have to treat it like a normal child. She names it "Py," short for Pyramid. Peter is worried that she can't handle the situation, but Polly says that she can handle it for a while before she considers killing herself.
The couple bring Py in for experiments to try to reverse the dimensional destruction. Peter's business partners start to wonder what happened and how the baby is doing. Polly continues to dote on Py, unsettling Peter. According to Wolcott, they look like featureless shapes to their child.
One night months later, Peter wakes up and discovers that Polly has been drinking. Peter insists that they'll get their son back but Polly isn't convinced. They hear the baby make its strange crying noises and Peter says it's happy, but Polly insists that she has to see her baby.
Later, Peter has a workman come in and install soundproofing. The workman hears Py and thinks it's some kind of bird. When she brings Py downstairs, the workman mistakes it for some kind of toy for the baby. Polly angrily walks away while Peter gets the man out of the house. He goes back to work but Py's crying distracts him. Peter goes to see the child and strokes it, and discovers that his touch soothes it. He goes outside and finds Polly drinking again. He tries to reassure her but Polly suggests that they treat Py like a pet. When Peter says he has to go into town the next day, he says he'll be back shortly. Polly says that they should stop living like prisoners and have their friends over, and suggests that they just let people think the baby is dead.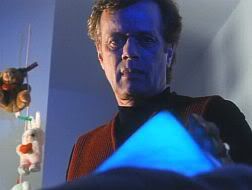 The next day, Peter leaves and Polly starts making calls. When he returns home that night, he discovers that Polly is holding a party and everyone has gathered around Py. They think it's some kind of executive toy. Peter ushers them out over Polly's protests and when Polly fights back, he shoves her to the floor. As Py cries in the background, Polly bemoans the fact the baby is ruining their lives and leaves. She cuddles Py in bed and tries to talk to her son inside.
Wolcott visits and Peter asks when he'll have a breakthrough. The doctor is forced to admit it might take a while, but they have a quicker solution. Wolcott suggests that he repeat the malfunction and put them into the fourth dimension. He explains that they would notice no change in themselves, and the baby would seem to normal to them. However, the world would see them as obelisks. Peter thinks they'd become freaks but Polly insists that they would be a family. After Wolcott leaves, Peter asks if Polly can throw her life away. She insists it doesn't matter as long as she's with her baby. Peter asks her to stay and try for another child, but Polly insists she loves Py. She loves Peter as well, but has to be with her baby.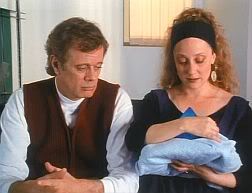 As Peter considers the situation, he listens to Py crying over the baby monitor. After checking to make sure Polly is asleep, he goes into the nursery and considers Py, and then picks up a pillow.
The next morning, Polly wakes up and discovers that Py's crib is empty. She looks to the side and finds Peter cuddling their child. Peter says that they'll stay together no matter what.
At the lab, Peter and Polly stand before the OB3 machine. Wolcott warns that it will be some time before he can bring them back, and they confirm their decision. The doctor begins the procedure as the couple embrace. Wolcott brings Py in and places him next to... two blue obelisks. As the staff listens to the alien sounds, Wolcott is sure they are the sounds of love.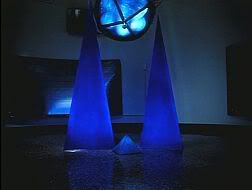 Share this article with your friends