On her farm, Cora Gibbs watches her neighbor, Mrs. Brabbam, and then goes into the house where her husband Tom eats his breakfast. He finishes and goes out, and Cora checks on the cows. She notices Mrs. Brabbam going out to her mailbox and the neighbors exchange greetings. Mrs. Brabbam talks about the letter she received from her Uncle George, and gloats about how she gets mail and Cora doesn't. Cora looks out across the field and sees someone approaching. It's her nephew, Benjy. She greets him and he asks if he can stay awhile. Cora insists and takes him into the house, while Mrs. Brabbam watches from across the road.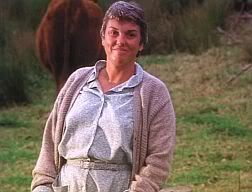 In the house, Cora asks Benjy about all the things that he's seen out in the world. He admits that he's seen many things and takes out a book. She's impressed with the fact he can read and write, and says she knows how he can earn his keep. She has Benjy show Tom that he can read and write, but Tom isn't impressed. Cora says that they're going to write letters and send them out so they'll get letters back, just like Mrs. Brabbam. Tom angrily walks out to tend the farm. Later, Cora goes out and examines the spot where her husband will place their mailbox, and tells Mrs. Brabbam what she'll be doing.
Benjy prepares to write Cora's first letter, but she realizes that she doesn't know anyone who would write her back. The boy gets an idea and shows her a magazine with advertisements. He encourages her to write to all of the advertising companies and Cora agrees. Benjy starts writing letters for her to them. As they prepare the first batch, Tom comes in and Cora insists that he build her a white wooden mailbox, bigger than Mrs. Brabbam's mailbox. He reluctantly goes out and builds the box, while Cora cooks and has Benjy write more letters for her. When Tom is finished, Benjy writes their names on it and even Tom is impressed that his name is on it. They then go into town, buy stamps, and mail the letters.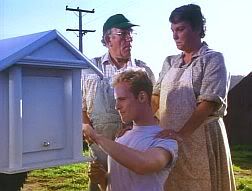 The next day, Cora runs to the mailbox and checks it, but discovers that it's empty. Benjy tells her that the mailman will drive by later. Cora realizes that the mailman has never driven by and goes to check Mrs. Brabbam's mailbox. Inside of it are old letters addressed to Mrs. Ortega, that have been sent there by mistake. When Mrs. Brabbam comes out, they hastily put the mailbox in her box and go back to the other side of the road. Mrs. Brabbam comes down and takes out the mail, and pretends as she always has that it's mail for her.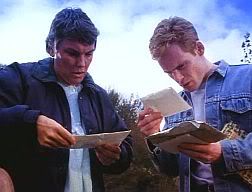 Benjy tries to get Cora to write her name, but she'd puts it off and says he's rather enjoy herself watching him write. Cora waits and waits for mail, while Mrs. Brabbam collects her (fake) mail and gloats. Finally, the mailman comes by and stops at Cora's box. He admits it's the first time he's been there in years and has mail for Cora. She asks him to put it in her mailbox while a disappointed Mrs. Brabbam looks on. As the mailman drives away, Cora waves her letter to Mrs. Brabbam, who runs back into the house.
Cora runs into the house and shows Benjy her first letter. She asks him to read it to him. As the days go by, more letters come in and Mrs. Brabbam gives up the pretense, letting the cobwebs and dust build up on her unused mailbox. Benjy continues to write for Cora. One day, the mailman notices that Mrs. Brabbam's house seems deserted because she never comes out. Later, Benjy finds his aunt sitting on the hill. He says that he'll be moving on to see the wide world over there. She admits that she never learned how to write because she was too busy, and she'll never get any more letters if he leaves. Cora admits that she didn't spend enough time looking at his face, but knows his hand by memory.
Come the end of summer, Benjy prepares to leave and promises to write twice a week. As he goes, Cora asks him to write a letter to Mrs. Brabbam because she feels bad about how she boasted of her mail to her neighbor. Later, the mailman comes and leaves a letter for Mrs. Brabbam. She runs out, thrilled, and collects her mail as Cora gets hers as well and pretends that nothing different has happened. Mrs. Brabbam takes the letter, smiling and waving to Cora. Cora finds a letter from Benjy with a picture of a pencil and the word: his first lesson in teaching her how to read.
Share this article with your friends