The four survivors of a downed spacecraft find themselves stranded on an alien planet undergoing colonization. The planet suffers from torrential and continual downpours. Their commander, Trask, uses the homing unit, nicknamed Christopher, to plot a course to the nearest Sun Dome, eight miles away and placed by automated probes. At a mile an hour, they have eight hours to travel. As they start, one of the men, Simmons notices that the plants slowly move, trying to grab them.
The men make their way through the jungle. Simmons warns that according to the manual, there's no way to survive, but Trask says they'll have to defy the jungle. As they continue, the men discuss the rain, which comes down an inch an hour and has been raining for millions of years. Trask tries to maintain their spirits as best they can during the eight-hour trek. They finally get sick of the tracking unit's voice and shut it off once they get within a mind. The scientist, Boltz, notices St. Elmo's fire and worries that it's radioactive. The others insist that it's not dangerous and continue on their trek. Boltz finally spots a metallic structure and runs toward it. The other men follow, only to discover that they're back at their spacecraft and have gone in a circle. Their dead comrades have already been overgrown and partially consumed by the plants.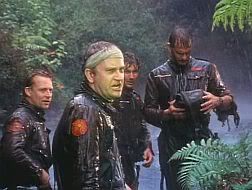 Boltz grabs the computer in disgust and throw it to the ground. Simmons tells him to retrieve it, but before he can, a lightning storm begins. They lie flat but Cooper panics and tries to run. The lightning strikes him repeatedly, electrocuting him. The plants begin to move in. Boltz says that he's had enough and that he's going to go into the spaceship for some rest. Trask says that it's a tomb but Boltz doesn't care. The commander slaps him and tells him to continue.
The men continue through the rain and Boltz talks about the Chinese water torture that he read about as a child. Trask and Simmons are forced to haul him along when he refuses to continue. He breaks free and fires his gun at the sky, telling the rain to stop. Finally he collapses, facing upward and letting himself drown as the water fills his mouth. He passes out from shock and Simmons and Trask are unable to move him. Simmons prepares to shoot him and put him out of his mercy, but Trask insists that it's Boltz's decision and they have no choice but to leave him.
As night falls, Trask can offer nothing better then for them to keep moving ahead. When they pause momentarily, the plants try to grab them. Come the morning, Simmons finally gives up despite the fact that Trask insists that they're only an hour away. The commander begs him to continue for a few more minutes, but Simmons insists that they won't make it. When Trask orders him, Simmons draws his gun and tells him to go on without him. He warns the commander that he'll know the time to give up, and he's found his. Trask has no choice but to continue onward.
Trask continues through the jungle a short way and finally sees the Sun Dome up ahead. He goes back to get Simmons, but hears a single gunshot. The commander continues to the Sun Dome but slips into a ravine. A plant grabs onto his leg and Trask calls out to Simmons, insisting he won't die like the others. Breaking free, Trask continues on and arrives at his destination. He hits the opening mechanism and staggers inside, and finds himself bathed in the artificial sunlight. He sets aside his clothing and takes a long clean shower... unaware that some of the plant life is stuck to his boots.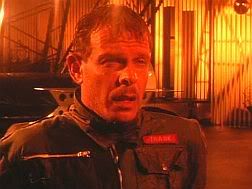 Trask enters a log entry, saying he's permitting himself a 24-hour rest period before continuing on. He dozes off in the warm sunlight. However, later he wakes up when a drop of water lands on his face. He looks up and realizes that the plant on his clothing has grown and covered the inside of the dome, breaking it open... and he wakes up from his nightmare. He sees the plants on his boots and throws them out of the dome. He talks to his dead comrades, insisting that the rain can't get in.
Share this article with your friends