Miss Weldon, a manicurist, is taking the bus into a new town when it stops abruptly to avoid hitting a man on the street. The man, Odd, simply stares at the bus as it continues on to the bus station. As Miss Weldon gets off, she notices Odd laying down next to the curb. The townspeople look on and think that the sheriff should get him out of town. Miss Weldon goes to the barber and reminds the owner, Mr. Simpson, that he hired her as a manicurist. He directs her to the boarding house as Mr. Simpson explains to his customer that she's an old maid whose mother recently died.
Later, Miss Weldon is working in the barber shop as the sheriff goes over to move Odd, who refuses to move and feigns being dead. The townspeople move him off the street and Simpson explains to Miss Weldon that Odd does it for the publicity. She then goes to a restaurant to eat alone and retires to her apartment where she kisses a photo of her mother before going to bed. However, she hears a noise and looks outside to see Odd walking down the street, stepping in puddles.
The next day, Odd is called over to the grocery store to do odd jobs. As Miss Weldon goes to the store, Odd walks past her and she jumps nervously. He continues on and Miss Weldon notes that he has a kitten in a bag. She asks to see it and Odd hesitantly shows it to her. He silently confirms he was going to drown it and Miss Weldon asks to keep it. When she says drowning is a terrible thing, Odd agrees and says that he's been drowned.
Later, Odd cleans up in front of the grocery store as Miss Weldon watches him from her job. Mr. Simpson explains that Odd's farm was washed away 20 years ago and Odd disappeared for a few weeks, and then walked out and claimed he was a dead man. That night, Odd walks along the streets while Miss Weldon watches him from her window.
The next day, the sheriff has Odd moved off the street again when he plays dead. Miss Weldon offers him some cologne to keep cool, while Simpson and his customer Gilpatrick watch suspiciously. As she goes back to work, Gilpatrick jokingly suggests that Odd should get married. Miss Weldon cuts his nail too short and Gilpatrick wonders if she did it deliberately. They go back to joking about Odd as he lies down in the street again and the sheriff moves him. Another customer wonders if they joke about Odd because they're nervous, and points out that the doctor avoided listening to Odd's heart.
As the weeks pass, Miss Weldon continues to shop at the grocery store and Odd watches her. A young boy approaches Odd one day and insists that Odd is really dead, and the boy is the only one who knows. The boy explains that he tried to be dead once, but couldn't keep it up. Odd admits that he has nowhere to go and considered going to a doctor to have himself declared dead, but never got to it. Now he's curious to see what happens next, but insists that he's dead. However, he admits that sometimes he feels alive, when he sees Miss Weldon. The boy admits he can't do anything for him and leaves. Miss Weldon comes out and asks Odd to walk her home.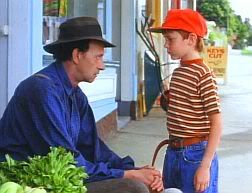 As they walk down the street, Miss Weldon notes a beautiful dress in a storefront. She asks his first name and he says that it's John. He explains that he has $5,000 saved away and then asks why she likes him. She explains that he's quite and nice, and Odd gives her respect when no one else even notices her. Miss Weldon admits that talking to him is nice, and suggests he stop saying that he's dead. She says that when he says he's dead, he means he doesn't have a woman in his life. Odd isn't convinced and Miss Weldon wonders what else it could be.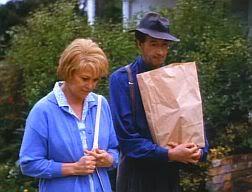 When Halloween arrives, Odd buys the dress from the window. As he walks down the street, the children invite him to a Halloween party. When he wonders why, they say they want him to come and scare them. Odd points out that he doesn't have a costume but they ask him to come as he is. As they run off, Odd considers the Halloween costumes in a storefront, and then goes to see Miss Weldon. He shows her the dress and asks if he scares her. Miss Weldon says that he doesn't and he asks her to marry him, admitting that he loves her.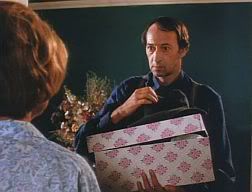 Later, Odd goes to the barber store and hums the wedding march. Simpson and the others realize what he means and Odd gets a haircut for his wedding that day. He explains that he bought a place just outside of town, real small, even though the men don't know of any such place. Odd leaves, whistling cheerfully, while one customer, a real estate agent, says he didn't sell any such place. They see Reverend Polk and ask when he'll be performing the wedding, but he has no idea what they're talking about. That night, the boy listens to his parents as they discuss what happened. He runs off into the night and sees Odd and Miss Weldon walking through the town. The boy follows them as they go to the cemetery and enter a mausoleum... together. He calls out and tells them that it isn't legal yet, and then pronounces them man and wife. They smile in appreciation and then go inside and close the door behind them.
Share this article with your friends