On Mars, buildings stand abandoned. At the Immigration Officer, Walter Gripp calls and demands to now why they haven't answered his calls in two weeks. Walter says that he'll be coming in to find out why they haven't helped him.
Walter leaves the dam where he works and drives into town. However, as he approaches, he discovers that every rocket is gone. He continues on into town and discovers that the streets and buildings are all empty. When he pulls over, he finds a poster announcing the evacuation of Mars. Walter goes into a bar and starts drinking, complaining about how everyone left him behind. He considers a photo of Clara Haslip, his girlfriend, and talks to himself in a mirror. He takes the money from the cash register and uses it to pay for his food. As he goes outside, he hears a noise coming from a garage. Entering it, he finds a newspaper about the evacuation but no people.
Walter goes to a theater and buys himself a ticket, and then threads a movie and settles in to watch it. However, he admits that the people in the film aren't real. He goes outside and sits on a curb, and hears a phone ring. It takes him a minute to realize that he's the only person there to answer it. He runs to the house and picks up the phone, asking for Clara, but the line goes dead. He wonders why he would think it was Clara, but figures that it must be someone, probably a woman since a woman would be likely to keep calling. He hears a phone rings again and runs to the house, and breaks into the house. He picks up the phone but the line goes dead. He checks the answering machine and hears a woman. He tries to talk back but soon realizes it's a recording.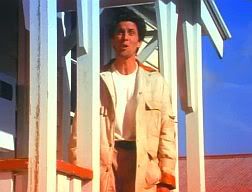 Another phone rings and Walter runs to that house. However, it's a record message notifying the occupant that the last ship is departing for Earth in a few hours. Disgusted, he throws the phone in a sink full of water and walks down the street, yelling for a real person to call. He imagines all the phones ringing and screams at it to stop, and then gets an idea. He goes to a phone center and starts dialing numbers, starting at A. He doesn't have any luck at first, but finally realizes that a woman would go to a beauty salon. He keeps calling until a real woman, Genevieve Selsor, picks up. Walter introduces himself and asks her to stay there while he makes the 900-mile trip to the city where she's located.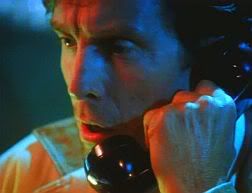 Walter drives across the Martian desert and calls her regularly on his cell phone as he gets closer. Happy to meet a woman, he sings her name as he drives on. Finally he arrives in her town and pulls up to the beauty salon. Taking out a bouquet of flowers, he goes inside and calls out for her. She steps out behind him and he turns to see... an obese woman, Genevieve. She takes the flowers from the stunned Walter and wonders if they should kiss or shake hands. He shakes her hand and has trouble removing his hand from her grip. He suggests that they see a movie together. Genevieve suggests they go to a romantic film, but then offers to show him something. She takes him to a restaurant where she's set up a candlelit dinner for two.
As Walter has some wine, Genevieve steps out for a moment. She comes back wearing a white wedding dress and asks for some wine. They share a toast and Walter quickly polishes off the entire glass. He asks her age and she says that she's 32. Genevieve then explains that she's the last woman on Mars because her parents went back to Earth, but she had nothing to go back to and wanted an entire planet for herself. She starts eating heavily and talks about men always left her. Walter drinks another full glass of wine and she suggests he try a milkshake instead.
They walk down the street and get a milkshake. Genevieve runs into a shop and grabs some perfume and sprays it on her, and then demands a kiss. He offers her the milkshake instead and she starts talking about having children. Walter suggests that it's getting late and he should let her get to bed, As she advances on him, Walter says she's a lovely girl but there's one thing he needs to say: goodbye. He runs off down the street to his car as Genevieve screams at him to come back, and drives hastily away. As he drives out of town, his cell phone rings. He considers it for a moment, and then throws it out into the desert and continues on his way... as far from Genevieve as possible.
Share this article with your friends