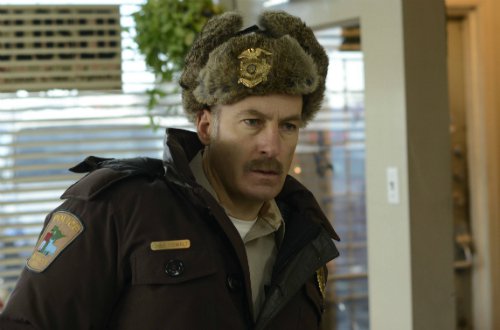 Bob Odenkirk has been working in television for over 20 years, but it's only been the last few that have seen the 51-year-old break out as an actor with impressive, meaty roles on acclaimed productions.  
He is perhaps most famous now for playing the morally-questionable lawyer Saul Goodman on 'Breaking Bad,' a role he will reprise this November on the AMC spin-off 'Better Call Saul.' Last year, Odenkirk also had a supporting role in 'The Spectacular Now,' as well as in Alexander Payne's Oscar-nominated film 'Nebraska,' and just recently he got a chance to spend more time in the mid-west prairies playing yet another disparate character.
RELATED NEWS: Review: The Cold World of 'Fargo' Is Captivating, Weird and Very Slow
Odenkirk is Deputy Bill Oswalt in Noah Hawley's televised limited series adaptation of the Coen brothers film 'Fargo.' Debuting three weeks ago, the series features new characters and stories, but maintains its cold, quiet setting and offbeat tone. Odenkirk was not only thrilled with the opportunity, but how the entire 10-episode series has turned out.
"One of the reasons I was interested in it truly was how different he is from Saul," Odenkirk told TVRage directly during a conference call with reporters ahead of Episode 3. "He's defiant, innocent and he's fighting like hell to hang on to his innocence about the people around him; and then Saul is cynical and clever and he's ahead of everyone and builds behind everyone and trying to maintain that."
"So, yes, just having played Saul, I was eager to play something like this and this is a great part for that reason," he added.
Odenkirk stars alongside Billy Bob Thornton, Martin Freeman, Alison Tolman, and Colin Hanks, among others, in the ensemble drama. Everyone, save for Thornton's anarchic drifter Lorne Malvo, had to adopt the iconic and much-beloved Minnesotan accent.
"I will just say I hope I did a good job," Odenkirk told TVRage, explaining that the cast had two voice coaches. "Everyone in the whole cast from the get-go was extremely thoughtful about trying to do a good job with our accents. One of the things, you notice if you watch videos on YouTube of Minnesotans and the Minnesota accent is that it fluctuates; it comes and goes. It's not strong all the time and it's like it can be very strong on some words and then it can kind of be gone completely on other words or even a sentence and so that's a tough one to do. It's tough to get it right, but I think what we all tried to do is to not push it too hard."
It is certainly part of the appeal and speaks to the fascination with the series and the film. The notion of "Minnesota Nice" is that residents act and sound so positive, even in the face of the weird and the violent. Odenkirk went on to explain he had some exposure as a child to the area.
RELATED NEWS: Billy Bob Thornton Talks Playing an Evil, Menacing Drifter in 'Fargo'
"I'm from Naperville, Illinois and I spent a lot of time in Wisconsin as a kid because I was in Boy Scouts and I would go there pretty much once a month," he continued. "There were a lot of Minnesota kids there, so I'd heard this accent as a kid. Wisconsin accent is not exactly the same at all as this strong Minnesota accent, but there is a little bit of crossover, so that's where I'd heard it as a kid and I was familiar with it."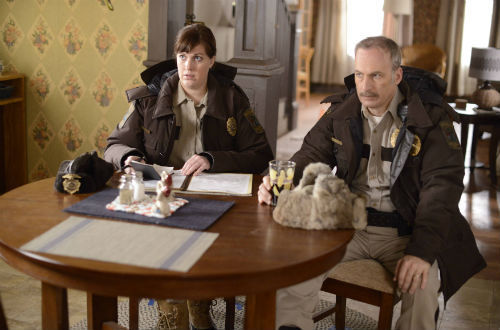 As for his character, Oswalt is thrust into a position of authority following events in the first episode, and unlike Tolman's Officer Molly Solverson, Oswalt isn't interested really in probing residents or specifically inquiring into the goings-on of one Lester Nygaard (Freeman).
"Bill thinks his job is the notion of to protect and serve, the motto of many police departments," Odenkirk told reporters. "I think he takes the protect part a little too far. He's literally wanting to protect these people, in this case Lester, from suspicion."
"I think he thinks it's his job to believe in his local community, and in this case, he's defending this person he's known his whole life from even being investigated. I think he's a frustration if you're the character of Molly, but he's a good guy" Odenkirk continued. "He just wants to believe in the goodness of his community and that's a good instinct for a police officer to have, so it's a conflict and it will put him in a vice as time goes by in this show. That's all I can say, an emotional vice."
Odenkirk would go on to tease that we get to see "a whole 'nother side of Bill" come the last few episodes, but for now, we get to witness the further investigation of Molly and Gus Grimly (Hanks) into a series of bizarre murders and the curious connection between Malvo and Nygaard.
"I think one of the things I would say is I always try to see my character's side of whatever is happening, whether it's Saul Goodman on 'Breaking Bad' or in this case Bill Oswalt, who is as you can see not helping Molly with her investigation, but who has I think a laudable point of view. It might be misguided in this instance, but he's trying to protect the community and he's trying to maintain his own faith in the community and the people around him. That's not helping, but this is what he's doing, so I love playing Bill Oswalt."
Of course too (just like Saul), the actor and longtime comedic writer has plenty of funny moments, not the least of which is his goofy mustache and haircut that Odenkirk championed. "He's trying to be the sheriff and the good man who's protecting his community," added Odenkirk. "It's funny because he's wrong and he's floundering a bit and you can feel it. I think people… maybe they're used to me being funny. I don't know. I just naturally go for small, funny human moments; I just look for that because it's what I'm trained to do."
RELATED NEWS: Martin Freeman Describes His Journey to the Dark Side in 'Fargo'
Among many others series, Odenkirk wrote for 'Saturday Night Live' and the cult comedy 'Mr. Show with Bob and David,' and he is the first to admit he has been fortunate of late with a string of noteworthy performances with talented colleagues.
"Most of the casts including 'Fargo' are veterans," Odenkirk explained. "They really know to appreciate good writing because they've seen not so good writing. So when they're on a project with a great original voice and integrity to the work, they are thankful and you see it and you feel it all the time every day. They show up every day glad to be in something that has quality."
"And so I think I've been very lucky, but I got to keep that in mind and not get deluded and think and forget that this is just a special case for these great, great projects."
'Fargo' airs Tuesdays at 10/9c on FX.