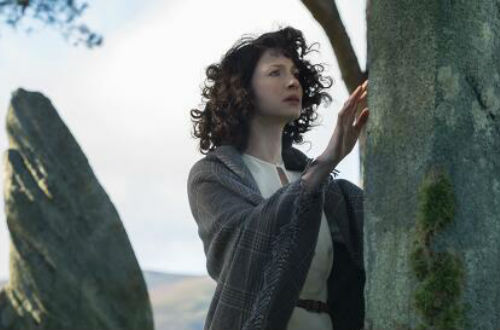 In addition to all of the other news we've been reporting, here are a few entertainment and TV headlines you might have missed:
-Yesterday, Starz released a new trailer for its upcoming adaptation series 'Outlander,' based on Diana Gabaldon's books. The time traveling romance stars Sam Heughan and Caitriona Balfe and will premiere this summer. Check it out here.
RELATED NEWS: Starz Orders 2 Seasons of Seth MacFarlane, Patrick Stewart Comedy
-ABC's summer drama 'Mistresses' is welcoming John Heard ('Home Alone') in a fatherly role, TVLine reports. He'll play Savi's (Alyssa Milano) dad, a "painfully awkward accountant" who walked out on Savi and her mom (JoBeth Williams) and "cut them both out of his like an abscess."
-HBO is adding Will Yun Lee ('Hawaii Five-0') to its final season of 'True Blood.' What is said to be a major recurring role, Lee will play Mr. Gus, a Japanese businessman living in Texas. With his bigger-than-life, urban cowboy demeanor, Gus is out for revenge and won't let anything get in his way.
-MTV just ordered a "coming-of-age" cast-contingent comedy pilot, The Hollywood Reporter has learned. From writers Andy St. Clair and Paul O'Toole, the untitled half-hour comedy will focus on 22-year-old Andy, who after learning his girlfriend is cheating on him, he accidentally rear-ends a celebrity. Said celeb "takes it upon himself to teach [Andy] how to man up."
RELATED NEWS: First Look: HBO Releases Photos of 'True Blood' Season 7
-ABC Family's tennis drama, 'Unstrung,' has added Chanel Celaya ('21 Jump Street') and Sofia Mattsson ('Campus Security') in two lead roles, according to The Hollywood Reporter. Revolving around the cutthroat pro-tennis world, Celaya will play the main role of Ellie Holt, "an athletic, spunky beauty with great talent but not-so-great discipline." As for Mattsson, she'll portray Ninotchka Andropov, "a diva ranked 3rd in the world but first in looks." Oh, and she also dates the son of a mobster.
-USA's upcoming event series, 'Dig,' starring Jason Isaacs and Anne Heche, just added two more talents. 'The Unit's Regina Taylor and 'Non-Stop's Omar Metwally will play the recurring roles of Ruth Ridell, the U.S. ambassador to Israel, and Yussef Khalid, an American who disappeared after being accused of murder, respectively.