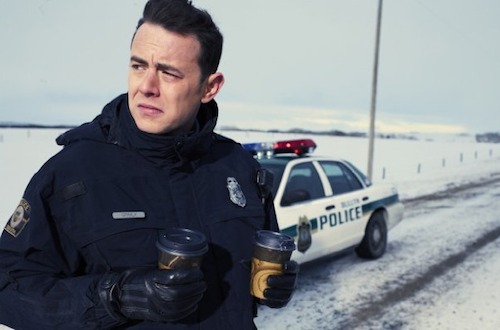 Having nabbed countless memorable roles on popular shows such as 'Dexter,' 'Mad Men,' and 'NCIS,' it's safe to say that Colin Hanks is no stranger to the small screen. But now the actor is venturing somewhere he's never gone before: Minnesota.
Starring in FX's 10-episode limited series 'Fargo' as police officer Gus Grimly, Hanks finds himself smack-dab in the middle of a gosh darn mess as the Bemidji and Duluth body count continues to rise, leaving him feeling partially responsible after letting show baddie Lorne Malvo (Billy Bob Thornton) get away.
Hanks opened up to TVRage and several other reporters during a recent conference call to discuss that game-changing scene, his character's road to redemption, and any thoughts he has of coming back for a potential second season.
RELATED NEWS: Billy Bob Thornton Talks Playing an Evil, Menacing Drifter in 'Fargo'
Though it took Hanks the better part of 45 minutes to show up in the pilot, it immediately became clear that it was well worth the wait. This is thanks, in large part, to his character's little roadside confrontation with lethal hitman, Malvo. (Remind us to never pull Thornton over for speeding.) It's a scene that alters the entire course of his character's trajectory, which was something Hanks was more than happy to dive right into.
"You see Malvo and the way that he plays people and the way he manipulates people with fear, with intimidation. You see Gus completely out of his element, not sure what to do, and his indecision is in a way his decision, but that eats at him and it will stay with him for the rest of his life…That kind of complexity within a scene, within characters, as an actor, you salivate for that stuff."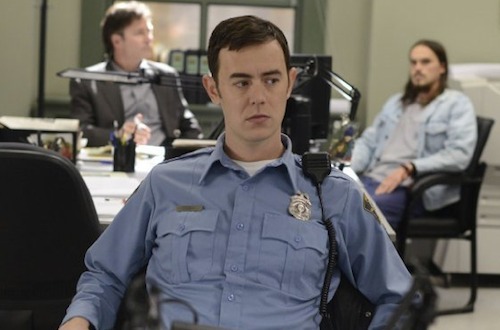 And while guilt certainly plays a factor in Gus' attempt to atone for his mistake, Hanks credits his on-screen 12-year-old daughter Greta (Joey King) for being his character's main source of inspiration.
"She really does guide Gus quite a bit in regards to how he deals with this circumstance that he's found himself in," Hanks explains. "I think it brings a lot to Gus' character, and it really focuses him and really drives a lot of the action that Gus ends up taking throughout the course of the show."
Speaking of ladies who hold a lot of influence with this Duluth deputy, Gus and Officer Molly Solverson (Allison Tolman) really hit things off last week, and it sounds like their story is far from over.
"This is the beginning of a journey of them together trying to solve this case and they'll probably be spending a lot of time together," Hanks teases. "But that's about as much as I will say."
As for other things to look forward to, Hanks assures fans that they'll still be able to find plenty of humor amidst all the darkness, which includes him falling on his backside.
"I remember when we were shooting a scene where Gus has to fall and get the dog," Hanks recalls. "Noah Hawley looked at me and says oh, so you can do physical humor too. I go, hey man, I'll do anything as long as it's right and as long as you like it…so we only did one take and that was the take that was in the show."
RELATED NEWS: Martin Freeman Describes His Journey to the Dark Side in 'Fargo'
But it's not just the great scenes Hanks loves. It's the dynamic cast as well, which he had nothing but nice things to say about.
"When you're surrounded by as many talented people as you can be, and I think everybody on the show is incredibly talented from Billy Bob all the way down to the two boys playing the Hess kids, literally everybody. It's all fun, and it's been a treat. It was a treat to make it, and it's been an absolute treat to watch it and see what everybody does."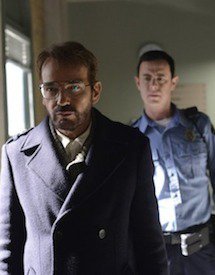 So does that mean he'd be open to coming back for a second season if the show gets picked up?
Hanks tells TVRage, "Of course! I'm always open. Anytime Noah calls, I will always take the call and I will be there with bells on if he ever needs me. It would be great."
That's, of course, assuming his character will still even be in the land of the living by season's end, especially since poor Gus will indeed have another run-in with Mr. Malvo.
"Gus and Lorne's paths do intersect again," Hanks confirms. "And it's not necessarily what you think is going to happen. I think [that's] the best way to describe it."
Well, if that scene is as intense as their first encounter, all we have to say is — better him than us.
'Fargo' airs on Tuesdays at 10/9c on FX.