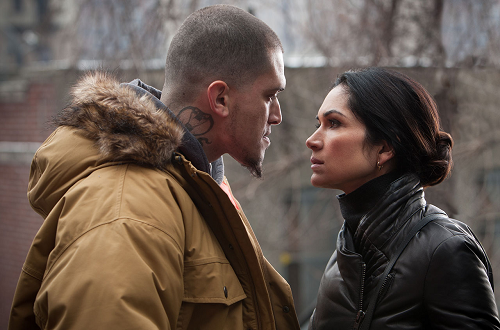 Starz' brand new crime-boss drama 'Power' can be described with many words, and powerful is definitely one of them. The series was renewed for a second season after airing only one episode and I can see why. This drama has a little bit of something for everyone. I watched the first two episodes and found myself roped in to a world of flashy night clubs, drug lords, crime bosses and ethnic clashes. This loud and confusing world all weaves seamlessly with the quieter moments of the show that portray a family life and a struggling marriage. I had the opportunity to sit down earlier today and chat with Vinicius Machado, who stars as one of 'Power's' most complex characters so far, Nomar Arcielo.
TVRage: I recently finished watching the first two episode of 'Power' and I really love it so far, it is so good!
Vinicius Machado: It is, right?
TVRage: I have to admit that I was a little hesitant because I wasn't sure if 'Power' was going to be the kind of show that I would really get in to. However I have been completely pulled in by the powerful storytelling in only two episodes.
Machado: It is so fast paced and there is so much going on. A lot of people are comparing it with 'The Wire,' and I don't doubt it!
TVRage: What was it that drew you to 'Power' and to the character Nomar?
Machado: The storytelling is so compelling and a privilege to be a part of. The script for me was so solid and there was an opportunity for me with my character to stretch the stereotype. Nomar is not only a gangster but he is also a pedophile. He has a lot of other layers and colors to show. For me that was a no brainer, I just really wanted to be a part of it.
TVRage: Sometimes the characters that are really hard to play, in that they are not necessarily a good person or likeable, come off as very interesting for viewers.
Machado: I agree. Nomar has just been introduced and established now and as the show progresses there is a lot of things you are going to learn about him. I think viewers are going to be able to relate to him from a human perspective in such a way that they may even start to like him. (laughs) Well, I hope so.
TVRage: You do an incredibly good job of making yourself seem very opposing and threatening despite the fact that you come off as very warm and friendly in person. How do you get into the mindset to prepare for each scene as Nomar?
Machado: Thank you! That is such a compliment. There is a lot of preparation. It is all about knowing your craft and utilizing everything you have learned in the process. I try to do the best that I can. For me it is all about just going there and being able to just be a human being at the end of the day and just play that.
TVRage: What kind of research did you do to prepare for a role as a Latin Kings member?
Machado: Of course, I researched all kinds of YouTube videos. I googled everything from the Latin Kings all the way down to what it is like to be a pedophile. I watched videos of guys who have been convicted of these crimes. Just hearing them talk was the most compelling part because you would never think these guys were capable of doing what they actually do. You would never think that they would have that mindset but they are just regular people like you and me having a conversation. There is nothing that strikes you as odd about that person. I did a lot of research on those two worlds and it was very interesting to see the human side of these crimes. I think we are all capable of doing horrible things, it all depends on whether or not you are given the opportunity and whether or not you take it. I think that was the approach to go with Nomar. He is bold, he had the opportunity and he took it. He is now having to live with the consequences of the choices that he made and he is in a predicament. You are going to see a lot more of that develop throughout the episodes to come because of the choices that he made.
TVRage: You speak fluent Portuguese and Spanish, and there is an impressive cast of Latino characters on 'Power' who have scenes that are done entirely in Spanish. What is it like to work on a set where half of the script is in a language other than English. 
Machado: That was so interesting and so cool. I can't even begin to describe it because it is almost embracing everything that I am, a Latino and an American. Being able to cater to both of the demographics that I support, and that support me, is like killing two birds with one stone if you will. It was so interesting and such a privilege as an actor to be able to diversify yourself that way. I think it is one of the most compelling things about the show in itself because it doesn't cater to only one certain group of people, it caters to everybody. It was really intense because they wanted to be very precise, they didn't want to fake anything. They didn't want people who were just going to learn the lines and then say them, they wanted authentic Latino actors who could actually speak the language fluently. They even brought in diction coaches and speech therapists to work with us on set and help us imitate the culture that we were representing precisely. It was a very rigorous and intense process but it was such a privilege. I was blown away and so thankful and I think it's so cool that they did that.
TVRage: In the last episode, Nomar was coerced into making a deal with the FBI. Where does he go from here and how will he keep up appearances?
Machado: (laughs) Do you want me to spoil it? You're going to get me in trouble. I'll say this, Nomar is going to become very close with the FBI.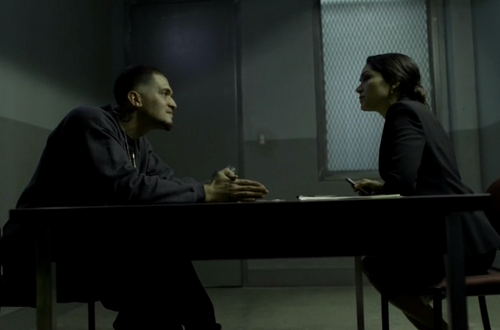 TVRage: What has it been like working with 50 cent on 'Power'?
Machado: Oh, it is so inspiring. He is somebody that I have looked up to since my childhood. I listened to his music and his story. I was a huge fan of his, Dr. Dre and all the way down to Tupac and that line of people, storytellers and musicians. I love the fact that he is such an entrepreneur. He has so much going on for himself and yet he is so humble. He takes the time to talk to you. The first time I met him he gave me a hug (laughs). He told me how great I was doing and how impressed he was with my work. Every time I see him and we talk he says "We are going to keep doing it, we are going to keep doing it. There's more, there's more." He is so encouraging that way and he has people all around him all the time and he never stops. He just gives and gives. He is very inspiring and encouraging and I am honored to have met him and worked with him.
TVRage: Can you tell us a little bit about some of your upcoming projects? What are you passionate about when you are not acting? 
Machado: I am passionate about writing and producing. I have been cast in a movie called 'Swaggy' and I'm going to be doing my own feature out in Pennsylvania in a horror film called 'Abandoned.' I just started this past week a web series that I am developing, and hopefully shooting within the next month called 'Five Stages of Love.' 'Misfortune,' a feature I shot in Arizona a few months ago, is anticipated to go into Sundance next year, and 'Sunken City' also just came out on DVD and digital download. I have more than a few things going on here and there.
You can follow Vinicus Machado on Twitter at @ActorVinicius and catch the next episode of Starz' 'Power' this Saturday at 9pm.